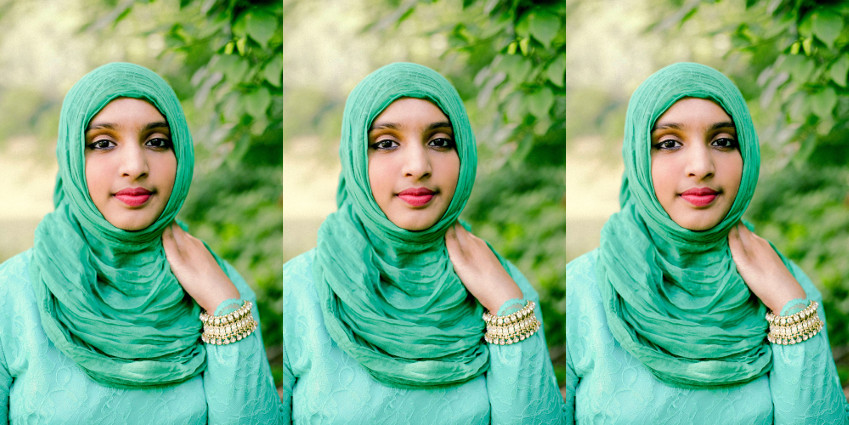 by Zara Husaini
This post was originally published on our partner website India.com:
Amara Majeed is a feminist.
She also wears a hijab—and she doesn't think these two things are at odds with one another. In fact, her view is the opposite. Majeed is actively doing her part to change any and all stereotypes that exist about hijab-clad women.
"I actually wear the hijab for feminist purposes; I see it as a political symbol or social motif," she said. "Throughout history and on a universal scale, women have been sexualized and objectified—by wearing my hijab, in my way, I'm saying that I want to be seen for more than my beauty or my body."
It's almost unfathomable to think Majeed is only 18-years-old, especially when she speaks with a purpose and possesses a point of view that is both fresh and informed. She's unafraid to tell her story in a big way—she's taken it to outlets like The Huffington Post, Bustle and CNN. Most of all, she has the sort of conviction that few people find in an entire lifetime, let alone in 18 years.
"I've always believed it was important that I take advantage of my youth…I never let my age be a factor in any of my decisions—I never wanted it to hinder me in any way," Majeed said. "I think that a big reason, as to why I get media coverage is because of my age."
But, aside from her age, Majeed's cause is a relevant one.
"I hope to promote the understanding and empowerment of Muslim women through social experimentation," she said. "I want to foster sisterhood, advocate for feminism, and encourage cross-cultural understanding."
In a time rife with misinformation, surrounding Islam, Muslim culture and the intent of the hijab, the advocacy for understanding is more necessary than ever.
Majeed founded The Hijab Project, a social experiment meant to challenge and change long-held assumptions about the controversial head covering when she was only 16-years-old. She published her first book, "The Foreigners," a year later.
She said that reaction to The Hijab Project has been "pretty mixed."
"People were saying all kinds of nasty things—that I was most likely a homophobe, that I had probably 'bombed my school,' that they "hope I get AIDS,'" she said. "These people don't know me personally, and they're basing these comments off of the fact that I established this project with the intentions of promoting tolerance. But, of course, there have been so many positive reactions to the project, and for that I'll be forever grateful."
There's an assumption that women who choose to wear the hijab are "conservative" but Majeed refers to herself as a "liberal Muslim."
"I often times find myself feeling like a bit of an outcast with a lack of a sense of community," she said. "Many liberals think I'm 'too Muslim,' while many Muslims think that I'm too liberal. The latter is probably the biggest problem I face because I have a really large Muslim audience! I mean, while I am affiliated with a religion, I'm strongly against the idea of people using religion to hinder the advancement of modern society."
For Majeed, the choice to wear a hijab isn't purely tied to religion.
"It's interesting because initially, my mission was to empower Muslim women and eradicate stereotypes about Muslims, but as my projects grew and as I developed as an individual, I felt that there is this much broader, more powerful goal that I've decided to focus the efforts of my activism on—I'm trying to eradicate this incredibly flawed ideology that some human lives are more important than other human lives," she said . "I feel like at least half of [The Hijab Project] is about eradicating society's pre-existing notions and perceptions regarding the hijab, which has in turn strengthened my own understanding of it."
She explains how her feminist tendencies have informed her decision.
"Whenever I flip through magazines while waiting for a cashier to check out my items at a grocery store, I can't help but notice the difference in how females are portrayed in women's magazines versus how males are portrayed in men's magazines," Majeed said.
She said society has become conditioned to the differences in the portrayal of the sexes, and this breakdown of sexualization has, unfortunately, become the norm. In light of this, her activism expands to bridging the gender gap.
"The women on the cover of magazines are posed seductively and wearing pretty revealing clothing, while the men on the cover of magazines are in full suits and have these very confident, poised looks on their faces," Majeed said. "I feel that by sexualizing women in this manner, society is propagating this idea that the value of a woman is in her beauty and her body, while the value of a man is in his intellectuality, career, and success. I believe that my hijab serves as a challenge to this societal standard."
What sets Majeed apart from other would-be activists? She's unafraid to speak her mind loudly—and we love it!
---
Zara Husaini is a Chicago-based writer/editor who has covered everything from fashion to breaking news. She's a graduate of the Medill School of Journalism. You can find her personal blog at statementscene.com.