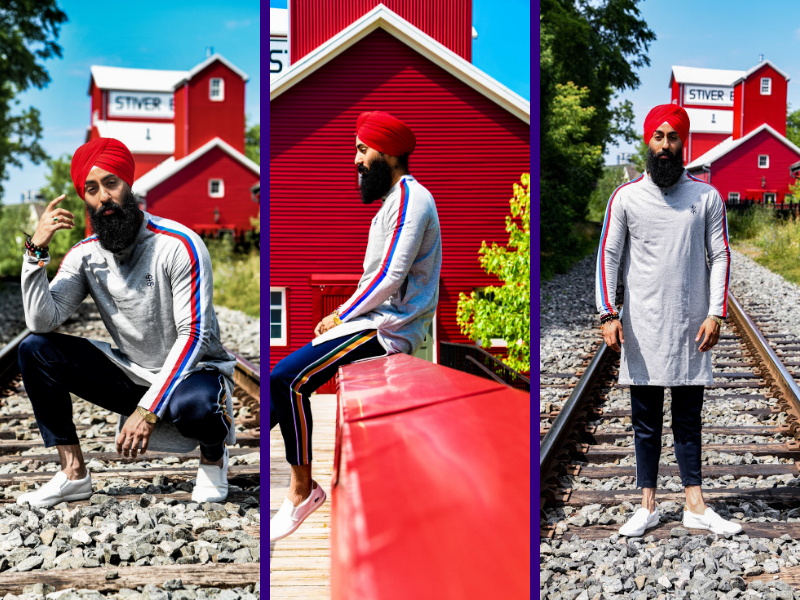 Steven Jhangiani, founder and designer of KURTEES.com, is a banker by profession at various Singaporean-based bank for the past 22 years, but one day when he was sitting at home with a glass of wine, he thought of changing out of his office clothes into either a kurta pajama or a t-shirt. The kurta, airy and light, yet rough and scratchy, didn't seem just right to him and on the other hand, a t-shirt, casual and soft was a better bet. At that moment, it hit him, why wasn't there a hybrid of the two?
View this post on Instagram
In order to solve the problem for himself, he went out to create an ensemble that is both soft and comfortable. Also, from a design perspective, he wanted something more subtle, less ethnic, something that was classic and could be worn on an everyday basis — hence he came up with the idea of KURTEES.
Steven is a complete newbie in the field. When he decided to start this venture, he promptly bought a sketch-book and colored pencils and had no clue about what he was going to do with it but all that he knew was that he wanted to create something that he personally would want to wear. He wanted his designs to reflect simplicity.
Steven's goal with KURTEES is to take the overall cut of the Kurta and couple it with a t-shirt neckline. Both the kurta and the t-shirt are the types of garments that can be worn over and over for years without going out of style. Longevity, design-wise being very important to Steven, he with the help of his team of experts working in various fields that gave life to his vision.
View this post on Instagram
KURTEES (pronounced as Kur-tees) takes the overall cut of a kurta and fuses it with the material and familiar neckline of a t-shirt. According to the designer, it's ethnic-ish fusion for men who are both fashion-forward yet drawn to comfort.
Available in various styles including the turtleneck, v-neck, henley, and crew neck, KURTEES are versatile in nature and can be worn with a wide variety of garments, and is made from 100 percent organic cotton jersey — keeping comfort in mind.
"We aim to bring the most comfortable Indian fashion to modern South Asians around the world. In addition to high-end organic fabrics, we are also meticulous about every detail to create the perfect symphony of style, class and quality," Jhangiani said.
We have the honor of sharing it with our community in partnership with our favorite fashion enthusiast Harjas Singh aka @StyledByHarj from Toronto.
View this post on Instagram
Although hesitant at first to give it a try, Singh agrees KURTEES is THE perfect outfit for our hyphenated lives because it can be worn with churidars or ripped jeans to leather jackets and chappals or sneakers.
"It looks and falls like a kurta but with the addition of the stripes along the arms, buttons to the neck and a slimmer fit gives the traditional kurta a twist with a modern touch," Singh said.
At $55 USD with free worldwide shipping, consider adding a KURTEES to your closet.