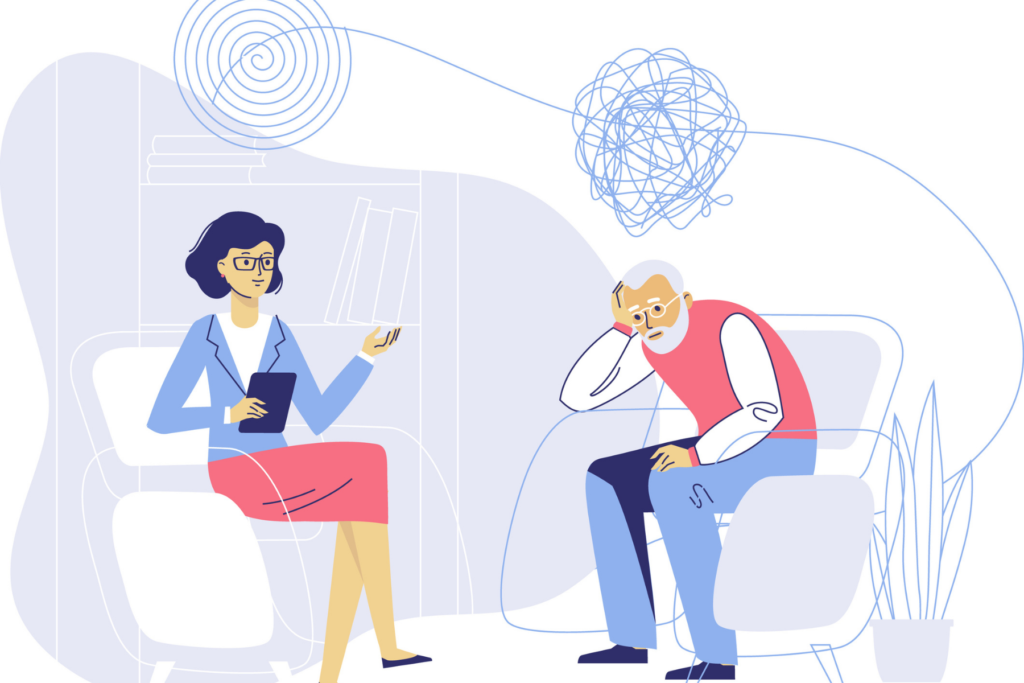 Among the common gestures we remember from reunions and special occasions within our South Asian communities, we frequently receive well wishes. We receive the blessings, good wishes and hopes for prosperity from our families and communities as young adults. For most young adults, South Asian elders and family members are those we offer the most gratitude to — we only want the best for the loved ones who have taken care of us and built our foundations. However, the conversation about supporting the mental health of South Asian aunties and uncles is absent from our households.
Older generations of South Asians grew up with stigma toward mental health. If there are any discussions, they are difficult or awkward. This adds to the continued health disparity between South Asians and mental health services, making it harder to seek support and resources. Although challenges related to mental health can arise due to transitions in life, education and work, it is not common for South Asian households to be open to acknowledging them. 
Most likely, the aversion to accepting struggles of mental health is due to the absence of the opportunity for our older loved ones to receive services or care when they needed it the most. Common struggles South Asian elders have experienced often include poverty, challenges with education and employment, and life transitions. For example, South Asian elders who have immigrated to a different country had to face the challenges associated with establishing roots in a new country and community. The elevated stress, risk and fear of failure associated with this presents a huge toll on their mental health. However, it is likely that most of them didn't have the time or resources to deal with this trauma. For example, studies have demonstrated an association of elevated stress produced in individuals who immigrated or migrated because of the likelihood or occurrence of poverty or risk of unemployment. Elevated stress production in South Asian elders has demonstrated a negative impact on mental health, which has trickled down into subsequent generations (also known as "intergenerational trauma"). 
Whether it was time, energy or costs, the older adults in our families and communities deserved support for their overall well-being as they established the foundations we stand on today. While organizations like WeAreSaath, MaanMukti, and even SAAPRI have continued ongoing conversations about how to address mental health challenges across age spans within our South Asian diaspora, it is important to draw a bigger focus to older adults and elders. 
The recognition of the mental health challenges that our parents' generations have experienced and continue to face must be established. According to research, South Asian adults 65+ are more likely to have undiagnosed mental health conditions or present mental health conditions such as depression, somatization, anxiety and more. This may be due to high-stress lifestyles related to immigration, community building and the process of establishing an independent lifestyle. Women in this category are more likely to have psychosocial issues due to these factors and the added expectations related to the role of being a wife, mother and staple of the household. For example, one study cites the experience of participants having psychosomatic symptoms such as excess hair fall or physical, chronic pain from elevated and constant stress across roles in their lives. Areas of life from which stress may have arisen for participants in this study were economic uncertainties and loss of social interactions with desired communities and circles. 
By understanding the source of mental health challenges for South Asian older adults, we can understand what the potential outcomes are. For many, psychosocial conditions can result in social isolation, increased risk for cardiovascular disease, cognitive conditions, cancer and substance abuse. If the audience reading this is asking themselves, "If the outcomes are so obvious and negative, why aren't issues of mental health being addressed?" Stigma, negative societal perceptions of mental health and well-being, the long standing health disparity between South Asians and mental health leaves little direction for those interested in supporting the mental health of older loved ones in their SA households. 
View this post on Instagram
What does supporting the mental health of South Asian aunties and uncles look like?
Here are a few tips to get you started:
Reaching out to community organizations like the ones mentioned earlier can create an atmosphere of peer-to-peer support and reduce feelings of alienation. 

Check-in with your family and elders to see how they're coping based on current events that affect your communities. You can read more on how you can talk to your South Asian elders about mental health here.

Emphasize the desire to return a lifetime of care and support to those who raised us — let your South Asian elders know that you want to show them the love and affection they may have shown you to support their well-being overall. 

Ways to start the conversation can include: 

"I've been thinking about ways to refresh my routine and I'm wondering if you'd like to do the same — are there any areas of your life you feel like you want to change or would like to try something new?" 

"With the COVID-19 pandemic, it's been hard to see friends and loved ones. Would you like me to help you connect with friends and family through video calls? 

"I've been wondering if you've been feeling alright? Things are so different with the pandemic and I'd like to give you the opportunity to vent or let out anything you've been feeling lately?"

"I've noticed that when my mood and emotions are feeling a bit down, it helps for me to talk about them — would you like to share anything with me?" 

"I know growing up, you might not have had the space or time to talk about your feelings, is there anything you'd like to share with me?" 

"Tell me how you were able to share your feelings and emotions when you were younger — is there anything you'd like to talk about?" 

Finally, reassurance that it's okay to be okay.

Most South Asian elders or family members maintain anxiety around the possibility of their worlds being suddenly shaken.

Providing support to our older adults that we will be there for them no matter what can always be a great first step in the right direction. 
If you're in need of mental health resources or support:
Teen Line: 1-800-852-8336 Nationwide (6 p.m. – 10 p.m. PST) TEXT TEEN to 839863 (6 p.m. – 9 p.m. PST) 

National Suicide Prevention Lifeline: 800-273-8255 (TALK)

SAMHSA: 800-662-4357 (HELP)

Crisis Text Line: Text "HOME" to 741741

Access OOTify Mental Health Services here