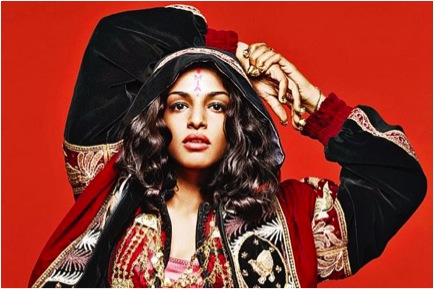 M.I.A. took to Twitter last week, continuing a contentious dialogue after revealing herself as anti-vaccine during the COVID-19 pandemic. The artist took it so far to advise against vaccination usage that she stated she would rather "choose death" than be vaccinated.
If I have to choose the vaccine or chip I'm gonna choose death – YALA

— M.I.A (@MIAuniverse) March 25, 2020
This controversial and disappointing opinion comes as researchers are frantically working to develop a vaccination for COVID-19, as the crisis reaches new heights – killing nearly 190,000 people worldwide, as of April 24.
While these comments were unsurprisingly met with a hostile response from some fans, there was disturbing minority support for her comments by others. In the past, I have tended to let twitter interactions lay idle or at most have toyed with cancel culture a little. However, at the time when I am writing this, as members of the South Asian community pass away due to COVID-19 complications – we don't maintain the same privilege to tolerate a narrative that is directly lethal. 
Maya Arulpragasam (M.I.A.) has been known to audaciously express her opinion for the best part of this decade. Anyone who is aware of her personage knows this isn't the first time she has been refuted for commenting on issues of a political nature. In the past, this is what drew me to her – I admired the way she resisted when she was mocked for being outspoken or how she firmly persevered, after being labeled a 'terrorist' for speaking against the Tamil genocide. It was indispensable to see a human who was intensely similar to me in being, repelling a narrative which I, as a South Asian Muslim, had heard a million times in the past. 
What is more, Maya is held in a similarly unique position for many in our community. Some of us have been fans of the lion's share of our lives. I still remember the first time I heard 'Paper Planes' playing on my TV. The joy was boundless when I saw her brown skin gliding across my screen, in her wild and chaotic animal prints, gold jewelry prancing, and her lips lustrously pink. Maya carried her brown body staunchly, not afraid to boil over our Western screens. She wasn't just attractive and impressive – she was boldly and proudly, one of us. M.I.A. began to represent the South Asian diaspora in a way we had never seen before – in her mix of East and West, her glorified South Asian jingle snippets, and most importantly, through the way she grasped her Tamil identity through all her fame. She had made it – and it felt like she took us with her. 
But in becoming an idol, you take on the responsibility of doing your supporters right – whether you like it or not. Maya takes on the burden of continuing to fight for our voices and doing it justly. So her resistance in this occasion, to the rightful criticism of her vaccination comments, is energy which feels messy and contradictory. And more so, I cannot shift my concern about the danger which could come from the remarks themselves – how Maya herself becomes partially responsible for continuing a narrative which harms brown bodies. If M.I.A. has taught me anything through her visibility and vociferousness, it's the indispensable quality of asserting against wrong. This is why this is so frustrating to hear from her and needs to be to kicked against. Her comments are more than just her – they point to a far-reaching and damaging narrative which suggests that we can, alone, easily fight off illness. And it is particularly damaging coming now when we know this isn't true. 
*
At this particularly sensitive moment, when we are infinitely bombarded by messages forwarding false methods of protection – we do not need to advance this idea also. BAME people are some of the hardest hit by COVID-19 and so, promoting the correct health measures has never been more important. M.I.A.'s narrative and since-deleted tweets advocating for 'choice' to follow the correct instructions show a disregard for our community which we do not need. We are disproportionately living in deprived conditions, in inter-generational households and existing with comorbidities like diabetes, pulmonary and cardiovascular diseases. This is not just about those of us who deem ourselves as 'healthy' and so may think we can take a step back, nor is it just about us. Following the instructions which have proved to protect us, is our only chance at protecting our community and others – particularly when institutions have infamously let us down in this regard. Our previous vaccinations are what has protected us in the past, yes, but following suit of correct health instructions is the only way we can continue to stay protected in the future. Such tweets are particularly reckless in suggesting that those who are getting sick have not built their immune system or even have control over this. But moreover, it suggests that those who die are an anomaly or haven't done enough. When an amalgamation of national lockdowns, press coverage, and public awareness and action are struggling to protect us from this virus – it's hard to be compassionate to such feckless comments.
Concurrently, some of M.I.A.'s comments are well-intentioned – such as those against the testing of the COVID-19 vaccine in Africa and of the issues around the profitability of vaccinations. Healthcare institutions have a history of being unkind to black and brown bodies. Take the HIV/AIDS epidemic as a prime example, and recently where people of colour have been found to receive far worse treatment than white Americans. And while our situation is progressively improving – much of healthcare's global implementation still remains largely colonised, and POC experiences substantially ignored by policymakers. 
Healthcare systems are also increasingly proving to be comprehensively imperfect. We are seeing repeatedly that public health intervention regarding this virus has been ineffective and of poor judgment – from the negligible language of the virus is similar in nature to the flu, to the wider strategy of 'Herd Immunity.' For minority ethnic communities, this takes on an additional layer during this pandemic, through a disregard of our circumstances by policymakers. The tactics of shame and lack of assistance on how to navigate our often differential and deficient living/working conditions is a blatant dismissal of our everyday existence and simply a way to avoid developing strategies for people of colour. Policymakers and administrations need to tackle this head on to navigate our mistrust and safeguard our communities. 
However, despite macro flaws, this cannot excuse M.I.A.'s position within such, as an affluent figure. Advocating for 'choice' is a very poor and dangerous move, particularly when Maya is someone who can support our community through her advantageous position of wealth and importantly, a noted platform in which she has the ability to spread the right information. 
It is clear that how one uses their privilege, platform, and language is a powerful act, particularly right now. The ignorance of the need to partake in the social order to protect those who cannot vaccinate, the immunocompromised/deficient, and those who are at risk, is a harmful position which has been played out countless times before, and reeks of M.I.A.'s existing privilege and detachment. M.I.A. had the potential to protect her supporters and promote adequate self-care directions – something which we are desperately lacking from institutions, yet she chose to actively oppose them. When someone like M.I.A. continues to make problematic comments which prove an incapacity to comprehend how they could harm – the power comes within our hands to encourage well-being for each other. Let us take this as an opportunity to build a safe dialogue, utilising the scientific evidence of vaccination safety, and protect our community. 
I'm not against vaccines. I'm against companies who care more for profit then humans. I care for better track record that proves this. I care that African countries are not always the testing ground. I don't want it coming from banks / tech /hedge fund sector and I want a choice. https://t.co/ygjZeqNFQ3

— M.I.A (@MIAuniverse) April 3, 2020
---
The opinions expressed by the writer of this piece, and those providing comments thereon (collectively, the "Writers"), are theirs alone and do not necessarily reflect the opinions of Brown Girl Magazine, Inc., or any of its employees, directors, officers, affiliates, or assigns (collectively, "BGM"). BGM is not responsible for the accuracy of any of the information supplied by the Writers. It is not the intention of Brown Girl Magazine to malign any religion, ethnic group, club, organization, company, or individual. If you have a complaint about this content, please email us at Staff@0mq.349.myftpupload.com. This post is subject to our Terms of Use and Privacy Policy. If you'd like to submit a guest post, please follow the guidelines we've set forth here.