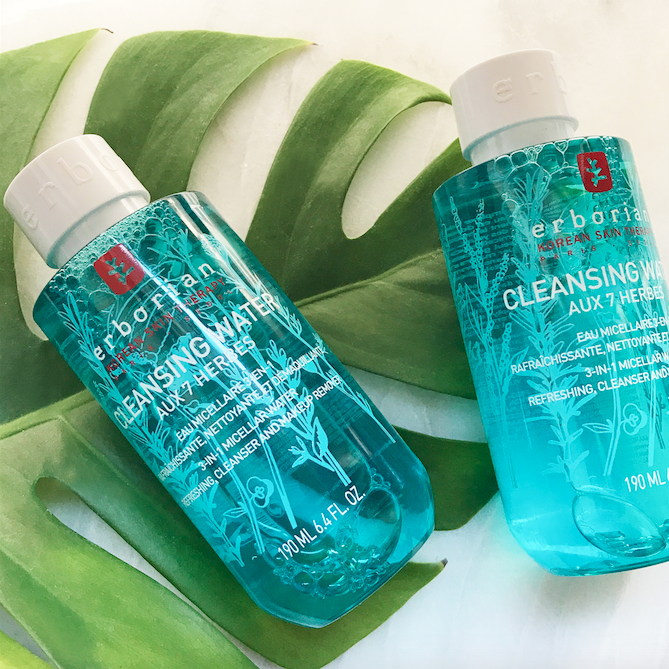 by Sanjana Arefin – Follow @minfin_
All images in this post are courtesy Sanjana Arefin. 
Micellar water. Sounds fancy, right? But what is micellar water and how can it help improve the overall look and feel of your skin? Well, technically it's composed of tiny oil molecules in soft water. My brain instantly took me back to college chemistry when we learned about solvents and how "like dissolves like."
Basically, the balls of cleansing oil will attract dirt and oil to draw out all impurities, without leaving the skin dry. Think of micellar water as a 3-in-1 product—it's your cleanser, makeup wipe, and moisturizer in one bottle. Sounds magical!
So I embarked on my micellar journey by testing out Erborian's Cleansing Micellar Water (Sephora, $26). This is a brand that I trust; I am also currently obsessing over their CC Crème, so I wasn't as hesitant to try something new from their product line. This particular cleansing water is packed with a complex of seven herbs and the formula removes even waterproof makeup, without over-drying. Also, it is formulated without parabens, sulfates, or phthalates.
Upon the first touch, of the cleansing water, I noticed the physical difference between micellar water and regular water; micellar water is hydrating. I was expecting to feel the droplets of oil, but it wasn't noticeably oily at all. For someone who has combination/oily skin, I stay clear of products heavy on the oil, so I was pleased with the non-greasy texture of the product. I rubbed some of the formula on my arm and it felt like silk because of the instant boost of hydration.
For two weeks, I used Erborian's Cleansing Water consistently and the results were nothing short of amazing. My skin felt extremely refreshed and clean. I could see all of the makeup and impurities on the cotton pads, which was proof that the product worked in terms of removing makeup and dirt. The best part of using this magical water is that there's no need to rinse! I save so much time in the morning with this 3-in-1 product. My skin feels more supple and looks hydrated.
Will I continue using micellar water in my daily routine? Of course. However, I will occasionally use my face wash for a deeper clean and to remove heavy makeup. I highly recommend micellar water for those who may have oily/combination skin, but need extra hydration.
Sanjana Arefin is a content creator and social media expert currently working at a New York City based beauty public relations agency. Due to her love of the arts and all things beauty, while completing her BA from Stony Brook University in Art History & Criticism, she simultaneously worked for MAC Cosmetics. Sanjana's true passion involves bridging gaps between the art and fashion world, and to increase more awareness of the arts. During her free time, you can catch her binge-watching South Park in her Williamsburg apartment, frolicking through the East Village, or at the Metropolitan Museum of Art when she's not working full-time in beauty marketing. If you have any beauty and/or art related questions, please contact her at sanjanaarefin.com.