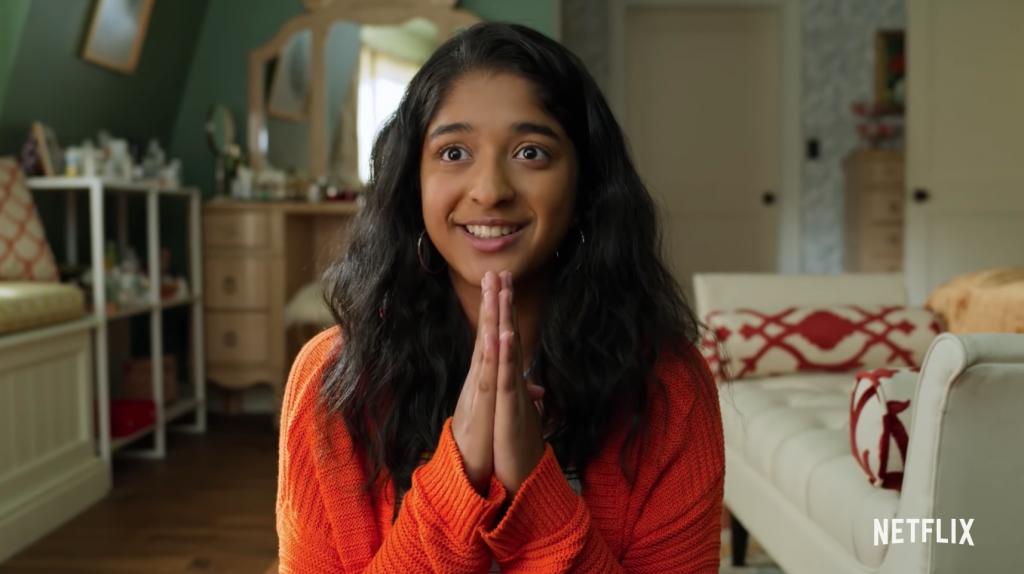 It was just over a year ago that Devi, from Mindy Kaling's "Never Have I Ever," hit Netflix. I remembered the open casting call. My heart had thumped so hard in my chest, wondering if I could pull it off. Could I fake an Indian accent that I didn't grow up around because I was adopted by white British parents? I was in my mid-30s and playing a teenager was out of the question. That was the only role that did not require an accent. To add to this dilemma, I had the body of someone who had recently given birth and a baby to care for. I was insane for considering it, but the dream of acting as a brown girl was going to come true for someone. 
I used to dream about becoming an actress. In my sophomore year of high school, I was in "Guys and Dolls." Everyone knew who would get the lead. She had brown hair and an innocent way about her. People talked about her acting dreams and her beautiful singing voice that was well-trained. As an adopted girl from Bangladesh, I was the opposite of this. The years of acting classes I took were not enough to erase the fact that I would never look the part.
Three years prior to this moment, I found a newspaper ad for an acting school an hour away. The owners had spent time on Broadway and the most advanced level students participated in an off-Broadway scene night where agents attended in search of new talent. 
In acting classes that focused on improv, my race never came up, but when I took the higher course levels, things changed. I was taught how to create a portfolio of monologues and we worked with scene partners on sections of famous plays for our off-Broadway scene night. My choices became very limited because Black roles were considered sacred, white roles were also not quite right, and there was very little in between.
"You could try Shakespeare," my teacher told me. "Lots of companies love to do different versions of his plays using diverse actors."
I thought back to how I expected to understand what was going on in "Romeo and Juliette" in my high school English class. Would I ever be able to memorize it and make it sound convincing? 
My mom took me to the bookstore to find books filled with scenes. I loved sections of "The Diary of Anne Frank," but it felt wrong to attempt to play her. Beneatha from "A Raisin in the Sun" inspired me and I got special permission to use her monologue for class, knowing that it would never become a part of my portfolio.
Watching me struggle, my teacher gave me a scene another person who worked at my acting school had written. There were no expectations for how the characters might look.
"I want you to try playing the bad girl," she said. "You will be dressed in all black with a snake necklace. It will really take you out of your comfort zone."
She was right. The F word was in every other sentence, and I could barely walk in the heels that went with my costume. I felt my walk become a glide as if I were a snake slithering along the floor. The heels made it feel natural to hold my head up higher than usual. This character almost scared me. 
Aside from wanting to act on stage, there was the dream of being on television. I liked teen dramas with love triangles like Dawson's Creek. The role of Joey was not relatable when it came to looks, but I understood what it felt like to be a shadow of the most beautiful blond in school. Imagining myself in shows, I wished I could be in was another part of my acting dreams. Sometimes, I would write pretend episodes where the brown girl stole the spotlight. Little did I know this was going to happen around the time my daughter was about to enter high school.
The first time I saw a picture of Devi on Netflix, all the hairs on my arms stood up. She was exactly how I dreamed her to look. With her wavy hair, she didn't look like she was trying to recreate the image of a white girl who had brown skin, and the color choices for her clothes brought me right back to high school. She represented everything that was familiar despite being adopted and not fully identifying with the Indian culture the same way as many other viewers. It was the first time I saw a version of my high school self on the screen. I have four mixed-race daughters who will grow up seeing the Indian girl next door become familiar in the list of shows people watch will make their very existence less othered.
---
The opinions expressed by the writer of this piece, and those providing comments thereon (collectively, the "Writers"), are theirs alone and do not necessarily reflect the opinions of Brown Girl Magazine, Inc., or any of its employees, directors, officers, affiliates, or assigns (collectively, "BGM"). BGM is not responsible for the accuracy of any of the information supplied by the Writers. It is not the intention of Brown Girl Magazine to malign any religion, ethnic group, club, organization, company, or individual. If you have a complaint about this content, please email us at Staff@browngirlmagazine.com. This post is subject to our Terms of Use and Privacy Policy. If you'd like to submit a guest post, please follow the guidelines we've set forth here.