by Saloni Gajjar – Follow @browngirlmag 
"The Mindy Project" became the first American TV show created by and starring an Indian-American when it premiered in 2012 on FOX before moving to Hulu in 2015. Mindy Kaling broke all kinds of norms then and she's doing it now, even when the comedy has come to an end after six successful seasons.
If you read the quick summary of the show, it says "the series stars Mindy Kaling as Mindy Lahiri, a young OB/GYN, as she navigates through her professional life and romantic relationships." You could easily replace Mindy Kaling with a Jennifer Aniston, and Mindy Lahiri with any Jane Doe-like name.
Instead, Kaling created a platform for brown people who could finally point to her character, Mindy Lahiri, for reference and representation, hopefully erasing the mistakes of Apu. Why? Because she wasn't a one-dimensional stereotype. She wasn't just a doctor. She was a successful, smart, independent, food-loving, slightly ditzy, fashion loving, pop culture obsessed OB-GYN. With her character, Mindy Kaling proved that South Asians could, in fact, be bankable leads.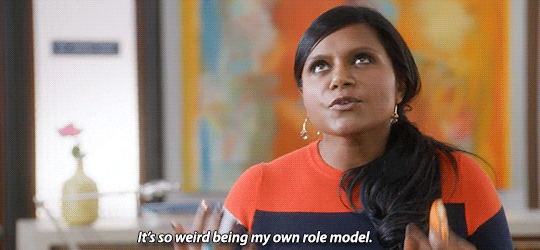 Her performance was perfectly quirky and hilarious and heart-warming but the thing with Mindy Lahiri is that she certainly doesn't exactly represent South Asian-American diaspora. That's a humongous, daunting, and seemingly impossible task to take on. So, yes, Mindy Lahiri is flawed much like all of us. She's relatable and not just to one set of the audience but to everybody who's watching.
Of course, this doesn't take away from the many actors who paved way for Kaling's success. Archie Panjabi, Kunal Nayyar, Danny Pudi, Kal Penn, Parvesh Cheena and more have been in the industry for a long time now. Kaling herself played Kelly Kapoor on "The Office," a show she also wrote and directed for, for eight seasons. She often says that her character from the long-running NBC comedy was almost an exaggeration of her real personality. If you dive deep, there are some notable similarities between Kelly Kapoor and Mindy Lahiri.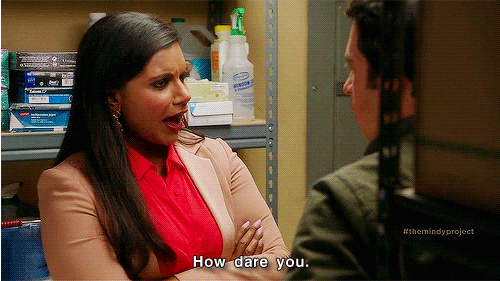 However, it was Mindy Lahiri who had to shoulder the responsibility of being the first South Asian-American protagonist. As she herself says in the series finale, "Upon being confronted with the biggest challenge of her professional life, could our plucky heroine beat the odds one more time?" Over the years, the character sometimes met with a lot of flak for being either just too dense (how could such a smart doctor sometimes be such an airhead?), for not being desi enough (does she never mingle with fellow South Asians), for only dating white men. The last one especially stuck. Besides her burgeoning career, the biggest focus of "The Mindy Project" was Mindy's search for the perfect man.
Kaling's love for romantic comedies is well-documented in the show, as witnessed by the many romances of Mindy Lahiri. They are usually portrayed by white men, yes. It was the main critique of Kaling as a desi woman. Instead, Mindy chose to be with Danny Castellano (Chris Messina).
Mindy and Danny become the crux of "The Mindy Project," the couple with steamy chemistry that everyone rooted for despite their differences. Mindy was the optimistic, cheery Indian lady and Danny was the grumpy but sweet Italian man. While many complained about the lack of an all-out South Asian relationship, I was excited because the show was embracing Mindy being in a wholesome bi-racial relationship.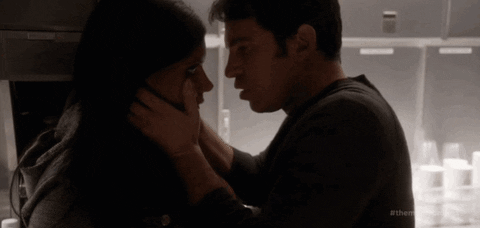 It went a notch further when she did the desi version of unthinkable: an unplanned pregnancy without being married! Let's face it, it's a taboo topic in most South Asian families, no matter where in the world you live. It led to us meeting Mindy's parents, Tarun and Sonu, played with excellency by Ajay Mehta and Sakina Jaffrey, in season 4. Utkarsh Ambudkar has been playing her younger brother Rishi since the first season. Together, they form a very funny, very adorable family of Indian-Americans, another rarity for television.
Mindy's emotional journey is not that of your typical heroine. Serial dating, almost marrying an Italian, a son out of wedlock, definitely marrying an American (even if it was for a short time) and then divorcing him. Her career kept growing beyond the practice she worked at. She did a fellowship at Stanford University, she started her own fertility clinic. She's badass in different ways. Especially because she's a woman of color but also because she's a woman in whom everyone can see bits of themselves.
That's the lesson we need to walk away with.
"The Mindy Project" might not have met with critical acclaim all the time but it did it's job well: to make viewers laugh and enjoy all the comedic drama unfolding before them. This applies to Mindy Kaling, Messina, and the rest of the cast, especially Ike Barinholtz, Edward Weeks, Xosha Roquemore. They made a wacky ensemble who kept coming at us with one-liners that would make anyone literally laugh out loud. It's humor we'll definitely miss.
In six seasons, the show also garnered a long list of cameos from some A-listers including Freida Pinto, Reese Witherspoon, Stephen Colbert, Laura Dern, Joseph Gordon-Levitt, Chloe Sevigny, Laverne Cox, Common, James Franco, Julia Stiles, Seth Rogen and so many more. Whew. That's a good number of celebrities to have on your show, we think.
It's normal for an Indian-American audience to search for our culture in a show where an Indian-American is playing the lead. It makes us hopeful. "The Mindy Project" flickers in this regard. The season 4 episode "Bernardo & Anita" is perhaps the best (and one of the very, very few examples) for how the show handled it. In the installment, Mindy is on a date with Neel, a man who makes her realize she doesn't really have any South Asian friends. He calls her a coconut: brown on the outside, white on the inside.
She asks Rishi if they're both Indian-ish to which he says no because he thinks he's black on the inside and she thinks she's white. To prove her love for her heritage, she holds a Hindu ceremony for her son Leo and invites Neel and his friends. Throughout the ceremony, which includes a priest chanting mantras and a holy fire, both Mindy and Leo are uncomfortable and unaware of what's happening. Finally, her mother is the one who convinces her that she is "Indian-enough" because she's always taken care of her family.
Kaling never really used the show's narrative to feature a ton of South Asian culture. Was it an opportunity that she didn't take advantage of? Maybe. Was it what she promised her show would be? Nope. "The Mindy Project" gave us six seasons of a fiery Indian chic leaving her mark on the television industry. I'm good with it.
Lots of people end up comparing this show with Aziz Ansari's "Master of None." The theme of the award-winning Netflix comedy is invariably different from "The Mindy Project." It's purpose is to explore the life of second generation Asian immigrants through Dev Shah (Ansari). However, we see two shows with South Asian leads so we begin to draw conclusions. Even "Master of None" has been criticised because Dev usually dates white women and rarely women of color, much in the same way Mindy Kaling is criticised for how her character dates mainly caucasian men.
I'm just happy we have two big shows that represent us. This doesn't even include shows that now prominently feature South Asians and don't limit them to typecasted roles. "The Good Place," "Quantico," "Sense8," "Designated Survivor" are a few. And for this, we have to give credit to Kaling and her struggle to achieve everything she has.
It's even taken her places because Mindy Kaling will next be seen in two big Hollywood ventures, "Ocean's Eight" and "A Wrinkle in Time." Plus, she's pregnant IRL! She'll be recurring in the TV comedy "Champions," which she's also producing. "The Mindy Project" may have ended but our time with Kaling is only just beginning.
---
Saloni Gajjar is a recent alum of NYU's Magazine Writing Program. Her passion lies in pop culture writing, as is evident in her work with magazines like Marie Claire, Interview, and Complex. Her goal is to show the arts as a medium and mirror of the society, much beyond just entertainment.