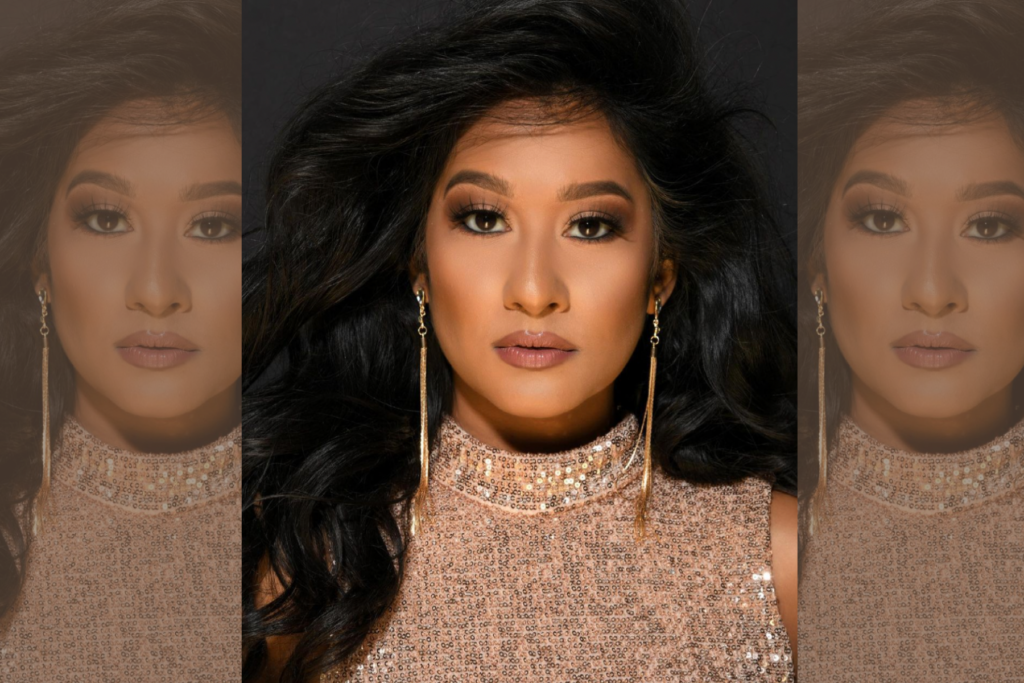 "Being beautiful on the inside is worth so much more than outer beauty." 
Meet Miss Guyana Supranational Felicia Ally. The 31-year-old earned the 2021 title by working to drive transnational change. Miss Guyana Supranational is the Guyana chapter of the Miss Supranational pageant, which brings women from around the world together, honoring their accomplishments and talent.
Ally uses her partnership with the Miss Supranational pageant to represent her culture and identity through modeling and philanthropy. 
"My country lacks resources and opportunities for the youth and I'm hoping with such a prestigious organization we can help shape the future of the youth," Ally said. 
Her drive to give back ripples through many aspects of her life. While growing up in South Florida, Ally saw that children in her community lacked sufficient resources to tap into their potential.
These experiences launched a lifelong passion. Even while she was pursuing an acting and modeling career in Miami, she spent most of her time volunteering with children. 
"Giving back is what keeps me grounded and makes me feel whole knowing I can truly help others in whatever way possible," she said. 
Her selflessness, determination and confidence help her stand out, both as a pageant contestant and an Indo Caribbean woman who defied all expectations. 
View this post on Instagram
While starting her career, Ally experienced what many Indo Caribbeans do when pursuing non-traditional paths — family disapproval and dismissal. Yet she persevered.
"Once you work hard at something and you keep going for what you want and believe in, then your family and close friends who truly love you, have no other choice but to support you and get with your movement," she said.
Ally later competed in the 2021 Miss Supranational pageant, and although she didn't win a title, her experience was "nothing short of amazing."
"I remember constantly crying at dance rehearsals because the songs we performed on stage were so empowering and I had worked so hard to be there," Ally said. "I couldn't help but feel blessed, strong, extremely emotional and humbled." 
Beyond her current pursuits in modeling and pageantry, she wants to start a family and support renewable energy initiatives in Southwest Texas. 
Her sense of fulfillment is rooted in her humanitarian efforts. In the past, she's partnered with The Humanity Project, Shashamane Sunrise, Feeding America and The Boys And Girls Club. 
View this post on Instagram
One of the most meaningful projects thus far has been with Alliance for Smiles, where they organized cleft lip surgeries for people in need. 
"I know how important it is to feel confident when you smile and present yourself in front of others," she said. "I'm happy to provide that opportunity to help medically impact the direct Guyanese community."
Providing direct help to Guyanese people is vital to her because that's her community.
"I carry my Guyanese roots, morals, and values with me daily and I don't ever tone down who I am," she said.
Ally represents the country on a national stage, encouraging cultural acceptance and stereotype defiance. Her culture is always on display.
Yet, in every success story, there's an invisible upward trudge. 
Ally has dealt with anxiety and depression so severe that she's struggled to get out of bed. This year, she experienced a breakup and a big move. 
"Life will throw [you]…all types of curveballs and make you feel hopeless," she said. "I really had to train my mind to get up and keep going even when things seem like they could never progress."
Some of that training included making time to see friends, hiking, bowling and yoga — activities she still does today to keep her mind and body healthy. She also learned how to cope with mental illnesses through the psychiatry and psychology services she received since she was young. Even then, she suffered from depression and ADHD, but her mom encouraged her to seek professional help despite the Indo Caribbean cultural taboos.
But she knows that others in her position aren't so lucky. 
"I think in the Indo Caribbean community the thing we fear most is our brown parents," she said. "We can't break these cultural and social boundaries of the Indo Caribbean stigmas if we aren't proactive ourselves as the future diaspora."
For her, being proactive means putting that fear of our parents aside and speaking up about mental health struggles, because at the end of the day, she said, our parents will help us. 
Her success is a product of the trials she's faced, family support and the determination to give back to her community. But character has unique potential.
"My journey has been such a struggle but living with integrity and having good moral values and ethics will take you to different levels," Ally said. Despite pursuing pageantry, she said, "being beautiful on the inside is worth so much more than outer beauty." 
Ally hopes that everyone lives that mantra, and wants to tell young women trying to make it: if this Indo Guyanese American girl can do it, so can you!