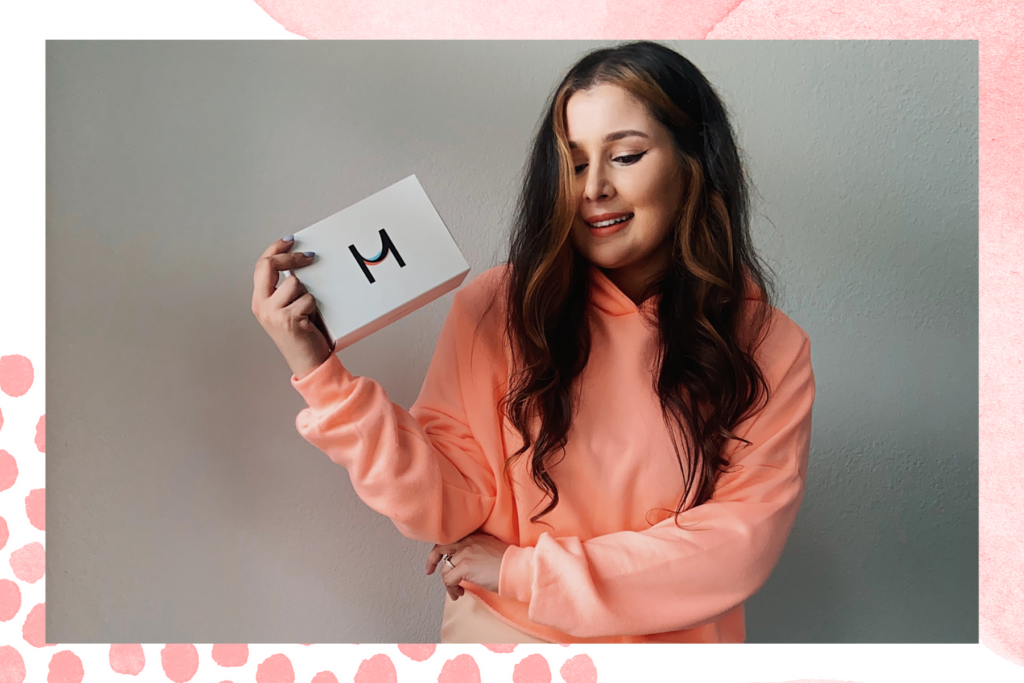 The following post is brought to you by Modern Fertility — a reproductive health company making personalized fertility information and support more accessible. They offer at-home tests and tools, help you find power in your fertility info and get proactive about your reproductive health. Receive a $20 credit here.
Having a child at the wrong time can change the trajectory of your life. In our timeline-obsessed culture, many women are told to finish college, get married, and immediately have children. What South Asian women aren't told are how their reproductive organs work or what fertility is beyond the onset of a menstrual cycle.
"Due to the cultural and religious context I grew up in, I didn't receive the type of information about fertility that I needed," mental health advocate and Dallas-based blogger Rida Islam said when I asked her about her cultural experiences around fertility. "[Fertility] was always discussed in a reactive lens, like when a friend or a family member had issues. But even that was only discussed after they had a successful pregnancy, so I never had an accurate understanding of the full experience!"
Islam isn't pestered about having kids by her family or friends, but she has still felt the pressure to know more about her body as she gets older. Even in our late 20s and 30s, many of us South Asian women haven't progressed our fertility knowledge beyond the crumbs we were given in adolescence.
View this post on Instagram
I sat down with the co-founder of Modern Fertility Carly Leahy to discuss why she started the company, a direct-to-consumer fertility testing start-up, and the barriers people with ovaries face today. To my surprise, she actually had no interest in what she once called "baby stuff."
"When my co-founder Afton and I first met, she had just gotten fertility testing done and had great insight into how much it cost and how inaccessible fertility information was. I, however, was very much so focused on my career. I was working at Uber at the time, and I basically told her, 'no thank you, fertility and baby stuff is not my jam. I'm a feminist. I'm focused on my career and equal pay.'"
However, our conversation began to obsess me. As I dug for more information, I realized that I knew nothing about my eggs, ovaries or ovulation. It became clear to me that if we took away the nebulous worry of the biological clock, it could be a great equalizer between the sexes. There is an unbalanced stigma that women need to 'get on it,' have kids and be nurturers, but men have all the time in the world (which they don't). Forty percent of infertility is caused by the male factor: sperm. If we could fix the knowledge gap, it could be game-changing."
I thought that "the great equalizer" was a fantastic way to frame access to fertility information. Fertility drives so many decisions, and much of that decision-making is ill-informed. People tend to take charge of their fertility and sexual health after they struggle while trying to conceive or begin to experience physical symptoms.
"When we started Modern Fertility, there was no such thing as proactive fertility information," Leahy said. "You would find out if there was something going on with your fertility only if you were having trouble conceiving. That's backwards. 1 in 6 couples has trouble conceiving and 1 in 10 women have PCOS. There are many things that get in the way of conceiving, especially as we wait longer in life to have kids.

We should have this information earlier in life, just like we have information about planning our finances, nutrition, and careers. The test we offer at Modern Fertility is the same panel of hormones a reproductive endocrinologist would test in their office. The issue is that not everyone can do that. Not everyone lives near a fertility clinic. Fertility treatments are not reimbursed for most people, so it's largely inaccessible to even get a baseline on this information. For example, Afton was charged $1500 for blood work on top of a $500+ consultation.

So we began to wonder how do we make sure that every single person with ovaries is able to get access to this baseline testing? If the system isn't going to cover it for us, how can we make it as easy as possible for people to take it at home and get access to all their info? That's what inspired us to start Modern Fertility."
That got me wondering — was the at-home test just as accurate as an in-clinic test, the tried and true go-to method we had used for decades?
"The first thing [Modern Fertility] did was run a concordance study that proved you can use a traditional blood draw in tandem with an at-home test like that offered by Modern Fertility," Leahy went on to say. "The study was published in the Green Journal and reviewed by the New England Journal of Medicine. So you can use different testing methods at-home. You don't have to go to a fertility clinic and pay thousands of dollars for this information."
The Modern Fertility test is $159, and you can still use it if you're on birth control.
View this post on Instagram
In addition to the test, you are also receiving access to a robust community of fertility knowledge-seekers who may not be dealing with infertility but rather are wondering, "where am I in this journey?" Test-takers can even chat one-on-one with a fertility nurse for professional medical advice.
"Neither Afton nor I are doctors," Leahy said. "So the first thing we did was build a world class Medical Advisory Board. We were really inspired to find the best reproductive endocrinologists and fertility experts who wanted to make sure women had this information earlier.

We had a lot of people who would ask if women really want to know about their fertility, or if this is too scary of a topic for them. And honestly, that was reminiscent of the hysteria of when the at-home pregnancy test was first invented. A large swath of the medical community felt that women shouldn't be able to know they're pregnant at home because they thought women would do something wrong or read the test wrong, which is crazy! Naturally, we anticipated that we'd have to do a lot of education. But in reality, women said they wanted this information. They were ready for it!"
The fact that the medical community thought that women would not be able to handle at-home pregnancy tests not so long ago frankly shocked me. At-home tests are the primary way people in today's age find out about pregnancy! I know that so many stereotypes exist about women. But what other harmful myths about people with ovaries did we still have left to unlearn?
"It is a myth that your birth control impacts your fertility," Leahy said. "One of the abstracts we published this year answered this question about the impact of contraception and fertility. People are on the pill for 10 years and ask if they'll be able to have a kid. Different kinds of birth control do leave your system at different times, so when you choose a birth control, get to know your timeline [to conceive]."
I admired Leahy's transformation from someone who thought babies were of no concern to her during the height of her career — a thought I've grappled with so many times — to someone who empathized deeply and saw fertility information as a way for women to begin closing the financial and social gaps they face. One of those gaps happens to be starting a company in the tech space.
View this post on Instagram
20 percent of global startups raising their first funding round in 2019 had female founders. And while that's a remarkable change from the measly 10% of the decade before, gender diversity still has a long way to go. In addition to being a woman, Leahy is also neither a technical founder nor a finance tycoon, so she faced a lot of Impostor Syndrome at first.
"I will be in an all-hands meeting with the entire company and I'm using the same tactics and skills I used to use as a captain for the high school field hockey team," she said. "It takes leadership, grit, hard work, and losing gracefully to run a company. You have to lead with kindness. I have a creative background, so I had some Impostor Syndrome. I realize, though, it's all about knowing how to work well with others and helping them find clarity when things are tough.

I once got advice from a manager telling me to be patient and wait your turn. If you ever hear that, run in the other direction. My advice to people who are thinking about starting their own thing is to remember that no one is any smarter than you. The way you build something great is by having a ton of conviction and passion around something and finding really smart people to build it up with you."
It became clear to me that Modern Fertility is about more than just hopeful parents seeking answers about infertility. It's about empowering all women to learn about bodies, seek out medical knowledge, and plan accordingly for their futures. Yes, fertility is inherently about babies. But it's about feminism, equality, and empowerment, too.
"I definitely feel more empowered and informed after using the [Modern Fertility] test," Islam said as she waits for her test results to come back. "It will, hopefully, provide insight on the direction [my husband and I] go with our fertility journey. And even though it's still early for us, I'd rather be informed, prepared and mentally and emotionally ready for what family planning might look like for us!"
View this post on Instagram
While the blame of infertility and stress of conceiving is placed largely on people with ovaries — aka women in our heteronormative South Asian culture — companies like Modern Fertility are bringing people with sperm into the fertility conversation. One day, we may very well have an accessible way to test sperm at home, changing the trajectory of even more lives.