2
min read
by Monica Bhatnagar – Follow @bhatmon
When I wrote this short I was knee-deep in therapy, and one major topic of discussion was my constant struggle with my weight. As a kid, I loved to eat, and I was not blessed with a speedy metabolism, and I was mildly chubby.
The people who commented on my weight were mostly people whose weight I had seen fluctuate over the years. They would talk about the latest diets they were trying, or how they had given up pakora for celery. The worst was the back-handed compliments.
"Oh Shama, you are looking very trim!"

Skinny was celebrated while normal (how I see it now), was criticized.
Three-year-old me never thought to cut out carbs to maintain a svelte physique. I learned by example. I absorbed every bit of feedback I received from the outside world.
Certainly, Auntie wasn't born mean. Auntie, for as long as I can remember, was a big woman. I am not sure if she struggled with her weight, but I do recall one encounter where she was kind to me.
I was thirteen. Thirteen was tough. I was going through puberty, and I was at my heaviest (which really wasn't that heavy).
During one family gathering, I was closely examining a scant dessert tray when out of nowhere someone's younger brother started crying that I was going to eat all the desserts. His mom ran over to see what the commotion was. All eyes were on me.
Auntie walked up to us, picked up the entire tray, and casually walked away eating every last bit of sugary goodness. All eyes were on Auntie.
I didn't get any dessert that day, but I learned that under that unpleasant exterior Auntie wasn't all bad. She could even be sweet when she wanted.
---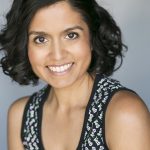 Monica Bhatnagar is a Los Angeles- based actor and filmmaker. She has worked on commercials for Lumosity, Honda, and Red Laser, and her sci-fi short film "Manikin", which she wrote, and acted in premiered at the Los Angeles Women's International Film Festival in March of 2016. Monica regularly acts in sketches for Late Night with Conan O'Brien. She also creates her own comedic sketches, including her latest, "Mediocre White Man Confidence…It's a hell of a drug". Follow her on Twitter: @bhatmon, and Facebook: @ActingMonica.