3
min read
by Faria Akram 
Growing up, Amarpreet Rai never thought she'd join the family business. Now that she has, she admits there are both pros and cons to working with loved ones.
"Work never ends," Amarpreet said. "It can be 10 p.m., but if mom has an idea, she's going to call me."
Amarpreet and her mother, Jaspreet Rai, own Sanrai International, a company that sells healthcare diagnostic and treatment tools in countries around the world.
Before there was Sanrai International, though, it was just Sanrai Med, a company Jaspreet began after her grandmother in India had difficulty receiving affordable, easy to use healthcare equipment.
"The machine was three times the cost compared to the U.S.," Jaspreet said, speaking about the stationary oxygen concentrator her grandmother needed at the time. "The delivery person said this thing is now your headache, you figure out how to run it, service it, and do everything."
Jaspreet said she was shocked and soon realized this scenario was not limited to only her grandmother.
"I realized that India needed a true western style homecare company," Jaspreet said.
Jaspreet then began SanraiMed India, which focused on providing medical equipment, services, and support to India, but this was more than 10 years ago. Amarpreet came into the business more recently, when her mother approached her with the idea of taking the company to a global level.
"That sounded a lot more appealing to me because I have always enjoyed starting a project from the beginning and really understanding the details," Amarpreet said.
Under Sanrai International, the company now runs Sanrai South Africa and Sanrai Colombia, and plans to expand even further, Rai said. According to Rai, Sanrai stands out from its competitors in terms of the ease of the process. The company makes it a strong point to adapt to the current country it's in, as well as to provide full support for its customers.
"We [make it easy] by charging in local currency, stocking product in each region, deliveries, better pricing, etc.," Amarpreet said. "The second thing we do is we give all the education, awareness, training and support required. Other companies tend to visit a country, drop off some new product, and call back a year later wondering why more stock wasn't purchased. We are the antithesis of this."
For Amarpreet, working for Sanrai has opened her eyes to the struggle receiving quality healthcare services around the world can be.
"The time that I spent in India growing up made me realize that what I consider a human right is a privilege to the wealthy in the emerging world," Amarpreet said. "We are bringing innovation in a sustainable manner to a world that used to get 'new' products years later. To me, that's a cause worth putting my heart and soul into."
And the work has not been without results. According to Amarpreet, her mother's work in India has completely changed Indian homecare, and they aspire to bring this change to other markets worldwide. But how can consumers best work with this beneficial change? Amarpreet said she believes it's important for people to realize that healthcare is more than just hospitals and doctors.
"There's a lot more to healthcare, including governments, economies, policies, and businesses. It's a complex puzzle that I think everyone should engage with before they have to so that they understand what exactly is the system that's either saving their life or ruining it forever," Amarpreet said.
And while working with her mom may not always be a picnic, Amarpreet said there are pros to the relationship that make the work-life balance easier.
"There's total trust. You know that you are both working towards the same goal," Amarpreet said.

Check out Sanrai International on their website  and Facebook page for more details on current products and future innovations. You can also follow Amarpreet Rai on her Twitter, Instagram, and Facebook.
---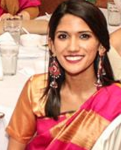 Faria Akram is a tiny and tough Texas native who received a double degree in journalism & advertising from the best school in the world, UT Austin. When she's not trying to master the art of storytelling, she can be found choreographing dance routines in her room, planning adventures with friends or watching "Kuch Kuch Hota Hai" for the thousandth time. She loves sparkling water, reading, meeting new people and sharing their stories with the world.