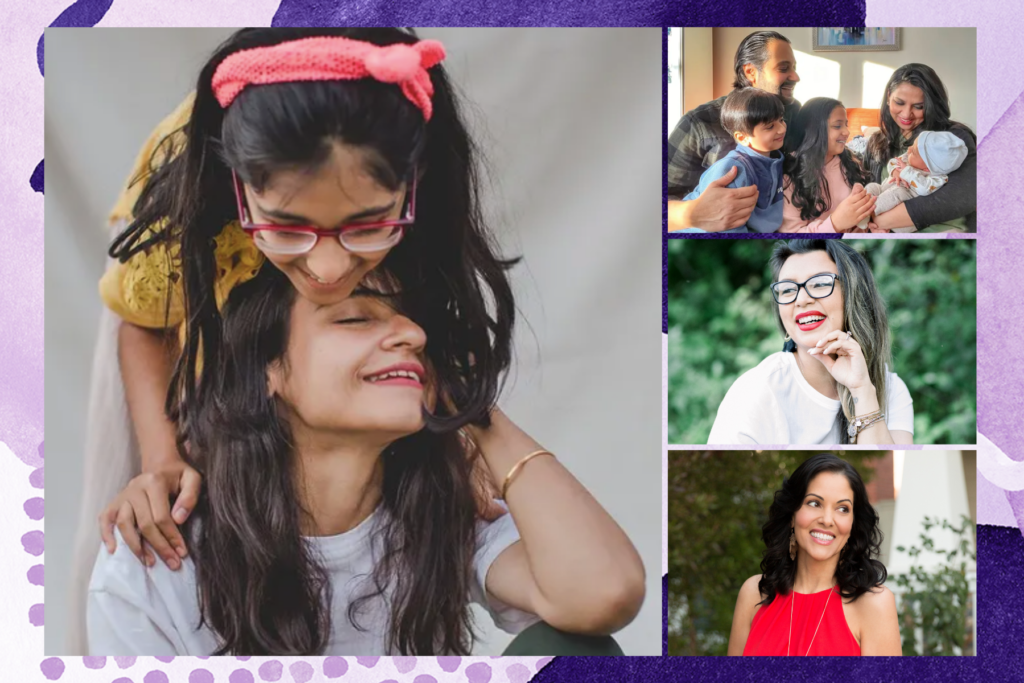 "To be honest I am winging it! Life, motherhood, my eyeliner. Everything!" With these words that I read somewhere, I present myself to you guys, as the new parenting editor at BrownGirlMagazine.com. These words also sum up motherhood during the pandemic. Motherhood has been my favorite winging duty and I do it with fierce love and a newfound respect for being intentional and present.
Here are five must-know facts about me:
1. I am a chai-obsessed mama to two adorable humans and a crazy pup, wife to my amazing husband who is guilty of supporting my crazies, and am blessed to be surrounded by a tribe of fierce women that I truly cherish.
2. I find small talk tedious but love to connect with people over things that make us human, flaws, vulnerabilities, and idiosyncrasies.
3. My love language is cooking and food! Are you even brown if you don't do that? Cooking is also my therapy. At the end of a hectic day, all I want to do is cuddle my babies and COOK!
4. Entering my 40s has been the best thing ever! Totally embracing my cushy orthopedics, heating pad, and night guard!
5. Want to talk about quantum physics, spirits, energy, manifestation, the whole shebang, I am your gal! I promise I won't judge you!
For this Mother's Day, I am honored to feature four phenomenal, popular Instagram mamas as they talk about motherhood during the pandemic and their mama superpowers.
Nataliya is a Pakistani-Muslim-American mom living in Seattle, Washington with her husband and 11-year-old girl. She is a family photographer and a storyteller, running on chai and trying to find magic in the everyday.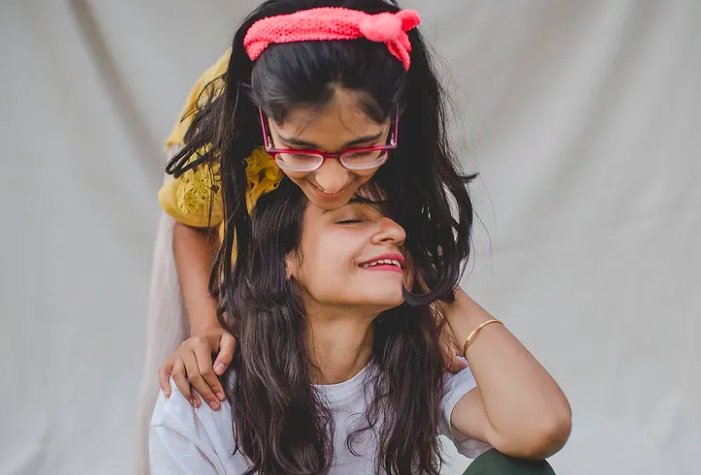 1. How has motherhood during the pandemic been for you and your family?
It honestly feels like we were entirely different people before these last two years, it's crazy how life changed. Honestly, motherhood during the pandemic has been hard and exhausting. During the last two years, my husband lost his job, lost his sister and my mom got diagnosed with cancer. When you're struggling with so many difficult, life-changing events and losses, it's hard to still bring your best selves for your kids.
My daughter Anya had just turned nine in 2020. The social isolation combined with emotional changes during these pre-teen years has been difficult for her. Despite it all though, it has felt really rewarding to see kids and witness their resilience and maturity in coping with these stressful times. It's so humbling to know that at the end of the day especially through these younger years, our kids mainly need our presence and our love.
2. What are some routines that made these chaotic, unpredictable times happier and calmer for your daughter and for yourself?
There were so many things that worked at different points in these last two years! We found creative ways to safely meet up with people while also connecting with friends and family online. This was crucial for my daughter's well-being as she did virtual schooling for a year and a half. There were so many different ways the kids played, celebrated, chatted, and crafted together online, it was amazing!
At home, we also created rituals we never would've done before, like weekday night dinner in front of the television with a few episodes of a favorite family show. We also did up our backyard and spent a lot of time outdoors. My daughter made a lot of friends at our neighborhood park which was great since she's an only child.
An important thing was giving each other space when we didn't feel our best and were more irritable than normal (yes, even the grown-ups were having tantrums often!). Many times when I felt emotionally exhausted, I would take my laptop and chai and go upstairs to hang out in my bed before sleeping while my husband and daughter were still downstairs.
3. What is your superpower and the best-learned motherhood wisdom that you would like to share with our readers?
I'd say celebrating birthdays is my superpower! Documenting them for my girl all of these years has been something I've enjoyed since the beginning. I sneak into her room to decorate it before she wakes up on her big day and set up a scavenger hunt for her to find her gift. Initially, it was something that I was doing for myself. Once she turned six years old, it's something she started looking forward to the most. And the sweetest thing is that in the last two years she has started doing the same for my birthdays. Someone once told me that birthdays were my love language and yes I think they truly are.
The wisdom I'd love to share is these years do really go by so fast. I became a mom and lost my dad within the same year and so from the very beginning, I was very mindful of how fleeting life is. While I've had the same struggles as all moms, I think most nights I go to bed thinking what a gift and privilege it is to be able to be a mom and raise the next generation.
Tamania Jaffri (@urdumom)
Tamania is a Canadian mom, raising her beautiful family in Calgary, Alberta. She is passionate about passing on the love of language and culture to the next generation through her blog urdumom.com Not to mention she helped launch the parenting vertical at Brown Girl Mag a few years ago (kudos to her for giving us the launchpad to grow it further).
1. How has motherhood during the pandemic been for you and your family?
There were many changes for our family in the last two years of the pandemic. I learned and grew as a mother through these changes and experiences. My children did online school for 18 months, we welcomed a baby in our family and my dear father-in-law passed away in Pakistan. Combine this with how much children grow in two years, it's a LOT! I look at pictures of my children pre-pandemic and they look tiny compared to now. We grew as a family, not just in number but also in our bonding. There were tough days and terrible moments. But there were also happy memories, hugs, smiles, and lots of laughter.
2. What are some routines that made these chaotic, unpredictable times happier and calmer for your children and yourself?
Nothing like being at home with your family away from extended family, friends, and community, to realize how important your own family is. Taking away the distractions of playdates, birthday parties, and social commitments, I got more quality time and opportunities to spend time with my children. These uncertain times were a great opportunity to learn and live some valuable life lessons. As I always tell my children that it's not a situation but our response to it that matters. I think conversations, walks, and playing board games together helped us all stay in the moment when things were chaotic around us.
View this post on Instagram
3. What is your superpower and the best-learned motherhood wisdom that you would like to share with our readers?
I feel motherhood in itself is a superpower. Before Zeynab (my firstborn) I used to do prenatal yoga and we used to repeat a chant "a woman finds her strength when she gives birth." I believed that when I held my daughter I found the courage to do things, I never would have thought were possible before.
My best tip is the words of wisdom shared by a Babies R' Us saleswoman as I scrambled around the store as a new mom searching for baby products: "You are the manual your child comes with." Her words gave me strength and validation at a time I really needed it and I love to pass this on to other moms.
Meenakshi Sharma is a Canadian mama to two little girls, who are her warriors! She is a digital content creator and the founder of The Lotus Movement, a non-profit organization focused on demystifying the stigma within the South Asian community.
1. How has motherhood during the pandemic been for you and your family?
A rollercoaster of a ride! I was on maternity leave when the first lockdown happened. I felt robbed of a mat leave because I couldn't do all the usual things that I did with my first. Watching a toddler and a newborn was hard and took a toll on me physically and emotionally. My mental health declined as my village wasn't able to show up and I  felt lost and very isolated.
2. What are some routines that made these chaotic, unpredictable times happier and calmer for your children and yourself?
During the pandemic, we didn't keep to very serious routines and tried to have as much fun as possible! We joined Zoom classes for the kids (art, dance, etc.) and watched a lot of movies too! Sometimes, the pause in routine and hectic schedules was nice. We soaked in the cuddles and remained present in the moment. For my well-being, I turned to social media and connected with many moms from the South Asian community. Connecting and sharing made a load of motherhood during the pandemic much more bearable. This was instrumental as I was able to have hard conversations with other mamas about our mutual struggles.
View this post on Instagram
3. What is your superpower and the best-learned motherhood wisdom that you would like to share with our readers?
Moms can truly do it all! I never imagined myself raising two little warriors, working full-time, being a digital content creator, starting a non-profit and somehow squeezing in a social life in there would be possible! I've stopped making excuses for myself and just do what feels best. There's a big BUT to that statement, I always make sure to fill my cup and check my mental well-being. If mama isn't feeling her best, that needs to be addressed. Moms need to remember that it's okay to put ourselves first — a healthy mama means a healthy family!
Sadhna is an Indian-American mom of four, a classically-trained chef, healer, meditation guide and author. She loves to talk about holistic approaches to health and well-being and is an advocate for amplifying the representation of women, girls and BIPOC in children's books and media.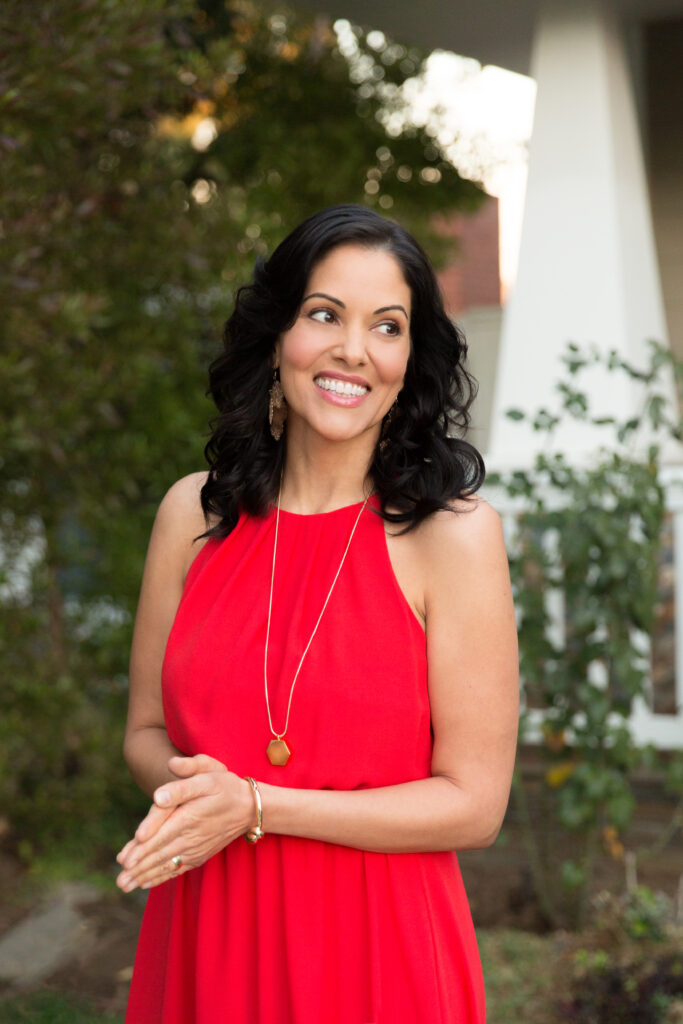 1. How has motherhood during the pandemic been for you and your family?
Motherhood is this intense spiritual practice requiring surrender, self-sacrifice, and unconditional love. Even on a good day "mom life" can leave you feeling alone, exhausted, or frustrated. Motherhood during the pandemic was accompanied by unprecedented loss, isolation, and stress and felt even more overwhelming than usual.
In all this chaos, I did find an unexpected silver lining. Without the busy over-scheduled, chaotic stream of constant doing and socializing, I was able to deep dive into my yoga practice and take the twins along with me for the ride. It helped us to stay in a state of conscious response and not reaction, to everything that was happening outside. The lockdown forced us to step back from our busy schedules, slow down and connect with each other and ourselves.
We adapted to quarantine life, embraced the change of pace, and enjoyed being in pajamas all day.
Not that it was all rainbows and unicorns. Our family struggled like everyone else at times with feelings of instability, anxiety, grief, and anger. Losing my father during this time was devastating.
Also, being separated from my older two kiddos (in their 20s and out of the house) for extended periods of time and travel restrictions that made it impossible to see my husband's family abroad made my heartache. The lengthy shutdowns also meant my husband spent more time out of the house working longer hours to reimagine and recover our small business. If this experience has driven any message home for us as a family, it's that prioritizing time with family and friends is not something to be taken for granted.
2. What are some things/routines that made these chaotic, unpredictable times happier and calmer for your child/children and yourself?
By far baking therapy, or "breaditation" was something the twins and I really sunk our teeth into during this time, literally!
Fortunately, we were homeschoolers before the pandemic, so we already had a routine in place that involved schooling at home, although we missed the two days a week for group activities that we were quite accustomed to.
We also reconnected with nature by taking hikes and working in our garden, spent more time enjoying our pets, read tons of books, focused on having an attitude of gratitude, and expanded our efforts to reduce waste and consumption of material. All these things helped in cultivating coping skills like patience and adaptability.
For me, my yoga and meditation practice deepened. I had more time to study, write, and read and finally opened an Etsy store featuring my handmade malas. A surprising gem that made quarantine life happier for me was social media as I discovered one of its positives during quarantine — connection.
I stumbled onto Brown Girl Magazine during this time and also began connecting with an amazing and eclectic mix of Indian moms — both in India and in the Diaspora. We shared recipes, common interests, friendship, and support — creating a sense of community.
3. What is your superpower and the best-learned motherhood wisdom that you would like to share with our readers?
Baking is my superpower and my apron is my cape lol!
The best-learned motherhood wisdom that I would like to share is to get the kids involved in the daily routines. Have them start helping out early on with simple chores like laundry, clearing the table after meals, doing the dishes, caring for pets, putting their toys away, cooking, watering plants, etc.
As counterproductive as it seems in the beginning, I totally understand it makes everything take so much longer than doing it ourselves, I promise you it will pay off later!
There you have it, four mommas sharing the beautiful ups and chaotic downs of motherhood. And to all those missing their moms, our hearts are with you. <3