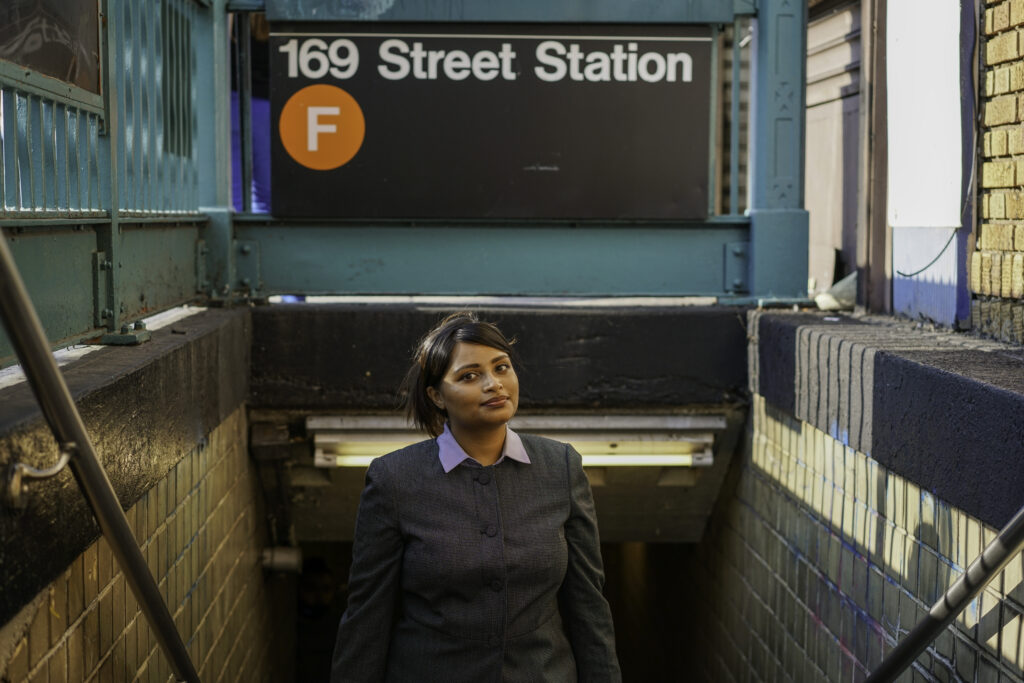 The order of 2021's most talked-about events so far: The Capitol Insurrection, the Biden-Harris Inauguration – and the Bernie Sanders Sitting memes. Now meet Moumita Ahmed, the Bangladeshi-American New Yorker who helped coin the viral #FeelTheBern hashtag in 2016 – and is now running for city council in District 24 of Queens.
Ahmed was a force to be reckoned with on the Bernie Sanders campaign. Having helped found the grassroots movement Millennials for Bernie, she later went on to campaign for other progressive candidates in New York City such as then-gubernatorial candidate Cynthia Nixon and U.S. District 14 Representative Alexandria Ocasio-Cortez.
The pandemic introduced the borough of Queens to a disproportionate amount of chaos, ranging from housing insecurity, small business crisis and food shortages. In response to inadequate support from local representatives, Ahmed and her network rose to the occasion and built the Queens Mutual Aid Network.
The exposure to the myriad of systemic inequalities uniquely experienced by the working class in New York City built an unrelenting drive within Ahmed to push for social reform by way of running for city council.
"During the pandemic, I saw immense suffering coming out of our communities here in Jamaica. The injustices were unbelievable: people subletting living rooms from our communities with other family members, or getting kicked out with no recourse, ending up in homeless shelters where the situation was even worse," Ahmed said.
The absence of her current district city council member at the height of the pandemic led Ahmed and her network to form the Queens Mutual Aid Network in order to support families in need.
"After serving two thousand families and helping five hundred families on a weekly basis with food during Ramadan, we realized: we're burnt out. No matter how hard we try and how many deliveries we make, we're not going to end the food insecurity here. We couldn't end hunger, we couldn't end the misery they were facing, we couldn't house people – we couldn't truly help them.

 That's why I decided to run. If you're not working class, you have to sympathize. But you can never empathize, because to actually empathize, you actually have to come from that community."
The circumstances of her upbringing built her initial drive towards grassroots campaigns and progressivism.
"Many of us grew up in the aftermath of 9/11. My dad was arrested during a stop-and-frisk…that moment radicalized me and shaped my worldview. What I realized was as a woman of color, all of those issues are intersectional to me. If you're low income and black and brown, the injustices are overwhelming. You're born with it. That was my first entry into progressive politics. Around that time, I was learning more about Bernie Sanders, who was considering a run."
Joining the Sanders campaign was a pivotal moment for Ahmed, who was a part of the initial grassroots movement that developed social media accounts and meet-ups for Sanders supporters, and later moved on to start "Millennials for Bernie."
View this post on Instagram
She describes how her foray into grassroots politics equipped her to mobilize large groups of people with limited resources, a skill that proved useful in the last few years as she moved onto local New York City political work such as working for former gubernatorial candidate Cynthia Nixon, founding Bangladeshis for Political Progress and the New Reformers Pact as well as running for District Leader.
At the top of Ahmed's platform agenda is food insecurity and housing insecurity, along with a number of other intersectional issues afflicting the immigrant community of Queens. 
"My policy is extensive, but at the core of it is language justice, immigration justice, climate change and COVID-19 recovery.  I have a very comprehensive vision of Queens for this district, and it starts with equality."
Save our small businesses
"During Ramadan, the city, instead of giving small businesses money to provide food to the community, gave it to military contractors. All these local mom and pop shops, they're struggling to pay rent right now," Ahmed said
Immigration justice
"In our community, we have a situation where people are exploiting immigrants because they're undocumented or they're having issues becoming naturalized citizens."
Language justice and language access
"What we have to do is actively prioritize language justice, and provide legal counsel in housing court, and immigration lawyers that are free, that are paid for by us, by city council, by the state, by the government, to provide legal support to immigrants with language barriers."
Abolishing ICE
"I want ICE nowhere near our city or in this district. We have to make sure that there's a moratorium on expanding detention centers and privately-run prisons and put an end to all interagency and police collaboration programs."
Environment
"Our diaspora is not going to have a place to call home. Our ancestral homes are going to disappear because of climate change. That's why I'm connecting the climate justice movement to the housing justice movement here in America. We need to come together and fight for a resilient New York City.  At the end of the day, one side has the thumb on their scale. They have millions of dollars. The only power we have is our collective power."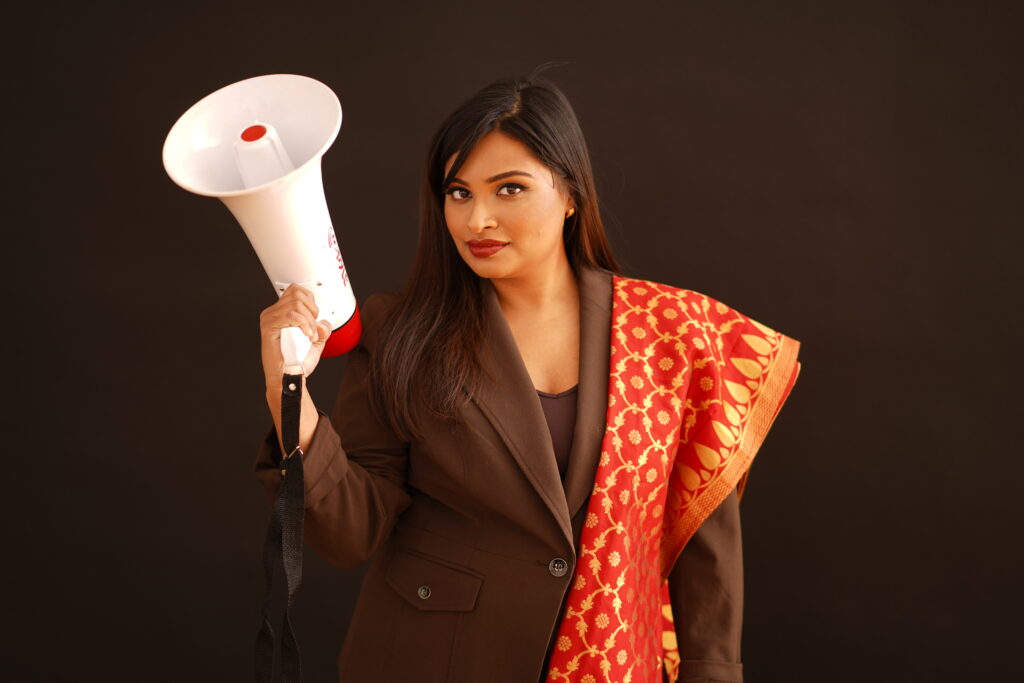 She explained her work with expanding the Bangladeshi voting bloc in recent years.
"I think people underestimate Bangladeshis in the sense that they feel that we're not as involved. Bangladeshis fought for our country and our liberation not too long ago; many of the concepts that we're talking about – inequality, human rights – it's ingrained in our culture. All of us have some family member or story of war, of survival. People underestimate the power of this community and our ability to mobilize and come together as a voting bloc.

But you can't just be a Bangladeshi and only run for Bangladeshi people either. You have to be a candidate who can appeal to other communities, bring them together, be in solidarity.

It's not enough to just elect a South Asian – we have to elect someone who is working-class, because our community right now needs it. We have to think about who the people that we're putting in power to represent our community. Do they actually reflect the diversity as well as the economic status of this district?"
View this post on Instagram
A typical campaign involves different ways to organize and engage with the community, but the pandemic posed a significant setback. In spite of this, Ahmed's team prevailed.
 "The way I've adapted is through relational organizing. This is why I'm a community organizer: it's because I've built these relationships with hundreds of people in the district for years, for doing the work that I'm doing around elections.

We're going to pivot because we can't knock on doors or run the typical appeal program that others would. We're going to rely on our network, which includes people who casted their vote for me during my district leader race, with the families that we helped during the height of the pandemic, with the progressives who supported Bernie, and all of the campaigns to fight for a more equal New York."
Learn more about Ahmed's campaign for City Council and follow her work on Instagram and Twitter.  Election Day for City Council District 24 is February 2nd, polls will be open from 6 AM to 9 PM. Find your polling place here.