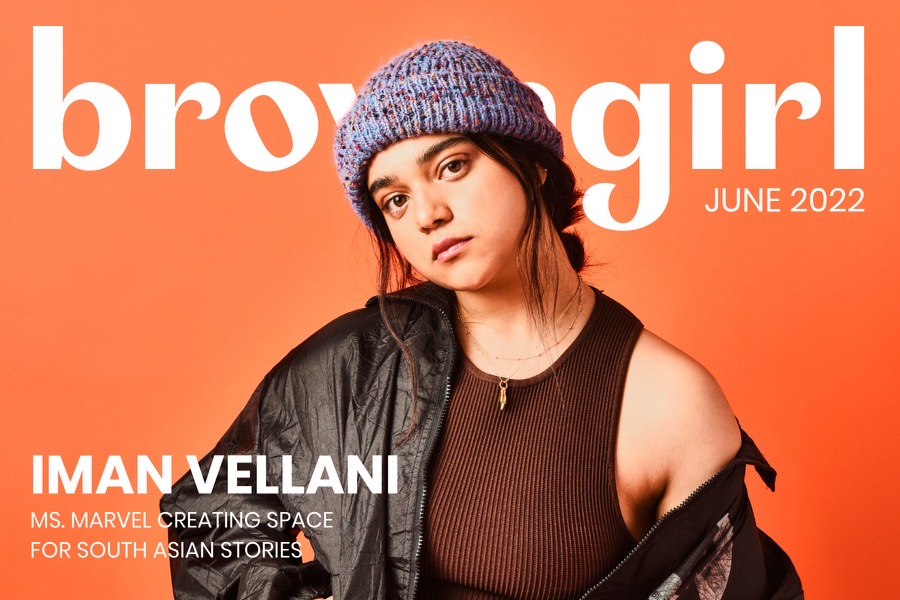 Co-written by Ashley Ramcharan & Usha Sookai
It's a bird. It's a plane. Nope, it's a brown girl from Jersey City. 
Premiering June 8, 2022, on Disney+, "Ms. Marvel" follows Kamala Khan, a 16-year-old Muslim Pakistani-American who lives an ordinary and simple life with her parents Yusuf and Muneeba and brother Aamir in Jersey City. Kamala feels like she doesn't fit in at school and sometimes even at home. But like most teenagers, she is obsessed with superheroes – especially Captain Marvel — that is until she gets superpowers like the heroes she's looked up to. Now she must juggle superhero life and regular teenager life. 
Co-created by G. Wilson and Sana Amanat (also serving as executive producer) and written by Bisha K. Ali, Iman Vellani, a Pakistani-Canadian actress, makes her acting debut as Kamala, whose dreams come true when she becomes the superhero, Ms. Marvel. A powerhouse actress whose creativity and love for the Marvel Cinematic Universe (MCU) spills over onto the screen, Vellani is going to surprise the audience over the course of the 6-episode series through July 13th with her wit, charm and ability to play her character's complicated hyphenated identity as Pakistani-American superbly well. 
View this post on Instagram
After watching the first two episodes before they premiere, it's a surreal moment to see the cast, which features many South Asian actors. It truly is a beautiful and cohesive mix of newcomers and veterans including Yasmeen Fletcher as Nakia, Matthew Lintz as Bruno, Fawad Khan as Hasan, Mohan Kapoor as Yusuf Khan (whom we interview below), Zenobia Shroff as Muneeba Khan, Rish Shah as Kamran, Nimra Bucha as Najma, Alysia Reiner as Sadie Deever, Saagar Shaikh as Aamir, and Arian Moayed as Agent P. Cleary.
"The Marvels" film, releasing in 2023, will see the case return and introduce Ms. Marvel to Captain Marvel and others in the MCU, which sounds like our childhood dreams are set to come alive.
Following this year's third Slashie Summit in New York City where our attendees saw an exclusive sneak peek of the trailer, Brown Girl Mag contributors Ashley Ramcharan and Usha Sookai spoke virtually with actors Vellani and Kapur to discuss their roles in the Marvel Cinematic Universe and the impacts they hope to have.
The following answers have been condensed for concision and clarity. 
In conversation with Iman Vellani:
You play Marvel's first Muslim character. Do you think the series accurately portrays your faith and culture?
"I think this is definitely a singular representation of the Muslim experience. There are two billion Muslims and South Asians in the world–this show cannot represent all of them, but it's a good start. Honestly, we've tried to make Kamala as authentic and specific of a character as possible. 
Hopefully, people find something relatable, whether it's Kamala herself, her older brother or someone in her school or community. I think that all our characters are so universal… I just got so much representation filming the show watching Nakia [who plays Kamala's friend on the show,] pronouncing Eid Mubarak with the most flawless accent–it made my day."
Do you feel an overwhelming expectation to represent all Muslim-desi women? How are you mentally preparing for that?
"I do not feel any pressure, I know I should but honestly I think the work is going to speak for itself. I don't think I have to go out of my way and be the face of Muslims and South Asians everywhere. I can't do that. 

When people see someone like me, in a setting this grand, I hope they're inspired and realize there is space for them in this industry and know they're allowed to take up space and have a voice. Kamala is definitely going to do that. And I just hope it has the same impact on other people as the comics did on me."
How did you navigate the transition from being a "regular" MCU teenage superfan in high school to working with one of the biggest studios in the world?
"I did not. I'm still constantly fangirling over everything! Just Avengercon, for example, was one of the last things we shot in Atlanta. They did not let me see that set up until the day we shot it because they're like, 'whatever your reaction is going to be in real life is what we want for Kamala, so we're just gonna, hide it from you.' I'm constantly gushing over everything I'm seeing and enamored by Marvel itself–the sheer scale of these productions is insane! I'm just so lucky that I get to be the nerd to kind of represent the other nerds."
Nia DaCosta is the first Black woman hired as a director for the MCU and The Marvels film would likely break the record for the biggest-budgeted film directed by a Black woman. What are your thoughts on this as a woman of color?
"I think Nia DaCosta is my favorite person on the planet. She's such an actors' director too, she really cares and takes the time to check on you. Just knowing her as a person and then seeing the way she works was so inspiring for me, because I didn't know what I wanted to do when I was in high school. I just wanted to try everything and right now I'm getting the greatest crash course on film. I've worked with four different directors on 'Ms. Marvel' and Nia DaCosta on The Marvels, so that's five. I'm just absorbing as much knowledge as I can. I am so happy for Nia! I think she deserves everything that's coming her way. And I'm excited to talk about The Marvels but I can't say anything. It'll come soon."
How did your identity impact your upbringing? Do you see those experiences reflected in Kamala Khan's story?
"I think Kamala and I went on a very similar journey of self discovery and reconnecting with our roots. It's something that I felt quite far removed from growing up. Even though I was raised with my grandparents watching Bollywood movies, my parents tried to get me to watch Pakistani dramas but I didn't see the value in it or think it was cool. 

Honestly, I was in love with American pop culture and Hollywood. So I was like, 'I'm gonna pick this lane, screw my culture.' Now here I am in Hollywood working with just an insane amount of people of color, South Asians and Muslims who are all so incredibly creative and talented and cool. Seeing them be so in touch with their culture made me want to go back and reconnect with my roots. Throughout the course of the show, I started hating being in salwar-kameezes and now I am fighting in one." 
Talk about a cosmic night?

See all these stars and more when Ms. Marvel, an Original series from Marvel Studios, starts streaming Wednesday on @disneyplus. #MsMarvel pic.twitter.com/RY9n3HsdxL

— Ms. Marvel (@msmarvel) June 4, 2022
How did you get started as an actress? Being of Pakistani descent, was your family receptive to your dream of being on the big screen?
"Yeah, my parents were super supportive. I think moving to Canada played a role. I have an older brother and they wanted us to try everything and involve ourselves in as many experiences as we could –that was why we moved. So we could have a higher quality of life and access to more things. Growing up, I was just so in love with Hollywood and film but I definitely didn't want to be an actor. I went to an arts school so I was in theater in high school, however as soon as I went into theater I was like 'I don't like this.' 

I fell in love with the 'techy' side of theater and was unsure of my future. That is such an insane amount of pressure to put on a 16-year-old-kid. To just 'figure out what you want to do because whatever courses you take now that's going to be what you're going to do for the rest of your life.' It's not true. This came out of nowhere and it happened out of my pure love for Marvel and Kamala as a character. My parents could not take that away from me. They know how much I love Marvel and they definitely want to see me be as successful as possible. It was never in question if I could do this or not. They have been holding my hand throughout this entire thing." 
Talk to us about your casting experience. Do you think that Hollywood and Western media offer enough major roles to South Asian actresses?
"I think it's heading in a positive direction. I think once people see Ms. Marvel, I hope that gets the ball rolling on more opportunities. We're getting there and hopefully this inspires more South Asian and Muslim creatives to tell their stories because Ms. Marvel can't be the end and we can't represent every South Asian or Muslim person. I'm excited to see what kind of projects this inspires!"  
The show has received very positive and promising reviews. How have you and your team reacted?
"It's funny, we just did a screening in Toronto and all my friends and family that came were so happy, although it was absolutely nerve wracking for me because they watched me act for the first time. I had girls crying, saying that this is the most accurate representation they've ever received so far and that alone meant so much to me. My mom walked out of the theater in complete shock so I still don't know how she feels about it, but I know she's happy. It's such a monumental thing."
Iron Man is your favorite Marvel superhero. Can you tell us why?
"I have a crush on Robert Downey Junior. He's a great character too, I guess, very cool. But Robert Downey Junior…" 
As a young South Asian woman, did you feel intimidated or have imposter syndrome at all when working with other MCU actors?
"I still have imposter syndrome. It's super weird because I'm working with people who I have posters of in my room, and it's super meta. I really don't know how to put it into words because all I think about is like 'God, you guys were looking for a Ms. Marvel for two years and this is the best you can do?' 

It just wasn't clicking to me that this even happened because I have no connections to Hollywood whatsoever. The closest thing I have is my drama teacher knows Ed Norton's wife–that was it. It's super surreal and, honestly, seeing the billboards and the trailers is easing my nerves and making it feel more real in my head as well." 
Everyone loves a girl power moment. Can you share any details on whether you and Xochitl Gomez (America from Dr. Strange and the Multiverse) will team up in the future?
"Oh my god, I would love to! We were literally at dinner talking about it. If it doesn't happen, we're going to make our own short film and do it." 
What's your advice to aspiring South Asian actors and actresses?
"I hope that you find a passion and explore it. Honestly, there's so much pressure, being a 'first' of something and Hollywood is slowly getting into true inclusivity and really representing people the way we want to be seen. I hope they have a hand in telling their own stories and bringing parts of their life into whatever work that they end up doing because that's honestly what I ended up doing and I think that's what made our character as authentic as possible. 

It's important to voice how you feel because as soon as you start generalizing 'brown people' you're not representing anyone. We can be used as a resource in telling our own stories. There are people who will listen." 
In conversation with Mohan Kapur:
View this post on Instagram
Tell us about your experience with Marvel. You've done tons of voiceovers, but how is your role in Ms. Marvel different from what you've previously done?
"The voice overs, they were just voice overs. I was giving my voice for other actors playing characters. This is me. This is Mohan Kapur playing Yusuf Khan for the first time ever—my soiree, my debut into Hollywood and Hollywood's biggest production company, Marvel Studios. So, it's a world of difference. The difference is as much as audio and visual." 
What was that transition like, with this being your first time in Hollywood? What has that experience been like for you?
"To use a very cliche line, it is marvelous. It's something that I wouldn't even have dreamt of. It happened and I was just so humbled by the whole experience and then the experience of shooting in Hollywood with the whole Marvel vision, it blew my mind. It catapulted me into another realm as an actor and as a person. I'm so glad I got to play Yusuf Khan because he's going to be cherished."  
I would imagine so. Describe Kamala and Yusuf's relationship. Does their father-daughter dynamic combat stereotypes about South Asian families?
"Kamala is a daughter that Muniba and I have had after many years of wanting a second child, and we almost gave up hope on that and then she happened, which is why she is a wonder for us and a miracle for us. I don't have a child of my own, let alone a daughter, but I always would've loved to have a child. 

So when I got this opportunity to play a dad to Iman and we got into the reading space, it was magical. I knew she was born to play Kamala Khan, Ms. Marvel. It was just intrinsic. It was just magic because it was organic. We didn't have to work on anything. Of course we had the script, but after that, it was just us. It was magical and precious." 
How do you think seeing a South Asian actor in Western media impacts the wider South Asian community and what do you hope to see going forward?
"When the news that Mohan Kapur from India is playing Yusuf Khan, father to Ms. Marvel — Kamala Khan — it was like wildfire because I hadn't told anybody. Everyone was like 'oh wow, oh wow,' and then I realized the impact it had. The Indian community felt proud of the achievement. It was providence that I got the role, but after that I saw the coming together of my country, my friends, people on social media and across communities. It was across community lines and it was beautiful because one of us, as in one of them, has made it over there (in the US). 

It became my responsibility to make my country proud and make the character lovable. We believe that we've achieved that. It's a huge step forward for the South Asian community and with Marvel at the helm of things, it's going to open up doors. People are going to say 'hey, Marvel has made the start, which means it can work.' They're going to start seeing it as what this community stands for and what you can do with this community."
As Vellani and Kapur bring their multifaceted characters to life, South Asians will be cheering them on and looking forward to the work of other South Asian storytellers. The father-daughter duo will make their debut on June 8, when "Ms. Marvel" premieres on Disney+. "Ms. Marvel" may be the first to bring a Muslim superhero to mainstream media, but it certainly won't be the last. 
Photo courtesy of Irvin Rivera (@graphicsmetropolis), exclusively for @browngirlmag's June digital cover, created by in-house designer Aishwarya Sukesh (@aishwarya_sukesh).