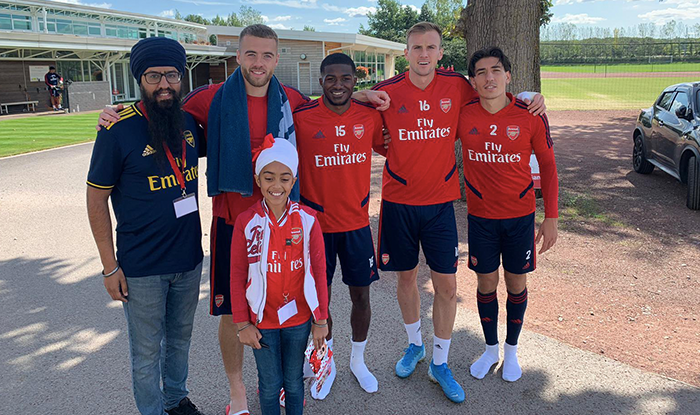 Earlier in August, a video went viral of a young British Sikh girl and an experience she had when asking to join a game of soccer with a group of kids in her area. 10-year-old Munsimar Kaur, MK, went to the park and asked a group of kids if she could play soccer with them; she was told she couldn't because she was a "terrorist." Later on, that week, when playing with a new friend she had made, her friend's mother came and forbade her child from playing with MK because she said MK was "dangerous."
It is heartbreaking to hear that someone could think this of a young child just because of her appearance. MK wears a traditional Sikh turban and because of this, she was discriminated against when all she wanted to do was play a game she loves. She is 10 years old. She is not a threat. She was not doing anything wrong.
MK, with the help of her parents, released the following video on her experience and used it as an opportunity to show how to be the bigger person in the face of racism.
Racist Park @GLL_UK

My eldest daughter Munsimar Kaur, aged 10, tells her own true story. Today it was my child tomorrow it could be yours. #sikh pic.twitter.com/NwR4iFUUE7

— Sikh Dad (@sikhdad) August 8, 2019
This video went viral and reached another soccer lover, Navraj Singh, a Sports Scientist with Arsenal Football Club in London. Singh spoke to the football club and got MK and her parents to come in for an exclusive day with the staff and team. He says:
After watching MK's video, I just wanted to do what I could to show her how I admired her bravery and that I supported her, I watched her video and just admired how she handled the situation so much. She's definitely special and I just wanted to do what I could to show her that I supported her and admired her for standing up to racism with such poise!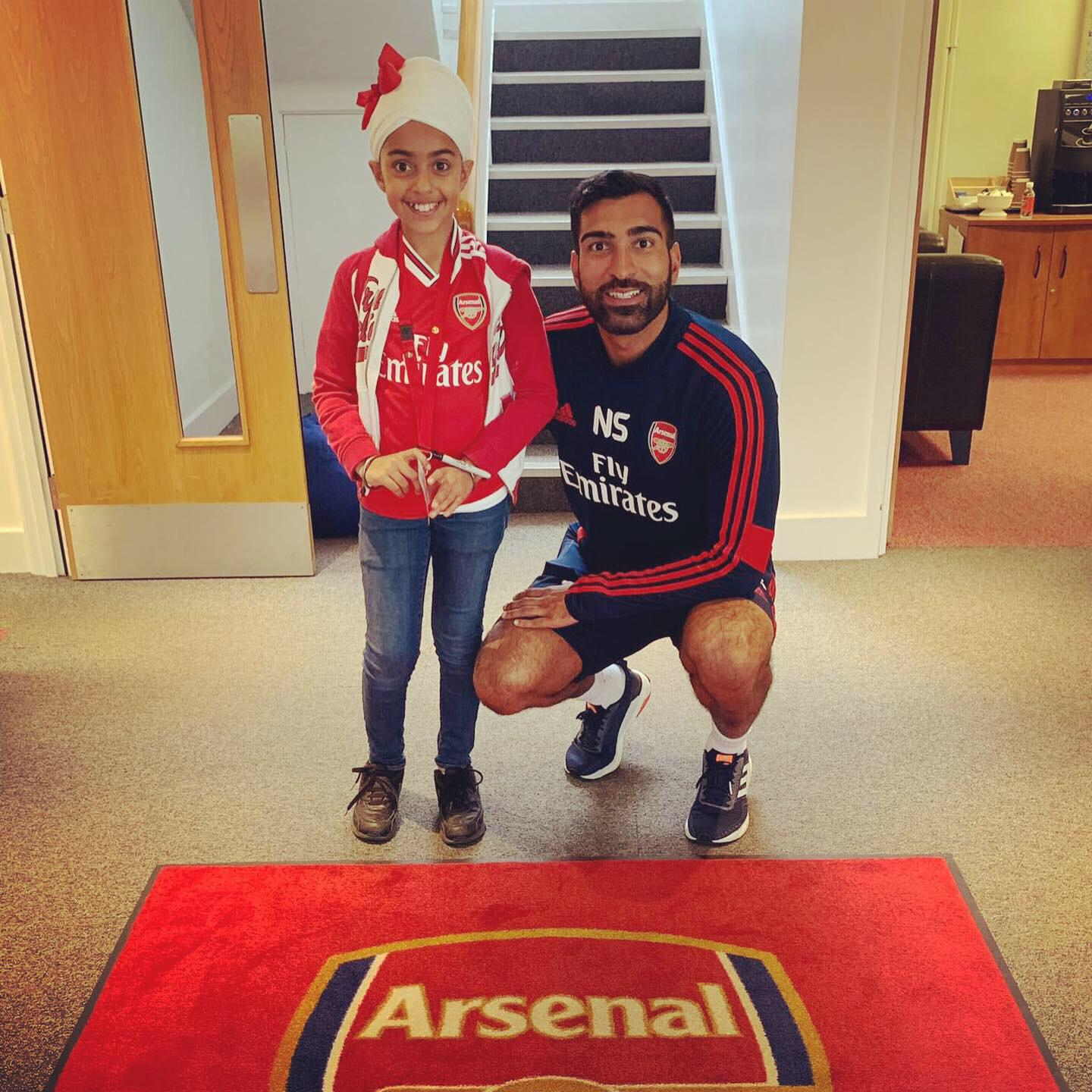 Singh has been working on a project called Asians in Football where he is helping raise money for YUWA, a program in rural Jharkhand, India which uses soccer to help educate and build courage and confidence in young girls who are often at risk of child marriage or human trafficking. Talking about their situations, Singh mentions,
These kids just want to be kids. It breaks my heart that whether it be rural India, or here in London, they still face obstacles to be themselves and just live normal lives.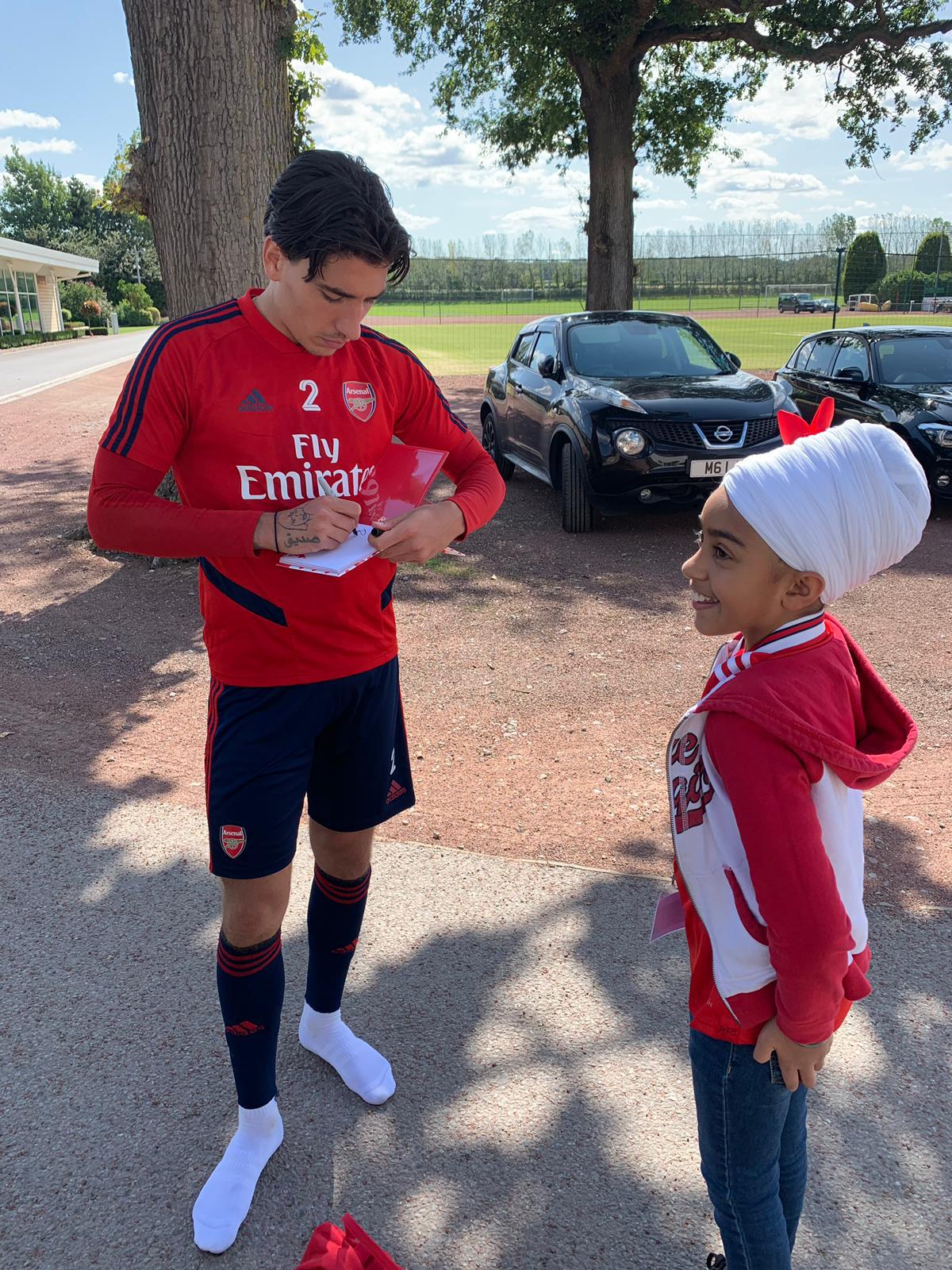 At the Arsenal club, MK came in and met with players and staff from the club. At one point, Singh asked her if she wanted to introduce herself to the players, and MK bravely walked up to everyone present and shared her story. Team Arsenal players were in awe of how someone at such a young age was so wise beyond her years and using an adverse experience to help educate the world around her. MK continued on to thank them for supporting her and got signatures from every player, staff, and support present in the building to culminate her visit.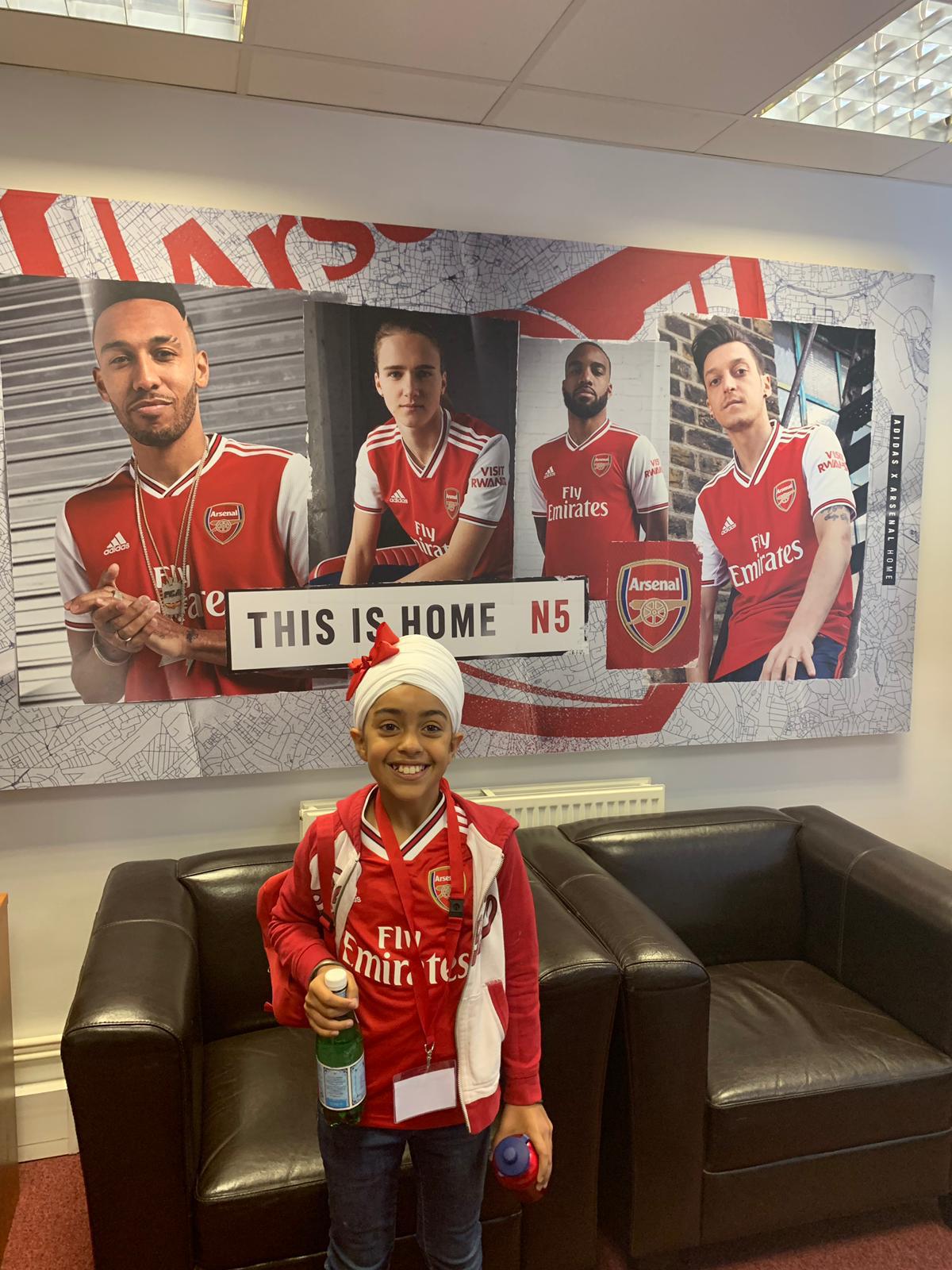 MK's story is not uncommon. There are many children around the world who experience racism from a young age when all they are trying to do is be kids. It is up to all of us to stand with them and support them through it. Thank you, Nav and Team Arsenal, for standing up to racism and showing the world that we all belong.
MK – you are incredible! Keep on shining and smiling in the face of adversity. We here at Brown Girl Magazine support you and all the little girls out there!