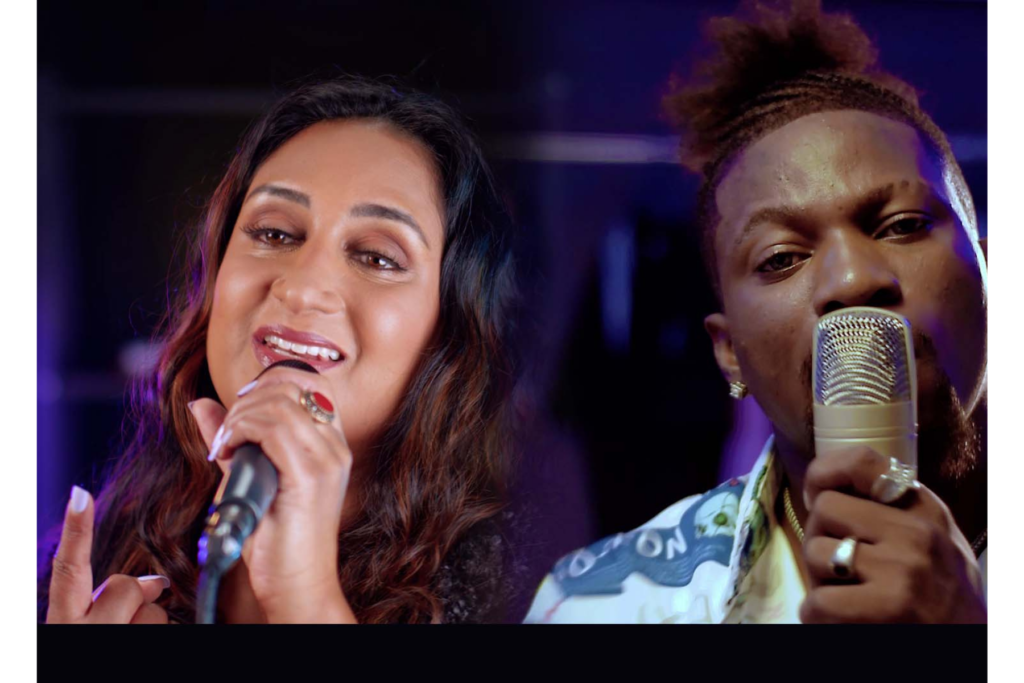 South Asian music has always made a habit of pole-vaulting over genre barriers. Now, British-Asian singer Hemina Shah has taken cultural fusion to a new level, releasing the first ever Hindi-Afrobeat single, "Temperature," in collaboration with Nigerian artist GCN, in early 2022.
Shah dedicated time during the pandemic to complete her album, "Bollywood Lockdown Mix," as well as perform an array of public and livestream concerts and prayers, in an effort to connect with and provide comfort to her global audience.
The challenges she herself faced weren't limited to practical inconveniences of being an overseas British-Asian in Singapore. Bringing the album to fruition meant navigating the very real risk of losing her voice while undergoing medical surgery.
Early 2021, I had a bit of a traumatic time in my life where I had to have thyroid surgery. There was a lump on my thyroid I had to have removed. It was benign, but one of the risks of the surgery was that I could lose my voice or my vocal cords could get damaged.
Reclaiming her voice post-surgery wasn't easy but her recovery testifies to the singer's dedication to her craft. At the time, Shah had multiple releases of world music covers and live online concerts ongoing, when she made the decision to step away from this to undergo surgery, with the risk of not knowing what impact it could have on her voice.
My vocal cords could have gotten damaged. Because of the surgery, I took six months off and had to do speech therapy and learn how to sing again with my new voice. It was all very traumatic because I was in the peak of my music at that point. I was releasing so much. I don't know what's going to happen to my voice.
When Shah faced the possibility of coming out of surgery with a new sound, she knew she had to keep going.
It was an eye opener for me to do more music. I have no time to waste with this second voice I've got and I'm going to keep going. It's absolutely a new voice that I've come back with and this surgery is so much more common than you think.
View this post on Instagram
One year on from the operation, she hasn't let those setbacks diminish her ambitions as an artist.
It was very difficult to deal with, but, you know, thank God. I came out stronger. I'd like to challenge myself and try new ideas and working with different countries and different people and create brand new sounds that haven't been done before. I'd like to keep fusing world music with my style.
Shah's making of the world's first Hindi-Afrobeat song to mainstream audiences, was influenced by her love for music of various languages since childhood.
View this post on Instagram
I've grown up singing Indian music all my life and I've been singing since I was seven years old. I come from a musical family. My dad sings, my sister sings and I grew up singing at like local events and family parties, private parties, all of that. I believe music has one language, and it is a universal language. You don't have to understand the language or the lyrics to enjoy it.
That ethic of universality — using music to bulldoze borders, manifests in Shah's latest track, "Temperature."
I get my inspiration from world music. Also, just from listening to different types of music. World music inspires me and gives me ideas to mix and fuse Indian music with different types of world music. Music can join cultures. It unites people from different parts of the world without any politics and stuff. It's just nice to do that.
Her interest in combining Afrobeat with Hindi had personal roots, as it was her Kenyan husband who introduced Shah to the genre.
My husband, he's Kenyan and grew up listening to African beats and music. He inspired me to mix Indian with African music because it's never been done before. So, I started to do Bollywood covers and did a couple of them, which got very popular. I got approached by an artist from Nigeria called GCN and he really liked my voice and was going to release a new song and they hadn't finished. So, he wanted to see if I would be interested in collaborating my style with his.
And collaborate they did, over the course of many months, virtually, from different parts of the world.
I'm in Singapore and I'm working with an artist in Nigeria, so there's a seven-hour time difference. Usually, I'll catch up with him last thing at night, which would be afternoon for him. And then he would work on some of the music. So, by the time I wake up, there will be an update. The video shoot settings [were] a challenge, just to make it look like we are together, as it was all done virtually. We're in two different places shooting with two different cameras, different locations settings. I think, regardless of the challenges you face, it's come out to be an awesome piece of work.