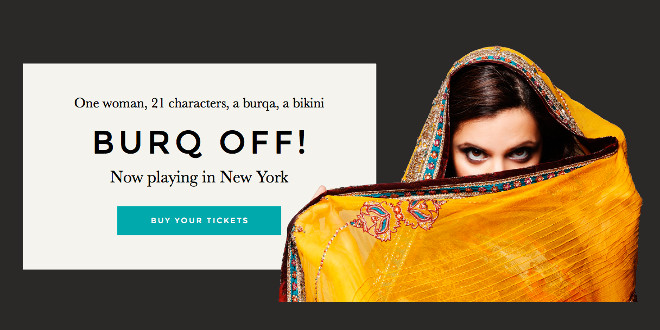 This post was originally published on India.com.
Nadia P. Manzoor used to be a self-admitted liar. Telling a white lie here, a little fib there — it was the only method by which she could successfully navigate through the harrowing terrain of growing up in North London as a Pakistani-Muslim girl — and still maintain her sanity.
Today Manzoor, 32, is more of a truth-teller, divulging the good, bad and the utterly hilarious moments of her culturally diverse life in the critically acclaimed one-woman play, "Burq Off!"
Brooklyn-based writer, producer and sole actor of the 'dramedy' show, Manzoor embodies 21 different characters – a domineering father, soulful mum, saucy English friend and Islamic studies teachers whose interests range from slapping to pornography – to tell a story that many South Asian women know very well. It's the constant struggle of finding a balance between staying true to your roots and owning up to an identity that speaks to a larger sense of self.
In her own words, "'Burq Off!' explores what it takes to evolve past the veil."
But her search for liberation, acceptance and a purpose that went beyond fulfilling the expectations of her conservative community isn't a tale unique to Pakistanis, Muslims, South Asians or even women, Manzoor said. Rather it is s a journey to which most people, regardless of background, can understand— and most likely one of the main reasons "Burq Off!" has been such a renowned success.
"One of the things that has been really striking to me in regards to the show is that despite of race, gender or age, people have been able to relate," Manzoor said.
"I had a White, older man come up to me and hug me after the show with tears in his eyes and say, 'Thank you for telling my story.'"
She adds: "The show is ultimately about the lack of acceptance within one's family, and everyone can relate to that. It's about self-acceptance, and it's about having the courage to speak up about something that's authentic to you against the status quo."
And speaking up, she certainly is, unapologetically shining light on the cultural hypocrisies embedded deep within the roots of many South Asian cultures.
"Women can't be astronauts," Manzoor said in a thick, Pakistani accent during one scene in which she reenacts a conversation she had with her father about her career aspirations as a young girl. "Who will feed your husband if you're floating about in space?"
Although she did forgo becoming an astronaut, Manzoor never lost the aspiration to break the mold and be something greater than the resident chef in her would-be husband's home.
While pursuing her MSW in social policy and community organizing at Boston University, Manzoor imagined an ideal world in which she could merge her passion for social work with her love for arts.
By this time, she had become a regular in Boston's underground hip-hop circuit and would begin regularly improv acting soon after her move to New York City.
It was in the midst of writing a rather, what she calls, "heavy" memoir that the inspiration behind "Burq Off!" was born.
"There was this natural synthesis of the writing these characters that eventually transitioned into this show," Manzoor said. "I didn't even really know what that was. Not to be too mystical, but it was something that found me. And when I did my first show a year ago, there was such a sense of purpose that came through me that was like this is the way I'm going to have a large impact. It's not through academia; it's through comedy and performing."
By addressing well known and often taboo topics like interracial dating (or dating —period—for that matter), feminism, and even the rarely spoken about indecency of well-respected religious leaders (yeah, she goes there), Manzoor pushes the envelope on topics that often get swept under the rug— sometimes wondering if even she's gone too far.
"That's something I actually got a round of applause for in London," Manzoor recalls about a particular scene in which she portrays her childhood mullah, enjoying some alone time with a provocative burlesque show leaflet.
"That whole room started clapping. And I was really nervous about doing that scene in London," she said. "But there was a release that was like 'our religious leaders are also human beings,' and doing it through comedy is like a relief."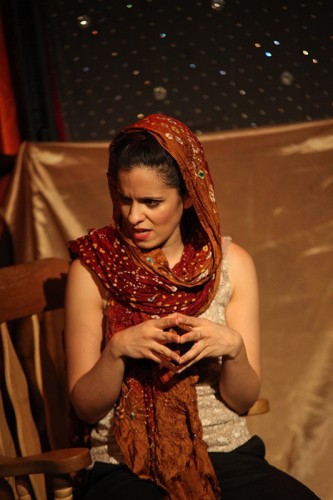 Manzoor's parents emigrated to England from Pakistan during the 1970s. While growing up in London, she admits she was often times confused as to why her parents sought the freedoms of a Western society, but refused to open their minds to more liberal ideas. And as a result, telling lies to avoid the consequences on herself and her family became the go-to method of appeasing everyone – until it became the fuel behind the problem itself.
Recognizing a larger societal issue at-hand, even in today's Westernized society, Manzoor's said allowing people to see the ridiculousness of it all through a comedic lens is how she hopes to be a proponent of a gradual change in more conservative communities.
"Shaming is such a part of our culture," she said. "It's how we deal with things that are bad, and one of the reasons I continue doing the show, and I feel very passionate about it is that i want to break that cycle. I want to help the break the cycle of shame that's so embedded in our culture."
She adds: "We kind of block serious messages. We can't take too much pain or too much hurt, so when you're able to make somebody laugh, it's a whole different game. I think humor is a very powerful to convey important messages."
"Burq Off!," a show that explores themes of sex, religion, culture, truth and family is playing in New York City from Jan. 7 to Jan 18, 2015. For more information on the show and to purchase tickets, visit Manzoor's website.
Source: YouTube
Follow Nadia Manzoor on Facebook, Twitter and visit her website.