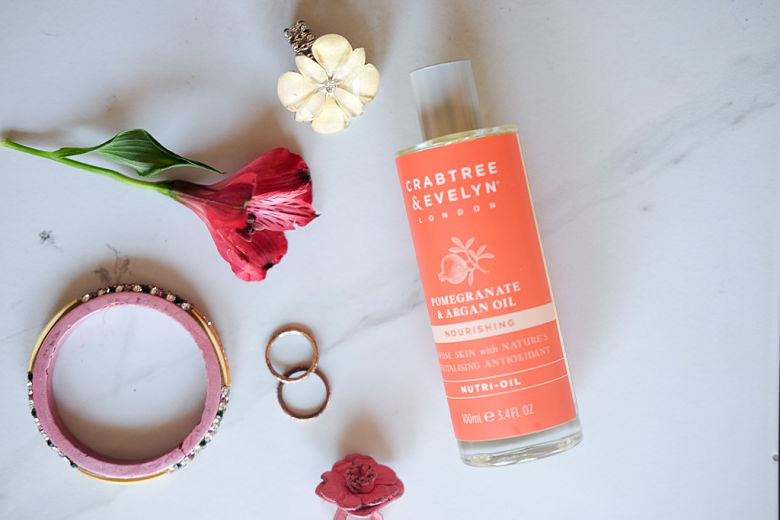 You would think since Boston is right by the water that it wouldn't be so dry here, BUT, you would be wrong. I swear dry skin is the devil. I hate how patchy it looks and the itching is not fun. All I want is silky smooth skin—like a baby's butt. Is that too much to ask for?
I am a HUGE fan of rosehip oil and use it every day all over my face and neck…sometimes even twice a day. The antioxidants in rosehip oil combat free radicals that cause damage; vitamin A, combined with the oil's essential fatty acids, help improve skin tone, texture, and pigmentation. Not to mention it helps improve the appearance of wrinkles, stretch marks, and damaged hair. So, why wouldn't you use it!?
My go-to brand for Rose Hip Oil is by Radha Beauty. They keep it organic, cold-pressed and more importantly, cost-efficient!
View this post on Instagram
But, I recently ran out of my rosehip oil, so I switched it up and decided to try the Pomegranate and Argan Nourishing Oil by Crabtree and Evelyn. First, I'll start off by saying that it AIN'T cheap. Despite the price, I am totally digging this product! Argan oil is knowns as "liquid gold" and it contains vitamin E, carotenes, squalene and is rich in unsaturated fatty acids; properties that combine to support intense hydration and moisture. It has a long shelf life, so you don't have to worry about it going bad, either.
On the other hand, pomegranate oil covers everything that Argan oil doesn't. It's rich in "antioxidants, vitamins K and C, potassium, copper, zinc, and iron. It also contains punicic and ellagic acids. Punicic acid is a polyunsaturated fatty acid while ellagic acid is a natural antioxidant, which alleviates skin wrinkling and inflammation. Pomegranate oil also promotes rejuvenation and fortification of the skin." The Crabtree and Evelyn Nourishing oil is super light and doesn't feel greasy or weigh down your skin. There's nothing worse than feeling like your face is as greasy as those dripping pizzas—you know what I mean? The pizza, when you lift it up, just drips oil—YUCK!
Coming back to the comparison between a rosehip oil and the pomegranate and argan oil, I want to say that both hydrate and both nourish. Both are packed full of antioxidants and vitamins, are lightweight, and can be used for multiple facets like skin and hair.
So, with all that said, do you still wanna know which one I like better? The Pomegranate and Argan Nourishing Oil by Crabtree and Evelyn. Although they have similar properties, and I would recommend that you try both at one point or another, it's the smell that steers me towards my choice. It smells SO good! It just reminds me of summer!
So, if you have never tried natural oils before, now is the time. Most oils are natural and don't contain any of that stuff you just can't read or pronounce. MAJOR PLUS.
ALSO, natural oils are easily absorbed and not greasy. They have a low potential to clog pores, which makes oils perfect for all skin types. No more sitting in the drugstore aisle looking at the millions of types of lotions for millions of types of skins. Now, I'm not telling you to rid yourself of all lotions—since lotions penetrate your skin they leave it softer and hydrated longer—I use both! Oil for face and neck. Lotion for the body. That's a good compromise, right?