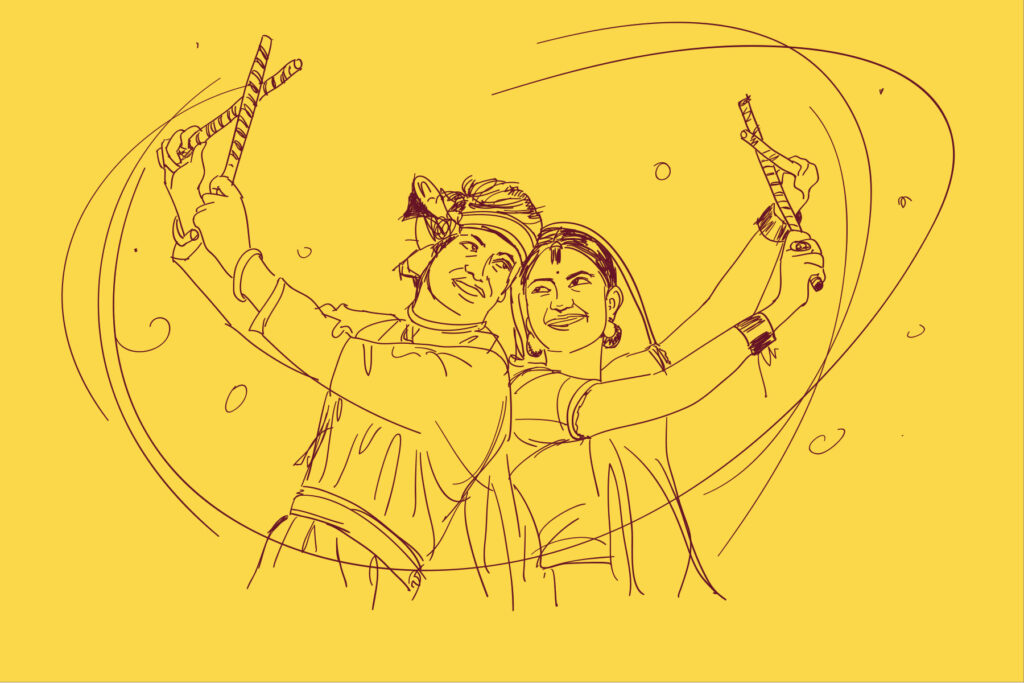 While most of us are preparing our taste buds for endless pumpkin spiced lattes, pies, and warm mugs of apple cider, many South Asian families are also gearing up to celebrate two of the biggest festivities in the coming holiday season: Navratri and Diwali.
Navratri — "nav" meaning nine and "ratri" meaning nights in Sanksrit — is a holiday that stretches over a period of nine nights (for the better part of mid-October, this year). It is symbolic of female power and divinity. Navratri celebrates three Hindu goddesses (Devis): Durga, the destroyer of evil, Lakshmi, the Goddess of wealth, and Saraswati, the Goddess of knowledge. They are each celebrated for three days. The subsequent 10th day of Navratri is 'Vijayadashmi' — the day that marks the victory of good over evil (i.e. Goddess Durga destroys demon Mahishasura).
Navratri this year will be from October 17 to October 26.
Different regions in India celebrate Navratri in unique ways. For example, Eastern India celebrates it with 'Durga Pujas' while the Western region (i.e. Gujarat) celebrates it with the performance of raas or garba. South India celebrates Navratri by decorating their homes with "Kolu" and hosting families, and North Indians celebrate it with dramatic reenactments of the Ramayana or Ram Leela at theatres or temples. Within each region, each nuanced community may add yet another layer to the choice of celebrations.
These celebratory rituals, specific to each region, have migrated with the diaspora across the globe. I speak from my own experience in Edison, NJ, where all the regional celebrations come together to include garba (commonly held at school gymnasiums), copious amounts of well-spiced chaat, and an overdose of pujas and clusters of aunties. This year, however, Navratri will have to be looked at in a different light thanks to the pandemic and the volatility that it has lent to our lifestyles. Here are some key ways you can still celebrate Navratri with equal zeal and zest amidst family and friends:
1. Chai and Food at a Distance
View this post on Instagram
Being outdoors, while wearing masks, is a great way to socialize with minimum risk. This time of the year is great to take advantage of those daylight hours. So, grab your patio chairs, your picnic blankets and your pakoras and plan an activity outside.
Some great items to have for a fun time outside are:
A large thermos for chai or coffee
Insulated cups for chai
Paper cups for water, paper utensils and cutlery (let's be sustainable folks)
An outdoor grill (for paneer, rotis, and more!)
Catered food
Games (Desi Chaat, carrom board, cricket, badminton, karaoke)
A speaker and extension cord (or a Bluetooth speaker)!
2. Virtual or Outdoor Navratri Pujas
Virtual pujas are a safe way to conduct prayers whilst in a group setting. Make sure to have one person in charge of the Zoom room and invitations, align the agenda of prayers and devotional songs, and maybe even throw in a section of "kacheri" singing!
Alternatively, something that my parents are a huge fan of is outdoor pujas with the neighbors. You can set up a camping tent (or something smaller) and decorate the tent with brightly colored saris or other material. You can choose to place idols, diyas, and other puja related resources inside the tent. A great way to jazz it up would be to add string lights. Depending on how many people are attending, you can either conduct the puja inside the tent (minus the fire!) or outside of the tent. Be sure to practice fire safety and not leave an open flame inside the tent. The picture above is of my parents celebrating Ganesh Chathurthi this past summer, for inspiration.
3. Socially Distanced Garba and Dandiya
View this post on Instagram

Garba is, more or less, a contactless sport. Bring out a Bluetooth speaker, grab your favorite choli, set the music to Chogada, and break into sixteen steps! Equally as important as the speaker is the amount of space that you have — the more the merrier here. Be sure to wear your masks (match your outfits with these desi masks at @amucherian), and keep a distance (6 feet apart is the rule!). Find a friend who can host the function!
4. Drive-By or Zoom Kollu
Kollu setups are extravagant and beautiful. Big or small, there are so many stories woven into the design and arrangement of the bomais, or dolls, in the kollu. Not all of the bomais are required to be idols, and there are frequent features of sari-draped Barbies and more. My mother, a Tamilian-Bombayite, is a huge fan of hosting Kollu year after year. This time around, she is keeping kollu inside the house, and using Zoom as a way to connect with friends and show them kollu. This may be a scheduling nightmare though. On the social front, we plan on having the neighbors in our backyard with chai and South Indian delicacies including homemade idli and chutney. Similar to any other year, our family will probably dress in festive clothes daily and cook together.
5. Drop off or Mail Some Navratri Gifts
Under normal circumstances, friends who'd come to see our Kollu, or perform a puja, would normally receive a gift of thanks along with 'vethlapaka' or 'haldi kumkum' — an offering of haldi (turmeric) and kumkum (vermillion) traditionally given to married women. This year, these offerings can be delivered on 'house calls' where you drop off the package outside their doorstep while maintaining distance. This can also give you an opportunity to spend more intimate time with friends who are often lost during the regular hullabaloo of hosting kollu.
View this post on Instagram
If you have time constraints or don't feel comfortable visiting friends, a great way to show them that you are thinking of them this Navratri is through mailing gifts and cards. Check out these Navratri and other holiday cards at Pyarful! Gifts can include a box of sweets (holds pretty well over mail), a deconstructed recipe, or other regular gift-giving items. Or you can be creative and use this time to make some gifts by hand (hand painted diyas, quilling, quilting, etc).
6. Time for reflection
I have already started thinking about what celebrating Navratri means to me and how I plan to continue celebrating as I get older. This past weekend, I was hanging out with a few friends in NYC (on the fire escape no less) and I brought up the fact that I was excited to go back to the Sreedhar household for Navratri. My roommate and close friend then opined that Navratri is also a strong display of wealth and caste. I hadn't thought of that before —  the way I have grown up celebrating Navratri may be uniquely different than someone else, all because of the opportunities that were afforded to my family. It is important to note that wealth and privilege play a part in Navratri. From the south Indian perspective: The more gold, idols, and 'stairs' to display your kollu, the more you are venerated in the community as having a 'good' kollu. These high standards can only be achieved by a long family lineage of passing along idols and gold, or by an ambitious investment into these products and hiring help that can only arise by monetary opportunities that have been offered to you. For example, many non-Brahmin Tamilian celebration methods may be soundly dismissed by Brahmins — in fact, I can't find any article coverage on what it means to celebrate Navratri in South India without a kollu. Intertwined with caste is wealth — and the two are next to codependent on each other to thrive, stifling the growth and space that non-Brahmins can have within the community. 
I've had a hard time distancing myself from this truth, and it begs our generation to question how we carry some of these traditions in the future. It begs us to question what it means to keep "kollu," and how we value overt displays of wealth. Instead of the number of idols, we should Marie Kondo what we put on "display" or even if such a display is required at all. What makes you happy? How would you like to respect and worship female divinity?
Navratri is, personally, a very special time of year that we are given to reflect on the status of balancing our patriarchal world and your individuality. What have you learned? What are you proud of? How can you find your voice and speak up for yourself and others? We are reminded of the Hindu goddesses who are strong, compassionate, fearless, and relentless – who face adversity with their game faces on. Let's carry this same energy throughout these next nine days and into the holiday season.