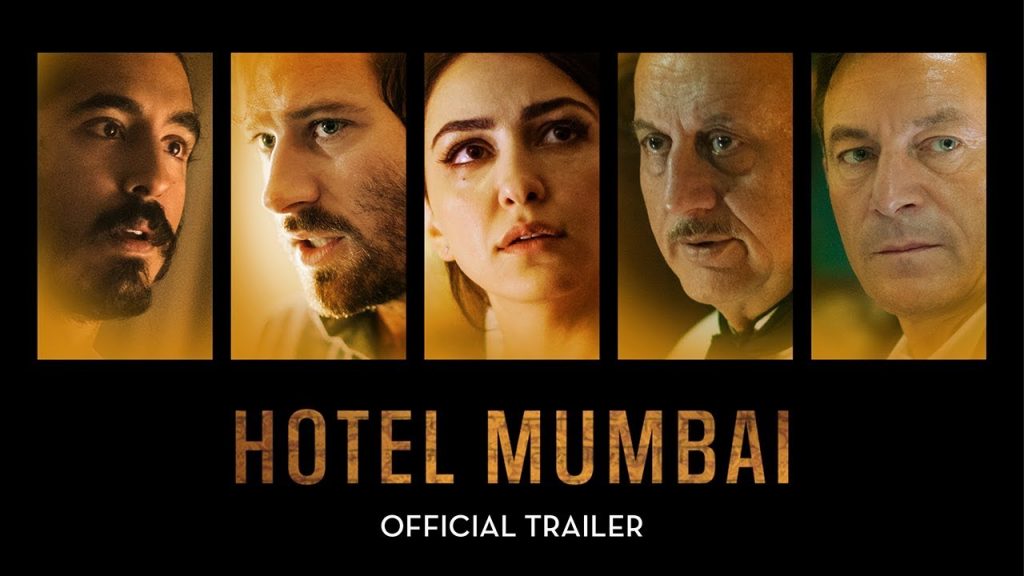 The story of the new film, "Hotel Mumbai," is not just about the 2008 Mumbai attacks. It's the story of the thousands of people that have walked through this landmark of Mumbai. It's the story of the housekeepers, the restaurant staff, the chefs, and the front desk managers to the celebrities, politicians, backpackers, business people and heiresses. Nazanin Boniadi plays the last of these as Zahara, staying at the hotel with her husband, played by Armie Hammer, and their baby on something of a honeymoon. We watch her family deal with devastating and traumatic event alongside those of all races and classes inside the Taj Mahal Palace Hotel.
Brown Girl Magazine had the opportunity to sit down with Boniadi to discuss the film, her acting career, and her activism work.
What's the best character you've played?
Nazanin Boniadi:
The best? Oddly enough, it's a tie. And I would say it's a tie between Claire in 'Counterpart' [series on Starz] and Zahara in 'Hotel Mumbai.' So one's TV and one's film, and I think the reasons are because they're both really really complex, complicated, and multidimensional women.

What I love about Claire in 'Counterpart' is her name's Claire. They never talk about her ethnicity, they don't box me into some kind of corner. You know, you could have an Australian actor play Canadian or American or English, you can have an English actor play American or whatever else, but for some reason when it comes to minority actors they like to only specifically point out their ethnicity or their religion. And so as much as I appreciate sometimes doing that, it really does box you in as an actor when you only do that, you know, and you're only cast that way. So that's what was refreshing about Claire, there's no mention of her ethnicity, she's just a woman. Her name is just a generic, could be whatever ethnicity.

The thing I love about Zahara is even though yes, it's clear that she's Iranian, there's an arc I love about her. She starts the film and she's been raised with privilege and she's clearly from a wealthy background. Raised with a golden spoon in her mouth, never had to struggle for anything. And she's thrown into this situation, and over the course of the three days she has to find her strength and her resilience to fight for her life and fight for the life of her child and her husband. So in that sense, the three-day arc for her is one of her growing immensely just over a short period of time because of this horrific ordeal.
You don't expect that of her.
Nazanin Boniadi:
No, at the beginning of the film you feel like, 'Oh no, she might chip a fingernail.' Then she's hiking up her skirt, taking off her shoes, sweating, you know.
What's a type of character or role you haven't played and you want to?
Nazanin Boniadi:
I would love to do more action. I have a little bit in 'Counterpart' but I think there's more I can explore on that front.
https://www.youtube.com/watch?v=SKcZQ07N77c
How did you prepare for your part in "Hotel Mumbai?" Did you speak to people who were involved?
Nazanin Boniadi:
Yeah, I spoke to some. We watched a documentary, 'Surviving Mumbai.' There was a wealth of clips and research material that Anthony [Maras, the film's director] sent us. There's obviously a lot of news footage and interviews with the sole surviving gunman.

And also just speaking to Anthony. Anthony spent so much time typing the stuff up for us, accounts of interviews he had had with survivors and with people who knew about the situation and the ordeal and he gave us a lot of time to rehearse. So he rehearsed with myself and Armie [Hammer]. Armie and I had never met before and we were going to shoot a film being husband and wife. Basically, there was an exercise he gave us where Armie and I had to sit and stare at each other for an hour.
Oh my gosh.
Nazanin Boniadi:
Just stare at each other. And imagine saying, 'Hi, nice to meet you. Ok, sit here across from me, within six inches apart or something, and let's stare at each other.'
For an hour?!
Nazanin Boniadi:
An hour! And that's a long time and we're not allowed to look away, right? So it's highly uncomfortable but what that does is that it breeds familiarity and it also, I cried for an hour. That was my, I couldn't help it because I was thinking about, he told us each to think about our back stories for our characters. How we met and what situation we're in with the baby and I cried. He just looked really concerned and I remember thinking, "What is he thinking right now?" But by the end of it we kind of felt like we had a history. So it was an interesting exercise. Outside of that we had a lot of blocking rehearsals, you've seen the film?
Yes.
Nazanin Boniadi:
Where, not to give too much away to audiences, but where we are tied up. So we did a lot of blocking rehearsals for that and yeah, that's how we prepared.
So do you remember where you were when the attacks originally happened?
Nazanin Boniadi:
I was in the U.S. I was at home. I remember seeing it on the news and I do remember being mortified and horrified and just sad. But as is the case, I think, with a lot of the news we get we become so desensitized. Especially, when it's happening in a place where we have no relatives, no loved ones, that we've never been to. I'd never been to India. I feel like I'm a very empathetic, compassionate person because a lot of my life revolves around advocacy work for the disenfranchised but it is a truth, it is an unfortunate truth that we tend to distance ourselves just to survive, right? Otherwise you're like…
Crying all the time.
Nazanin Boniadi:
Constantly, you're sad all the time. So you kind of tend to see something, be sad about it for a minute but then force yourself to disconnect from it and compartmentalized it and say, "Ok, well that belongs in this, it's not a priority right now." So when I read the script, I was reminded of how I felt the moment that I saw it on the news and I thought, "Wow, we have forgotten." It was seven or eight years after the attack when the project first came to me. It was 2016, and I remember thinking, "Wow, we can't forget. We can't forget about these horrible, horrific ordeals. We have to remind ourselves that they happen. And not only that they happen, but what can we get out of it? How can we find something from this experience to stop it from happening again?" And I think this film does such a beautiful job of inspiring hope and also inspiring us to change as human beings and therefore maybe, hopefully, possibly for these things to never happen again.

One thing that's important to know is that the FBI has an open investigation on seven individuals that are responsible for orchestrating this attack and the fact that they haven't been brought to justice and there's a $5 million reward on getting information on the arrest of these individuals. I feel like if someone who has knowledge about any of it watches this film and it leads to an arrest, that would be a fantastic outcome.
You mentioned this, but a big part of your life is your activism work. What's in the horizon for you there?
Nazanin Boniadi:
Well, right now I'm committed to seeing Nazanin Zaghari-Ratcliffe, who is a British-Iranian duel national who has been imprisoned for almost three years and unjustly separated from her husband and her baby, come home. Go home to the U.K.

Also Nasrin Sotoudeh, who is one of the most prominent—if not the most prominent—female human rights attorney in Iran, is currently facing a 33-year sentence for doing her job. For defending women who have been fighting against compulsory hijab in Iran. There's a big anti-compulsory hijab movement in Iran and the women are systematically being persecuted and sent to prison and she was defending them. Because of that she is being seen as a national security threat and has been sentenced for 33 years in jail.

She's a mother of, I think, 2 teenagers, if I'm not wrong. She is extraordinary. I think the President Macron of France recently gave her an award in absentia for being so brave. People are saying she deserves the Nobel Peace Prize and here is the Iranian government imprisoning her for 33 years. And so I want that case made more public. I want also the protests, the ongoing protests in Iran for human rights, for freedom, the anti-compulsory hijab movement and all of it to gain more global press and coverage, because I think unless we are aware of their struggle then it's really something we are never going to get behind and support the people of Iran.
My next question is kind of in the vein of that. This is obviously an important time for political and social justice movements, is there something you think we're not discussing enough?
Nazanin Boniadi:
Yes, one thing I want to add to is the Me Too movement, Time's Up, the Women's Marches — we've been seeing a lot of women's issues come to light and the progress has been great and I love it, but what we're failing to understand is that what's happening at the same time. December 2017 is when it started, the anti-compulsory hijab movement in Iran with these women, the Rosa Parks of Iran, getting on the streets and peacefully waving their headscarves in peaceful protest against compulsory hijab and their rights. And so the women's rights movement in Iran is thriving and vibrant and energetic, but we're not seeing it.

What we need to do is lend our voices equally to the women overseas, wherever that may be. Saudi Arabia, Iran. I don't think these incidences are coincidental. I think it's convergence, not a coincidence, and I think it's a global awakening in women's rights that we need to be aware of.
Last one for you: How has the film industry changed since you've been working in it?
Nazanin Boniadi:
I think there's a lot more dialogue and conversation about equity. In pay, in how women are being treated, in how minorities are being treated. I love the surge in representation this past year, especially at the Oscars, of indigenous, Latinx, Asian American, even with the Rami Malek win, Egyptian American, you got some North African representation.

You had Rayka Zehtabchi, a 25-year-old Iranian-American win an Oscar. She is the first Iranian woman, and I think that's a huge to see this diversity. With 'Crazy Rich Asians' and 'Black Panther,' it's lovely to see representation. I hope to see it more with Middle Eastern people and South Asians.
Right.
Nazanin Boniadi:
I think MENA and South Asian actors are still highly underrepresented, and I think that's our next push, to get films where we see more brown people.
"Hotel Mumbai" premieres in New York and Los Angeles on March 22nd, and expands nationwide on March 29th.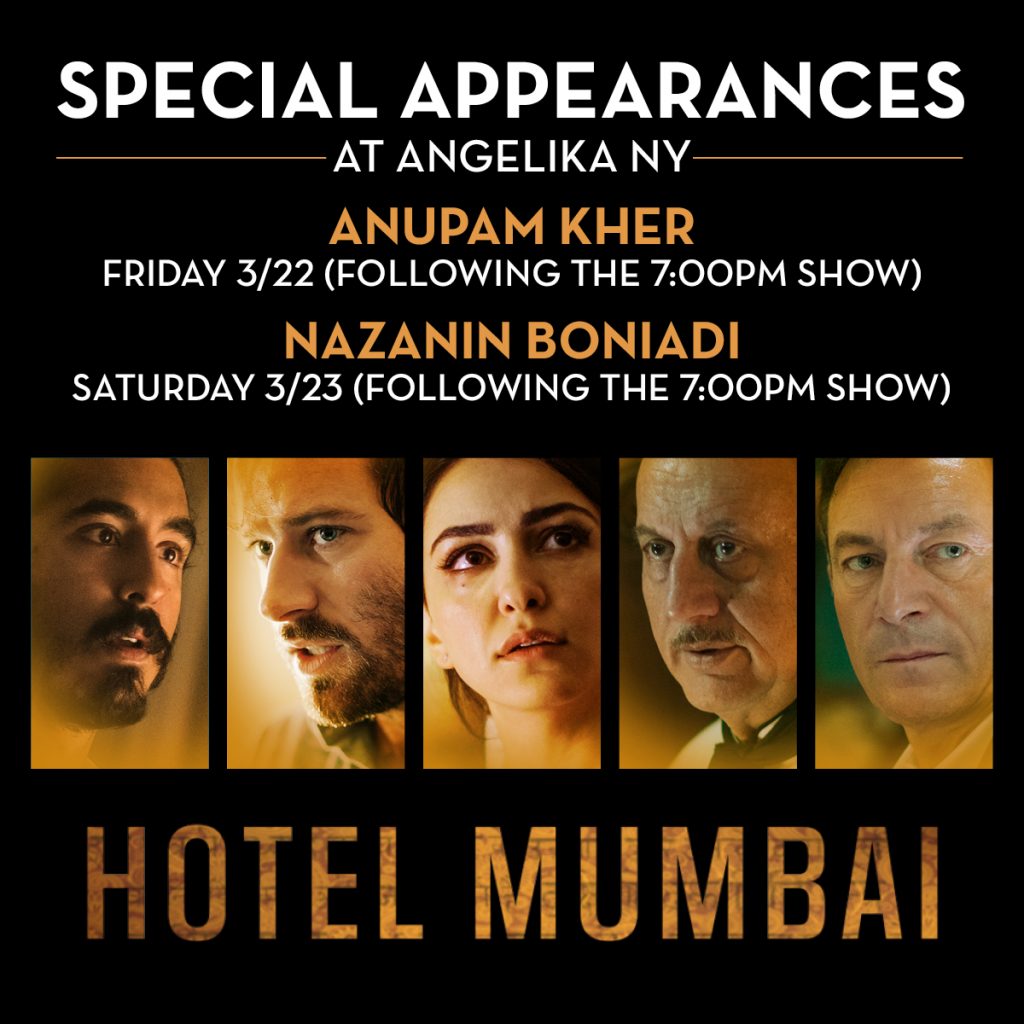 For those readers living in NYC (or the surrounding areas), here's a special treat: On March 22nd, the incredible Anupam Kher—and Boniadi's "Hotel Mumbai" co-star—will be doing a Q&A after the 7 p.m. showing at the Angelika theater in Manhattan.
Bonus treat: Nazanin Boniadi will do her own Q&A on Saturday, March 23rd after the 7 p.m. showing, again at the Angelika. Tickets for both showings are limited, but available here.