Hair is a huge component of one's identity and plays an important role in shaping how we picture ourselves and how confident we are about our body image. And so, losing hair can be quite traumatic in any way or form. Society's shoddy standards of beauty only add to the concerns and anxiety around hair loss — particularly for women. Because, while hair loss and baldness in men is still widely accepted, it's not so much in women. Healthy hair is not just a measure of a woman's beauty but also her femininity and her status in society. The world's view of a beautiful woman is of someone wafer-thin, unblemished, fair and with a mane thick and long enough to leave a trail like a deep, dark river. Even the slightest discrepancy from the rulebook often ends up drastically affecting the lives of young women, particularly in South Asian culture. One cannot even imagine the mental pressures and emotional struggles a bald woman would have to face in the community. Neehar Sachdeva is one such woman, who spent an entire lifetime hiding under the fear of scrutiny but eventually emerging as a triumphant warrior.
Sachdeva was diagnosed with alopecia at only six months of age. But after her mundan, a religious ceremony that requires shaving the baby's head, all her hair grew back. It was not until a few years later that she started losing hair in patches, enough for her to resort to wearing a wig throughout elementary school. Just before her senior year, she got a glimmer of hope. Her hair grew back in full glory, so thick and lustrous that she no longer had to wear a wig to school. However, the freedom was short-lived. Six months later, her hair started falling again significantly. That's the thing with alopecia. It's not always consistent; it's a constant cycle, toiling with one's emotions and self-esteem, instilling feelings of alienation and recurring failure.
View this post on Instagram
"I went to an alopecia support group for almost 10 years," shared Sachdeva of her journey in an exclusive conversation with Brown Girl Magazine. "There were some kids but also adults and teens — people from all walks of life talking about their diagnosis. Some people were diagnosed with alopecia while in college, others just had a kid and got diagnosed with alopecia. I could never relate to those experiences because I couldn't imagine having hair my entire life and it never being a concern for me and then starting to lose my hair at a specific point of time. Because I was diagnosed as a kid, I always knew that this was a part of my life. Even if it wasn't as significant, it was always something I had to deal with." 
Despite being diagnosed with alopecia early on in her life, Sachdeva's family chose to keep all hush about it, covering much of her condition with a wig — perhaps to avoid the many stares and questions that would've come their way from within their own community. It's typical in South Asian culture for people to be intrusive, to ask questions and then predict the possibility of your happiness in the future — something that only women that fit the norm may be blessed with.
"The fact that we belonged to the South Asian culture played a huge part in my family being so scared and secretive. At no fault to my parents because that was just how they were raised, but seeing them worry about what people thought; worry about what society would think, worry about presenting ourselves in this way in front of people, it moulded how I thought about it. It moulded my impressions of being ashamed, hiding behind my wig or being so secretive about it," Sachdeva pointed out.

"I am six years old and missing an eyebrow and my mom is filling it in before we head to a party, it sets an impression on me that there is something wrong with me. And as I grew older and became more aware of the impressions of people around me and the comments that aunties are passing; it made a really big difference. It added an additional layer of fear and self-doubt. 'Log kya kaheinge' is a very big concern in our culture; we are too caught up with what other people would think about us."
View this post on Instagram
After spending a good six months with thick, healthy hair and no wig in her senior year, Sachdeva decided to take things head-on, redefine norms and find strength in her condition. Sachdeva shaved her head. And obviously, there were people around her who were not too pleased with her decision; her grandma being one of them, because who would marry a bald Indian girl? Neither was her mom, who was thinking 10 steps ahead into Sachdeva's possible future, full of social and cultural implications. But she stuck to her guns because wearing a wig was no longer an option for her. She had just gotten a taste of freedom; the freedom to be her natural self and she didn't want to let that go. Interestingly, she turned the entire event into a soiree, called #NeeharsBaldBash, taking complete ownership of her decision and celebrating every aspect of it.
"There were two parts to the process and they were very intentional," she explained. "First, I threw a party when I shaved my head with my closest family and friends. My dad shaved my head at the party and my friends captured it, put it up on Snapchat, Facebook, Instagram, etc. My mom was not keen on the idea. She was like 'just shave your head and call it a day. Why do you have to do all of these dramay?'

And I told my mom, if I just shave my head and walk out to school today, it's going to be the same drill of putting my head down, not wanting to answer questions and avoiding the issue altogether. If I want to shave my head, I don't want it to look like that people need to pity me and feel sorry for me. I want to celebrate the fact that I am shaving my head, I want to own it. I did it proactively and all of my friends were celebrating with me and posting on social media. The whole idea was so positive that if someone would post a mean comment, it would look bad on them."
"Secondly, almost a week later, we were also hosting a reception for my sister's wedding. We had invited 300 or so people, all people we knew in California. So my mom also felt we should wait it out," she added. "I feel at the time my mom wasn't really thinking how I felt about it. She was still very much in the survival mindset. But I was sure that we needed to set the tone correctly, otherwise it was all going to be for nothing. So when I got to the wedding reception, I could see the question in everyone's eyes. I met each and everyone there but every time I could just tell what was going on in their minds. They were asking questions to each other, 'do you know what happened, do you know what's going on?'

But no one was asking me. Right before giving a speech for my sister and brother-in-law, I said 'I want to address the elephant in the room.' I told them about what alopecia is, that there is nothing really wrong with me except that I don't have hair on my head, that my body has trouble growing my hair back. I told them the situation very blatantly. And that it's just a decision I've made and my condition does not make me who I am. From that moment on, everyone's questions turned to support."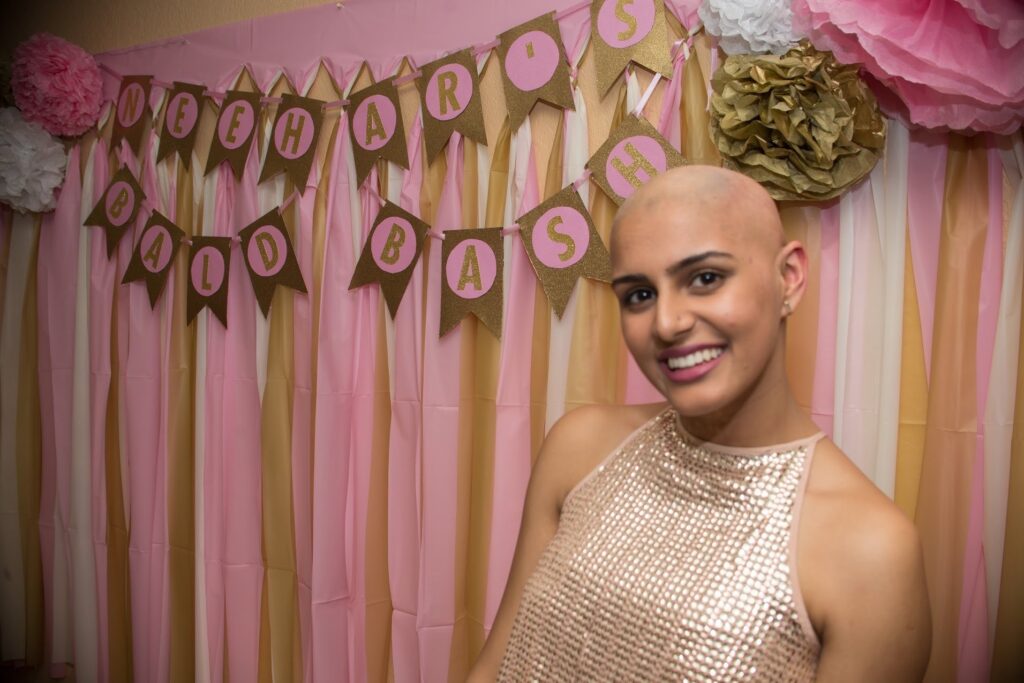 Why was it so important for Neehar to take such an elaborate route?
"At that time, I was confident as an individual but my parents weren't there yet; they were conditioned by the society," she pointed out. "Even after I shaved my head, my parents still had a bit of shame, a little bit of fear. It was still a big deal for them. It was a difficult journey for me but it was also just as difficult for my family.

So I wanted to make sure that my parents wouldn't get negatively impacted by my decision, and that people wouldn't turn around asking them questions. I was like this is my decision, my condition, you have any questions, I will address them. And seeing the positive response from the community and their friends really helped shape my parents perspective that yes, it's not really a big deal."
Soon her bullies, attacking her self-worth on a daily basis as a kid, also turned into her cheerleaders. She received overwhelming support from peers and strangers alike. People started relating with her, messaging her to seek her advice and that's when Sachdeva embarked on her online journey.
"I started mulling on the idea that I want to be this representation that people are very much looking for because they are coming to me and asking me these questions I wanted to be this representation that I didn't have growing up," she stressed "I have eyebrows now but there was also a point where I had completely lost one of my eyebrows and I would look up make-up tutorials online but there was nothing available for me. Even before I shaved my head, I would look up pictures of bald women and I could not find anything. I had nothing to look towards.

From my own experiences I thought how much would have I loved to have someone to look up to and then realised that people were looking up to me. I had reached a point in my journey of acceptance and self-love that not many people had. So, while I didn't know how I wanted to go about it initially, I just developed my own definition of being a representation creator. Not an influencer, not a model, just someone who wants to represent through all of the different venues possible."
Unfortunately, hate followed her here as well. Sachdeva revealed that she was severely bullied in school where kids would be ruthless, constantly picking on this one thing she wanted to hide from the world and amplifying it. And while she moved past that traumatic period in her life, evolving into a confident woman, being comfortable in her own skin, online media came with its own share of faceless bullies.
"I have received a lot of negative comments online, just faceless strangers typing away," she shared about the never-ending trolling she continues to deal with. "But to be honest, I am not affected by them. What can they possibly say to me that I haven't heard before. Rock bottom was so bottom, that all of these comments don't mean anything to me. Others have not experienced what I have in flesh and what it feels like to be bullied on your face. I've just accepted that some people are going to hate because that's what they do. I am just proud and content of the reality of my situation."
View this post on Instagram
In the face of adversity, Sachdeva has been her own hero and now a hero to many. She recently collaborated with Brown Girl Magazine for a 3-part photo and video series called The Bald Brown Bride, decked up in opulent lehengas and ornate bridal jewelry, courtesy of Panache by Sharmeen and BG Jewels. 
"I can just hope that the efforts that I am putting in can help someone just take one step forward in their journey. They don't need to achieve nirvana, be enlightened, just one step forward that they have someone they can look towards and say, 'if she cannot have hair and still be happy and still be beautiful then why can't I do the same thing.'"
With starry eyes and the glow of a true Indian bride, Sachdeva stands beautiful, confident and as hope to many women who may feel discouraged and dejected, amidst stereotypical and unrealistic beauty standards, simply because they are different.
View this post on Instagram
It's a mission she has signed up for — to challenge, change and diversify existing perceptions of beauty and to promote authenticity and self-belief. 
---
CREDITS:
A huge thanks to our team without whom our three-part #TheBaldBrownBride series would not have been possible.
> Photos by @nachi.sheel
> Cinematographer @itsjonbradley
> Creative director & model @neeharsachdeva
> In partnership w/ @browngirlmag & @tsakhuja_walia
> Jewelry by @bg_jewels
> Outfit by @panachebysharmeen
> MUA @rachna.mua
> Mendhi @mehekmehndi_by_dee