by Sonali Kudva
Yesterday, we all saw a glimpse of the much-awaited Bollywood biopic, "Neerja," starring the ever glamorous Sonam Kapoor.
The film is a cinematic representation of the dramatic events that unfolded on September 5, 1986, when Pan Am Flight 73 from Bombay to New York was hijacked in transit at Jinnah International Airport in Karachi by Palestinian extremists.
It reveals the lesser-known story of 22-year-old Neerja Bhanot, part-time model, and the head purser on the flight whose swift thinking and brave actions helped save the lives of 359 passengers and crew, all at the cost of her own life.
Just two days before her 23rd birthday, Bhanot didn't succumb to her fears, instead she fought personal demons from the past. And from the minute the plane was hijacked, through the terrifying 17 hours to the grueling end, she used courage, strength, and sacrifice to become a heroine for generations to come.
She was hailed internationally as 'the heroine of the hijack,' posthumously became the youngest recipient of India's highest civilian honor for bravery, the Ashoka Chakra, and was bestowed the Flight Safety Foundation Heroism award by the United States, the Tamgha–e-Insaaniyat (awarded for showing incredible human kindness) by Pakistan, the Justice for Crimes Award by United States Attorney's office for the District of Columbia, the Special Courage Award by the U.S. government and the Indian Civil Aviation Ministry's Award.
The film, "Neerja," directed by Ram Madhvani, stars Kapoor, veteran actress Shabana Azmi, and Shekhar Ravjiani. The screenplay is by Saiwyn Quadras, dialogues by Sanyuktha Chawla Sheikh and produced by Atul Kasbekar under the banner of Fox Star Studios. The film is set to release sometime in 2016. And while there was some skepticism about how effective Kapoor would be in this role, the trailer of the film has done much to allay these qualms.
The trailer unveils Kapoor's Neerja, a bubbly girl in her 20s, who loves her family, is close to her mother (Shabana Azmi), and is seen telling a mysterious man that she will miss him.
Kapoor previously reported that she was under a "great deal of stress" as she prepared for this role, which is no surprise because Bhanot's story is tragic and incredibly hard to think about.
Information on Bhanot reveals she was married just a year prior to her death in 1985, under the Indian system of arranged marriage. She lived with her husband in the Middle East, but returned home after just a short span of two months, citing dowry issues as the problem.
In one of the many dramatic, heart-wrenching scenes, Neerja's mother is seen asking her daughter, "Yeh Air Hostess ka job chhod kyun nahi deti?"—a loaded question to say the least. (Translated to: "Why won't you leave this air hostess job?")
The connotations of someone being an air hostess in India are heavy, and they are assumed to be promiscuous. Men are hesitant to marry women who work in-flight hospitality. Neerja responds to her mom simply by saying, "I like my job."
"I'm only doing my job, doing my duty," Neerja says.
And with that, we get major goosebumps!
Bhanot may have just been doing her job, but she went above and beyond when she decided to stay behind on the flight and let the others leave the plane before her.
"Iski Kundali mein likha tha, kul ka Deepak banegi yeh."
(Translated to:  "It was written in her stars that she would be the shining light of this family.")
And with those words, Neerja's mother answers her earlier question: Neerja was never meant to leave her job as an air hostess because it was in her destiny to be a heroine, a shining light to so many around the world.
---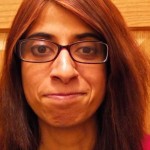 Sonali Kudva is a Ph.D. candidate at the College of Communication and Information at Kent State University, Ohio, with research interests in Bollywood, Human-Information Interaction and Popular Culture. She inherited the travel bug from her parents and has traveled widely, and hopes to get the opportunity to travel to more interesting places someday. In another life, she was a Pulitzer Center for Crisis Reporting Fellow, has worked as a full-time journalist-editor and freelancer at magazines, newspapers and online. Sonali calls India her home, even though she spends more time away from home than in it. She likes to collect academic degrees, and in her spare time, she likes to vegetate with an interesting novel, talk to her family or argue with her friends on politics, international affairs and any other topic that may come up.