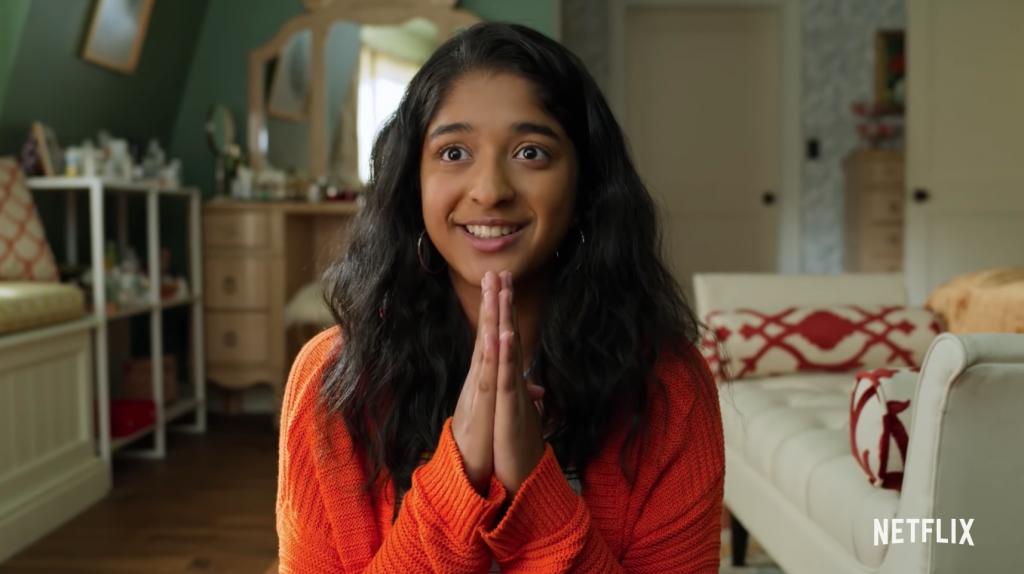 When I first heard about Mindy Kaling's new show, "Never Have I Ever," a few emotions went through my brain. One, YES to more South Asian representation in media. Two, I can't wait for a show to come out that actually relates somewhat to my high school experience and struggles with my identity and culture. And, three, this show is either going to be a hit or miss – which made me a little nervous because this show was set to be a breakthrough for South Asians, so it was really important for Mindy to nail the message.
And boy, it did NOT disappoint.
This coming-of-age story adds a fresh twist to an old formula: quirky, relatable, and just straight up hilarious. "Never Have I Ever" follows the journey of the complicated life of a modern-day first-generation Indian-American teenage girl, Devi (Maitreyi Ramakrishnan) and her high school dilemmas while constantly sparring with her concerned mom (Poorna Jagnnathan), living up to the expectations of her over-achieving cousin, Kamla (Richa Moorjani), shifting dynamics of her friend group (Ramona Young, Lee Roudriquez) all while pining over heartthrob, Paxton (Darren Barnet).
Starting with the characters, I want to say I was super impressed to see such a diverse cast. There were people of color everywhere, from Devi's therapist, to the principal, to different class members – this was definitely a high point of the show. Maitreyi Ramakrishnan did a phenomenal job of playing that likable, relatable and confused all at once teen who is trying to navigate her awkward years. But Devi is far from the perfect daughter, and "Devi Nonsense" pops up at the most opportune moments. She has mommy AND daddy issues and a temper.
The supporting cast fills in admirably, with Poorna Jagannathan stealing the show by immersing herself in the meaty role of working mom, Nalini, with high expectations of herself and her daughter. I felt really connected with Nalini as well because she honestly reminded me of my mom, someone who wanted the best for their daughter but didn't know how to be completely proud and accepting of who they are. Kamala further upends stereotypes, at first she's the complete opposite of Devi – at least, that's what we're supposed to think… I really enjoyed watching her character journey and having her be this antagonist to Devi that evolves beautifully. Other characters I really identified with were the gossiping aunties at weddings, the priest, and the well-meaning uncle who can only talk about his business!
As someone who was born and raised in the USA with a pretty liberal family, I felt as though most of themes in "Never Have I Ever" really nailed how I had been feeling as a high-schooler – the most important one being identity. Growing up in the USA, but being Indian, I always felt a little culture/identity confused. On one hand, I was embarrassed of being "too Indian," and on the other hand, my parents at home were telling me that I wasn't being "Indian enough." Finding that ground has always been very difficult.
The part of "Never Have I Ever" that really spoke to me was the Ganesh Puja episode when Devi talks to her friends who had gone to college and returned for the puja and she says "When I get into Princeton I'm never coming back." I felt like college was the do-over area of my life, where I could finally be "normal" and shed my Indian-ness away so I wouldn't have to be so confused about my identity. But the minute I got to college, I saw how appreciative and open others were about their cultures in comparison to high school. It helped me appreciate my brownness SO much more. I really dove into my heritage and started being so proud of my desi roots.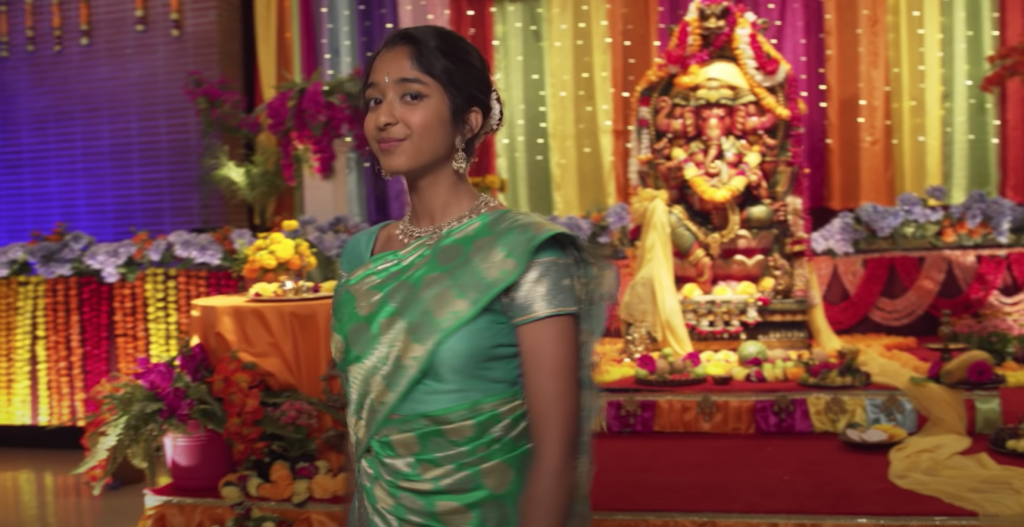 Another part of my identity that was touched upon in the show was feeling ugly in high school, inside and out. A lot of this was due to being surrounded by the pretty "norm" of white people, and having a darker complexion, Indians are constantly associate with being nerds and just having a similar lack of confidence as Devi – so many of us believe that the little Indian girl will never get the hottest guy on the campus. I always felt like I was trying to impress people to fit in, and I think a lot of others can relate.
One thing that I couldn't relate was the storyline of Devi's need to deflower herself. Devi is a virgin in high school, and her mission is to get laid. This might be a generation gap of Gen Z and myself because I don't even think I knew what sex was in high school. I remember wanting to have a boyfriend, sure, but I never thought about sex as a sophomore. Do I appreciate that sex is being brought up in the show? Yes, and I think it's time we normalize the conversation around sex. But do I think that it was something that should have been a big storyline? No. Personally, I think I would liked it to be more PG.
Other themes in "Never Have I Ever" that I absolutely loved were the discussion around topics considered taboo in the South Asian culture: the LGBTQ community, miscarriages, single parents, love marriages, and mental health (I just love that Devi had a therapist!)
So my overall thoughts on the show? FANTASTIC. If I haven't mentioned it enough, RELATABLE AF. I strongly think that this show captured the essence of an American desi and the struggles & privileges we experienced growing up in the USA. One of the funniest things on the show for me was when Devi and her mom got into a fight, and then her mom refused to give her and her friends snacks while they were studying. Been there, been starved.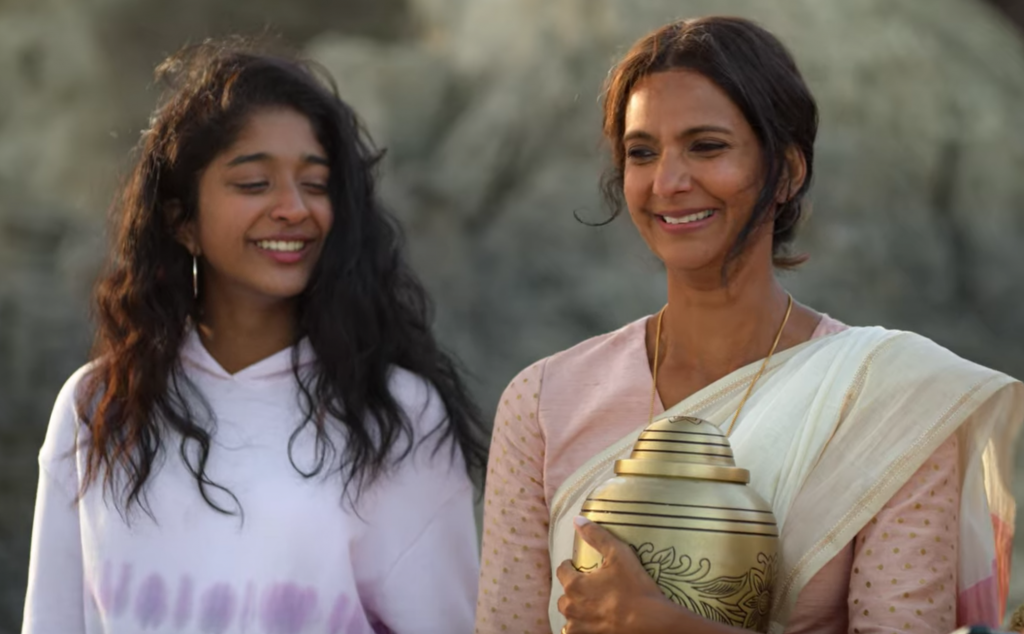 I absolutely loved Devi and Nalini's relationship. It really took me back to my frustration with my mom growing up and that major cultural gap (my dad was my savior too!). The culture of the show was so rich and accurate to my own story – no shoes at home, cremation in ashes, eating Indian food for dinner as a family, fighting with mom about Ganesh Puja clothing, etc. And the pop culture references had me cracking up ("The Bachelor," "Priyanka Chopra," "Westworld"). On the other hand, some parts of the show were a little too exaggerated for me, like the whole virgin thing, Devi calling her mom a "bitch," Devi running away after a fight with her mom and staying with Ben, and the way Devi's mom insulted Paxton's intelligence. But the final episode was beautiful and a tear-jerker, so have some tissues ready!
Now a Season 2 seems obvious, so let's talk about what I hope to see next season, shall we? Character evolution. I want to see Devi learning to accept and be proud of her Desi culture and background. I want to see Nalini starting to accept more of Western culture, growing her mother-daughter relationship with Devi and meeting her halfway more, while also learning to find her own identity without her husband. I want to see Kamala's voice grow and have her stand up for herself and Devi when it comes to topics like arranged marriage and sex. I would love to see a more open conversation with her and Devi about this since they've established an older and younger sister dynamic. I want to see more flashbacks of Devi's dad and maybe touching on the gender roles between men and women in South Asian society.
Lastly, I'd love to see Devi in a love square with Paxton, Ben and an Indian boy, the struggle with interracial relationships and choosing someone of your culture is definitely prevalent in today's South Asian community – I wonder how that would play out on tv.
Maitreyi Ramakrishnan wrote an important note on Twitter that needs to be heard by us all:
Idk who needs to hear this but:

Devi does not represent the ENTIRETY of the south Asian community. She is merely one story influenced by real life experience. There are still many stories waiting to be told. This is one of many steps forward in a much longer race.

Okay byeee?

— Maitreyi Ramakrishnan (@ramakrishnannn) April 28, 2020
I think we all should remember this while watching the show. I've been seeing some backlash about "Never Have I Ever," and I can't help but think that people are nitpicking. This show is a huge win for South Asians. Sure there are things that need to be improved, but overall this show KILLED IT in describing an authentic South Asian story. We're so happy it exists in mainstream media, and can't wait to see more shows with our identities in front of the screen.