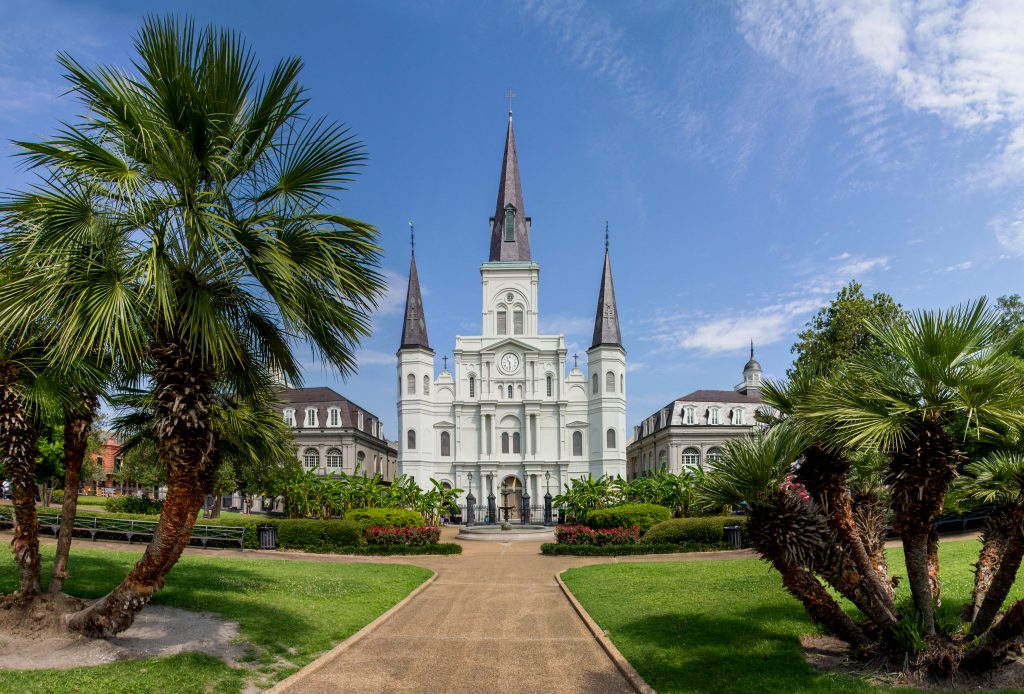 After traveling and living in China for the past two years, I realized that although I was representing the United States as a Peace Corps volunteer, I didn't know very much about the place where I come from and represent.
I had traveled more internationally than I had domestically. I knew that upon my return, I needed to change my outlook and broaden my experience in traveling by taking a look around my own beautiful country. The best thing about traveling, especially traveling abroad, was meeting all walks of life that come from the U.S. of A. Places I had never intended to visit—Wisconsin, Ohio and Texas—are all places I was easily interested in after I met and befriended people from tiny towns in places I forgot existed outside of New York. So, I made a small oath to myself to really see America.
One of my first destinations was New Orleans, Louisiana, or as everyone there refers to the state and city: NOLA. If you're looking for a place to travel on your next vacation, New Orleans should definitely be your next destination spot. This quaint city that never sleeps, because everyone is celebrating something, is a great getaway from your city. Coming from New York City, I did not want to really get away from the city feel too much, and New Orleans is a perfect in-between of tall buildings and public buses to palm trees and French Quarter.
Day 1: Jazz Fest
My exposure to jazz music was through my own curiosity or what I learned from friends. In other words, I had zero knowledge of anything jazz related. Therefore, buying jazz fest tickets to one of NOLA's biggest events of the year was random, to say the least. Jazz Fest is a combination of celebrating jazz and the heritage of New Orleans. The festival is held on a huge racetrack that hosts 12 stages to watch performances. Famous singers and bands make their way to New Orleans to perform, creating mini-concerts in every corner of the track. While experiencing legendary bands, or singers perform, I got to eat some of the best food I've had since being back in the states. From Jambalaya to Po-boys, I was incredibly consumed by the food of N'awlins, and literally became intoxicated after I learned happy hour starts at 10 in the morning. More on drinking later. My only regret was not purchasing a 2-day pass to Jazz Fest. Each ticket costs around $50.00, excluding a shuttle bus that brings you to and from a central location. I promise it's worth the cultural explosion that will awaken the Jazz hands you never knew you had.
Day 2: More Beignets, please!
New Orleans is known for their vibrant Creole culture. Having been founded by the French and then ruled by Spain, there are heavy influences of both cultures around the city. My first stop was the French Quarter!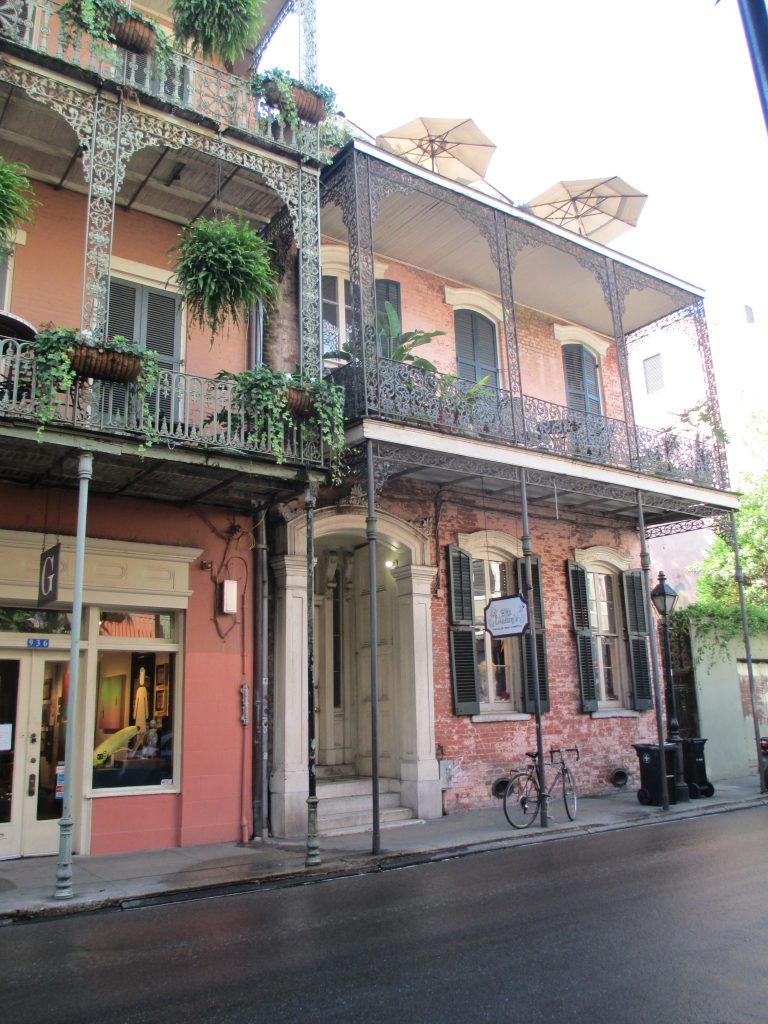 [French Quarter, New Orleans | Photo Courtesy: Felicia Singh]
Beautiful brick accents, balconies decorated in potted plants, French written on windows and menus, added to the feel of the French Quarter. The history of the French Quarter lends itself not only in the architecture but also the food. Café Du Monde, the talk of the town, is one of the best places to score French doughnuts. This café has the perfect backdrop, the Mississippi River. The best thing you can do for yourself in New Orleans is sit with a nice cup of coffee and eat fried dough drowned in powdered sugar, all the while listening to a saxophonist playing for tips outside of the café. Now, this is the life.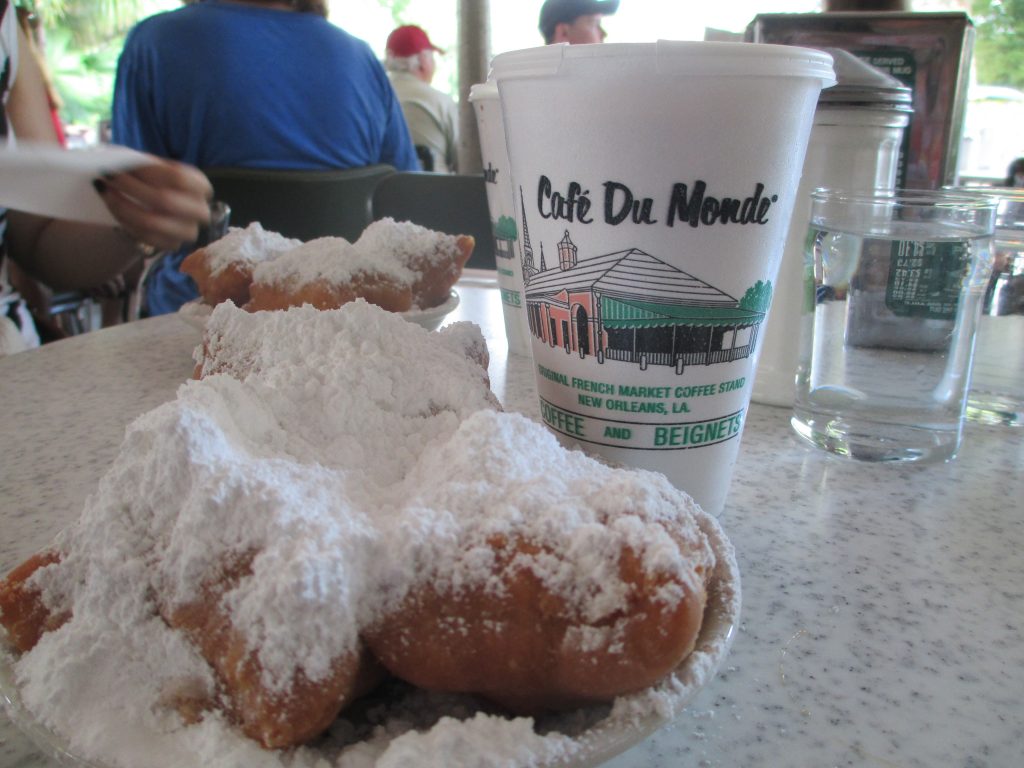 [Fried Doughnuts from Cafe Du Monde | Photo Courtesy: Felicia Singh]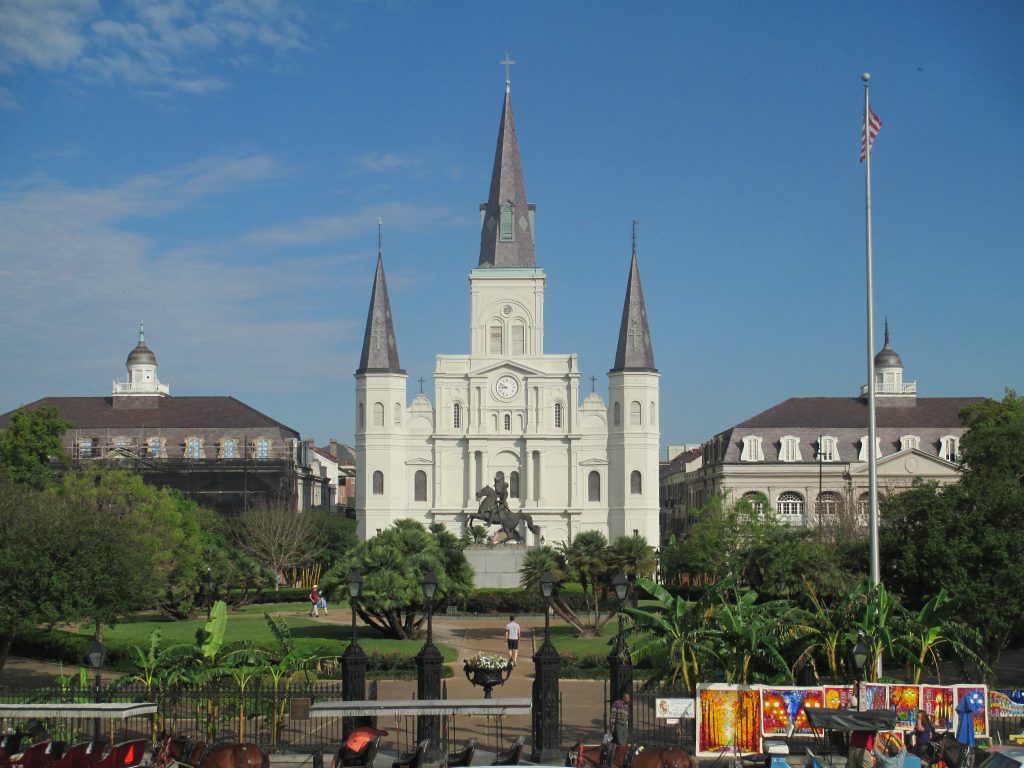 [St. Louis Cathedral, New Orleans | Photo Courtesy: Felicia Singh]
You can't go to a city without experiencing their nightlife, and what an experience this one was! New Orleans' Bourbon Street truly never sleeps. The corner stores sell jello shots and daiquiris while live music plays in every bar. Funky 544 Rhythm and Blues Bar is the place to go if you want to hear free, live music that takes you back to the Temptations with the accompaniment of a saxophonist. I have never had so much fun dancing and singing along with a live band before. I have also never had so much fun partying with people my parents and grandparents' age. The best part of Bourbon Street is the mix of the young, the old, the single, and the soon-to- be wed; everyone is truly equal here. Or, you're too drunk to notice the uncle partying it up next to you.
Day 3:
Of course, when you have one famous café spot that claims to have the best beignets in town, there will always be a competitor. Who says you can't have French doughnuts twice in one weekend?! Café Beignet is another famous spot in New Orleans one must try in order to ultimately decide how you like your dough fried best. Next, head down to the French Market, not only because you might feel the need to take a lap after eating so much, but because you could score great deals on souvenirs to bring back with you!
Another great way to see a city is to ride their local transportation and take a ride to nowhere. Coming from New York City, we don't have quaint transportation. So, when I saw the New Orleans trolley, I fell in love. By taking the trolley uptown towards New Orleans, I had the pleasure of seeing beautiful southern homes in the Garden District. A relaxing tour that costs only $1.75?! Yes, please.
Deciding to end the trip with at least one fancy dinner was the right way to go. Mr. B's Bistro has a great seafood menu at just the right price to not overspend on a last hurrah in NOLA. The barbecue shrimp comes with the accompaniment of a bib because, yes, you have to peel the casing off the shrimp to get to the good stuff here. If you're like me and not into messy eating at a nice restaurant, go for the wood-grilled fish-of-the-day!
New Orleans truly has the experience you need to indulge in great food, listen to soulful music, and experience a culture outside of your own.
If I haven't convinced you enough of why you need to book your next trip to New Orleans, here is why you should visit:
1. Happy hour starts at 10 am
2. The food is just as soulful as the music
3. There is always something to celebrate.
4. Live music everywhere. Music that is completely different from our usual Bollywood renditions. Hey, if you ever wanted background music added to a moment when you meet a charming, southern fella then NOLA is your place.
5. You can walk everywhere!
6. Ever seen the Mississippi River?! Neither did I, but let me tell you, it's a looker!
7. Southern hospitality is real and wonderful.
If you would like to share a travel story for our weekly #TravelTuesday posts, be sure to email our lifestyle editor Ashni Mehta at Ashni.Mehta@0mq.349.myftpupload.com.
---
Felicia Singh is a New York City native. She served in the Peace Corps from 2013-2015 in China as a TEFL volunteer. During her service, she created and co-taught her school's first women's studies course. She also was the Editor-in-Chief of Peace Corps China's Gender Equality and Women's Empowerment Newsletter. She holds an M.A. in Adolescent English Education for grades 7-12 and currently teaches in Brooklyn. Her passions include, but are not limited to, discussions on race and diversity, gender equality and feminism, and understanding the balance between a healthy mind and body.