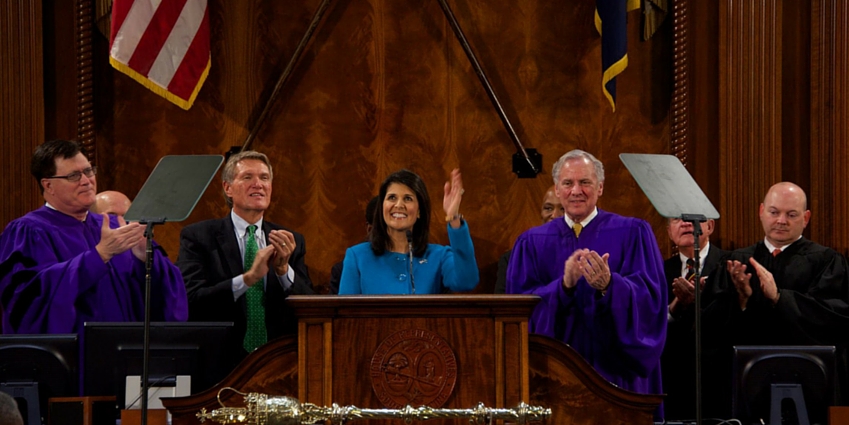 by Sarah Yusuf
Like millions of other Americans, I was tuned into President Obama's State of the Union (SOTU) address this past Tuesday. I normally glaze over these things, because it's the usual gibber gabber of gun laws, immigration, the Middle East, healthcare, and whatever political fluff comes into Obama's speechwriters' heads. I don't lean towards Democrats or Republicans, so it wasn't like I watching the SOTU, anticipating that every phrase would make me feel good, in the way that many of my Democrat friends were that night.
Obama's speech was positive overall with the president ending his speech with the customary "the state of the union is great." However, what really irked my interest, this time, was that the Republican response was done by none other than the original political brown girl herself, Governor Nikki Haley of South Carolina.
I don't agree with many of the ideas of the Republican Party. I mean, I was raised in the South and had conservative ideas shoved down my throat every single time someone mentioned the word "politics." 
Moreover, I never could find myself to like either Governor Haley or Bobby Jindal because they embodied the "coconut" mindset of white-washed Southern brown people. It was bad enough growing up around such "coconut" people, but having leaders who tried so hard to distance themselves from their heritage was absolutely annoying. I get that you're trying to earn votes and in the South, it's usually white people who head to the polls more often. However, when I would read about Bobby Jindal's ideas on policymaking, I would be baffled. Thus, I never had a really good impression of him or Nikki Haley.
But something happened Tuesday night, after watching Haley's response to the SOTU. I think I was beginning to actually like her. If one ignores the conservative duckspeak that's so common in these responses, you can actually hear a semblance of truth. Like, I could hear logic! I don't know if it was her rhetoric or that southern accent, but I think I might just be a Haley fan now.
For one, she attacked President Obama, which is basically protocol in the Republican responses; however, she bashed Donald Trump even more. She even used that momentum to channel her hidden, inner brown girl and talk about the hefty issue of immigration.
"Today, we live in a time of threats like few others in recent memory," Haley said. "During anxious times, it can be tempting to follow the siren call of the angriest voices…There's a tendency to falsely equate noise with results. Some people think that you have to be the loudest voice in the room to make a difference…We must resist that temptation. No one who is willing to work hard, abide by our laws, and love our traditions should ever feel unwelcome in this country…We must fix our immigration system. That means stopping illegal immigration. And it means welcoming properly vetted legal immigrants, regardless of their race or religion."
For the first half of the speech, I was admittedly distracted by the fact that Haley basically talks through gritted teeth. However, that totally didn't matter after I heard her points on immigration. For a minute, I think my face turned to full on heart eyes. She later goes on to talk about the Charleston shootings that happened this past summer. And I think that's where you get the gist of her standpoint for the entire speech. Haley appears to have a balancing act between doing what's right and acting upon the convictions of the now hyper-conservatism within the Republican Party.
She's definitely all about the anti-Democratic Party lingo, but she's not afraid to criticize her own party for its downfalls.
"While Democrats in Washington bear much responsibility for the problems facing America today, they do not bear it alone," Haley said. "There is more than enough blame to go around. We as Republicans need to own that truth. We need to recognize our contributions to the erosion of the public trust in American leadership. We need to accept that we've played a role in how and why our government is broken. And then we need to fix it."
Of course, like any Republican response, there was the pro-business-pro-deregulation-anti-union yammer. Yet, for this one time, I could overlook it. 
We were really able to see a side of Haley that seemed relatable and even admirable to Americans, even South Asian Americans. I even loved how she dealt with the backlash, from all political standpoints, the day after. I remember an Ann Coulter tweet telling Donald Trump to deport Haley. Yet, I loved how she brushed it off and just went about her business.
Trump should deport Nikki Haley.

— Ann Coulter (@AnnCoulter) January 13, 2016
For people like Haley, I know that many of you don't agree with her ideas. Heck, some of you guys might not even appreciate the fact that she has created a very white-washed image of herself. Yet, understanding her background and where she came from, I feel like she really didn't have a choice. 
If I hadn't of gone to a liberal high school and had a politically diverse group of friends, I probably would've ended up like her. It was because I had resources, like Brown Girl Magazine, to help me connect with other South Asians and not feel alone that I've been able to embrace my South Asian identity. Maybe all Haley needed as a Clemson accounting major was a safe place to express her Punjabi identity. I'm really happy I have that at my university, but back then, maybe she wasn't so lucky.
Thus, at the end of the day, I might not agree with everything Haley says, however, we can agree that she was one of the original brown girl political bosses who paved the way for other South Asians in politics. 
Her beginnings, like so many of us, were very humble. She definitely worked her butt off to get from her tiny little hometown to the governor's mansion. She's relatable and moderate Republican, and what's interesting is that she definitely isn't the loudest in her party. She's not even the oldest; at 43, she's the youngest governor to ever be elected. Yet, many South Carolinian's will agree that she has done her part to improve her state. I think that, in and of itself, is worth respecting, even among liberals. She might even get a shot at the vice presidency seat for the Republican candidate in the upcoming elections. Thus, I think 2016 might be the year Haley turns a new leaf.
---
Sarah Yusuf is a student, writer, artist, and dreamer.