Nindy Kaur is no new name in the game. She is the lead singer of popular Bollywood songs like "Singh and Kaur" from Singh Is Bling, "Tamanche Pe Disco" of Bullet Raja, and "Go Pagal" from Jolly LLB 2, just to name a few.
Music has always been a passion for Kaur, she's been singing for as long as she can remember. But, if there's something else that she's always loved, it has to be a good lipstick! Kaur's love for the perfect pop of color on her lips encouraged her to venture out into the world of beauty. And, she's quickly dominating the scene.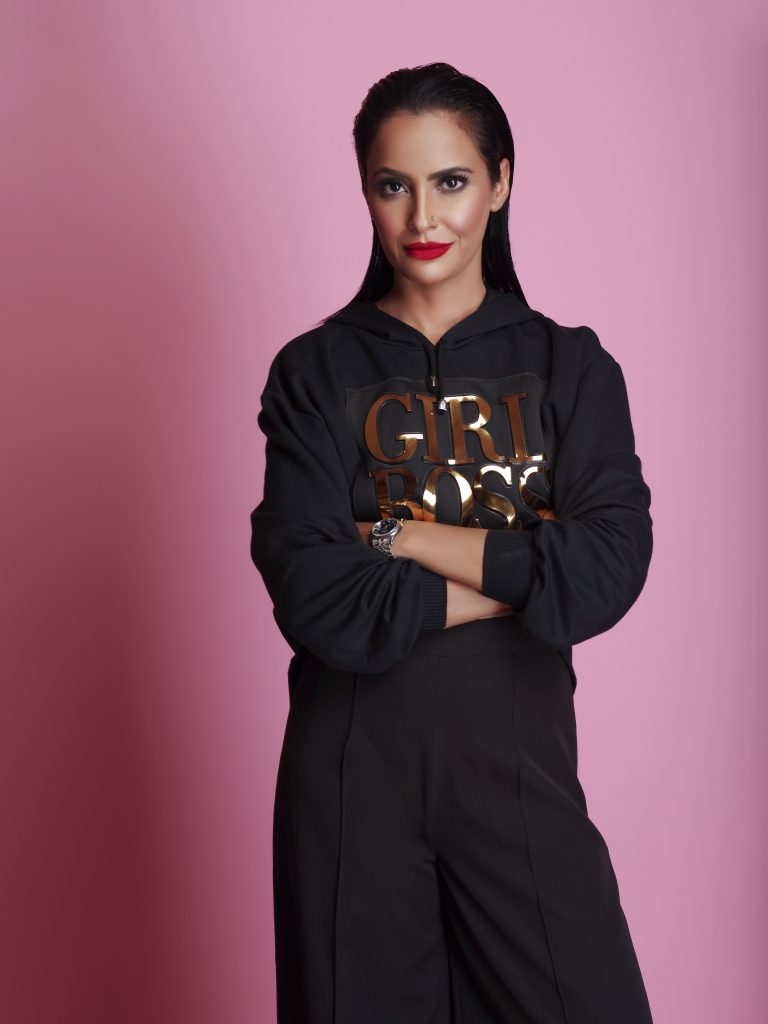 In an exclusive one-on-one with Brown Girl Magazine, the singing-sensation-turned-beauty-entrepreneur talks about life on her end of the spectrum!
1. Tell us about yourself.
I was born in Southall in the UK. Then, I moved to Birmingham at the age of 4. All of my schooling, plus a year of college, was done in the UK. At the age of 18, I moved to Toronto, Canada.
2. How did music come into your life? What prompted you to take it to a professional level?
Music was always a part of my life. Being born and brought up in the UK during the '80s, which was the peak of Bhangra (e.g, Heera, Alaap, Pardesi etc.), you were surrounded by nothing but Bhangra music, that was the trend.

Music becoming a career was after I got married to Manj (former singer and music producer of RDB. He's currently the singer and music producer of Manj Musik). RDB was Manj's band with his two brothers. He used to listen to me sing whilst driving, cooking, and cleaning. One day he said: 'Right, you're going to sing some songs for us, love.' After that, I just remember hearing my voice in a Bollywood movie, Aloo Chaat.
3. You were born and brought up in London yet are so invested in your cultural background from a young age. How did you become so invested, and what led you to predominantly sing Punjabi/Bollywood over songs in English?
I was always a lot more comfortable singing Punjabi songs – don't get me wrong, I love English/mainstream songs. But, I always felt I had a voice for Punjabi songs. If I'm honest, I always treated it as a hobby, something I loved doing aside from my full-time office job. Never, in my wildest dreams, did I ever think I would hear my voice in a Bollywood movie. I guess I was never chasing fame, it just came to me. The more I ran away from it, the more it came after me!
4. Being born and raised in London, was there ever a time when you felt that you may be subject to discrimination based on your choice of singing Punjabi songs?
Not at all! Being Punjabi in the UK was a trend!
5. Let's switch gears to your newest beauty venture, Nindy Kaur Cosmetics. How did this idea come about?
Whenever I performed at shows I would always do my own hair and makeup. The one main thing I would make sure that would stand out was my bold-colored lipsticks. Most of the time, after the show, a lot of fans would come and ask me, 'Nindy, what color lipstick are you wearing?' I would get a ton of messages via social media asking me what color lipstick I'm wearing in certain pictures. That was it for me, and having my own makeup line became an obsession.
6. Were you big on makeup growing up?
The first time I wore lipstick myself was around the age of 19-20. I remember purchasing a MAC lipstick – proper bold red, and I loved it!
7. Do you feel that makeup plays a role in female empowerment? If yes, how so?
It's [definitely] a boost of confidence!

8. What do you think is so powerful about a lipstick? What's the reason every girl needs one good lipstick in her purse at ALL times?
I personally feel that lipstick is the most important when it comes to makeup. You can have an absolutely bare face, be out and about, and then your plans change. You're going to meet a few friends and spend the evening out. You put that lipstick on and it changes your look instantly!
9. What is it like to be a South Asian entrepreneur in the beauty world?
I absolutely love it! I love to be driven. It's a challenge with all the different skin tones. I love working with Bollywood celebrities. I definitely feel we need a lot more South Asian entrepreneurs in the beauty industry.
10. What is the one thing you'd change about the beauty industry?
I would love to get rid of low-quality products, replicas that are made and cause damage to peoples' skin. The rules and regulations on such things need to be a lot firmer.
11. Are you going to be releasing more products in the near future? If so, what can we expect coming down the pipeline?
Yes, I will be releasing more products, for sure. For now, I am focusing on getting as many colors out there of the velvet matte lipsticks. I think it's more cause I myself am a fan of them!

12. What is your everyday, go-to beauty regime?
Believe it or not, it's super simple. Again, I cannot emphasize my passion and love for lipsticks. I cannot live without a lipstick, that's always my finishing touch!
13. What is your favorite shade of the Nindy Kaur lipstick?
Hands down, "Betty Boo!"

14. What is that one beauty-related tip you give everyone?
Blend two lipsticks to create fuller lips! When your lipstick gradually gets lighter in the center of your lips, it creates a fuller look. Apply the lipstick to your entire lip and then add a lighter shade in the middle of your bottom and top lip, blending it with a brush! Great technique for fuller lips without lip injections!
You can shop the Nindy Kaur Lipstick collection, here.