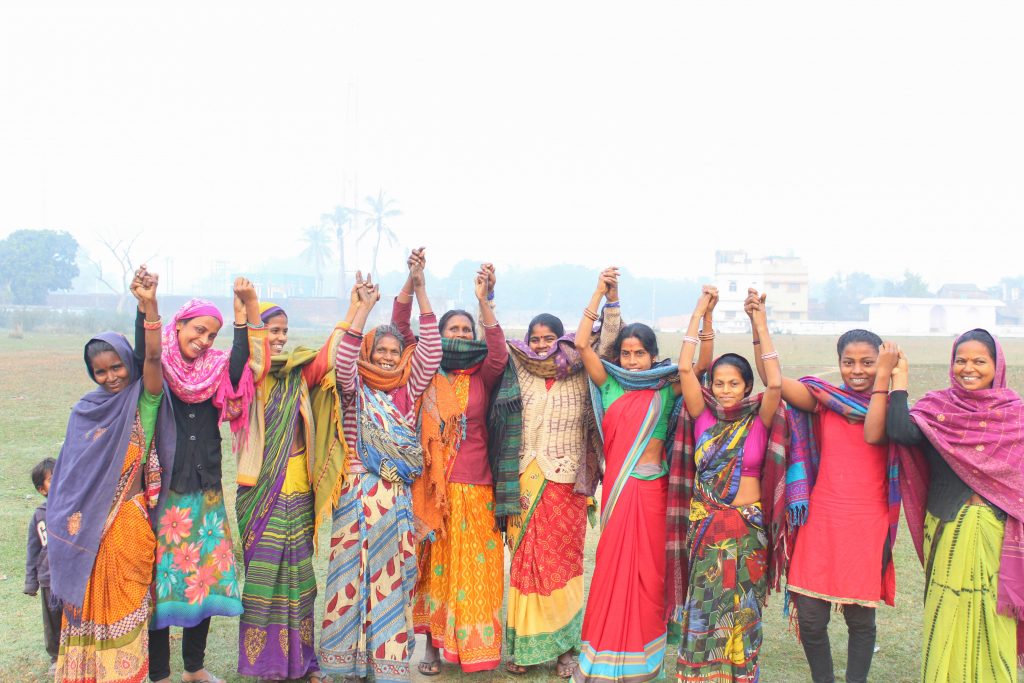 The following post is in collaboration with the Nomi Network – a nonprofit that creates economic opportunities for survivors and women at risk of human trafficking. 
The first of anything is considered a large success. First words. First steps. The first day of school. First job. A job is easily accessible to some, but for 46 million people, it is a privilege they may never experience due to a $150 billion industry known as human trafficking.
Nomi Network's vision is a world without slavery where every woman can know her potential. Our mission is to create economic opportunities for survivors and women at risk of human trafficking by equipping them with leadership, entrepreneurship, and production skills to become financially independent. Whether it be through the Nomi International Fashion Training in Cambodia or our Rural Empowerment Program in India, Nomi Network was built on "firsts."
Najimoon was a victim of intergenerational prostitution. She was born into a family where she was expected to sell her body for income: When she married, she was forced by her in-laws to continue sex work and to sell her children into the profession as well. When her mother-in-law died, Najimoon attempted to quit prostitution for herself and for her children; her husband left her as a result.
Najimoon was introduced to Nomi Network through her daughter, who was a part of our training program. Like her daughter, she was trained and educated to sew and create patterns, and she was paid a fair and daily wage for her work. Beyond technical training, Nomi Network taught her to save and build a business. The wages she earned went into her first business, making petticoats. From the profits of this business, she started a second one – a chicken coop for her village. After seeing her success, her husband came back to her – Najimoon hired him to work for her.
Nomi Network was built on "firsts," but we dream of "seconds" and "thirds" until human trafficking is eradicated in our lifetime. When you purchase a Nomi Network product, net proceeds are reinvested in training programs that create jobs and give women market access. A purchase provides you with a physical item to showcase your support, share Nomi Network's brand, and encourage ethical supply chains. When you donate to Nomi Network, you are helping us expand our life-changing programs to even more survivors and at-risk women and girls in India and Cambodia. You are partnering with Nomi Network to help thousands of women secure freedom for themselves and their children.
Nomi Network is more than a social enterprise. We are building connections between employers and training a workforce while providing a clean supply chain to large companies and organizations. We are a network of advocates dedicated to creating a world free of slavery, knowing that we will encounter circumstances that are sometimes beyond our control.
In August 2017, a terrible flood destroyed Bihar, India. Many lost their lives and countless others lost their possessions and livelihoods. Najimoon lost both her businesses. However, she applied what she learned within our programs not only for herself but also for her family and her future. She had savings and like the entrepreneur she became, she rebuilt. She restarted. Nomi Network held a flood relief campaign to raise funds for Bihar. Najimoon got back what was lost and more. Beyond our programs, Najimoon has inspired other women to make their potential a reality.
Nomi Network wants other women to know their value and power. That is why we have expanded beyond Bihar to West Bengal and Odisha through strategic partnerships. True to our name, Nomi Network is a network of supporters, advocates, fighters, believers, and firsts. Human trafficking is too large of an issue to ignore and it affects nearly every aspect of life: food, clothing, infrastructures, and economies. We know we cannot do it alone, but we never planned to.
Sponsor a woman like Najimoon and walk alongside her as she breaks cycles of poverty and abuse. Purchase a product created through an ethical supply chain and spread the word that there is always an option. Challenge lawmakers and corporations to do better because we as consumers have the power to demand it. Here at Nomi Network, we are so proud of Najimoon. We know that her "first" is just the first of many.