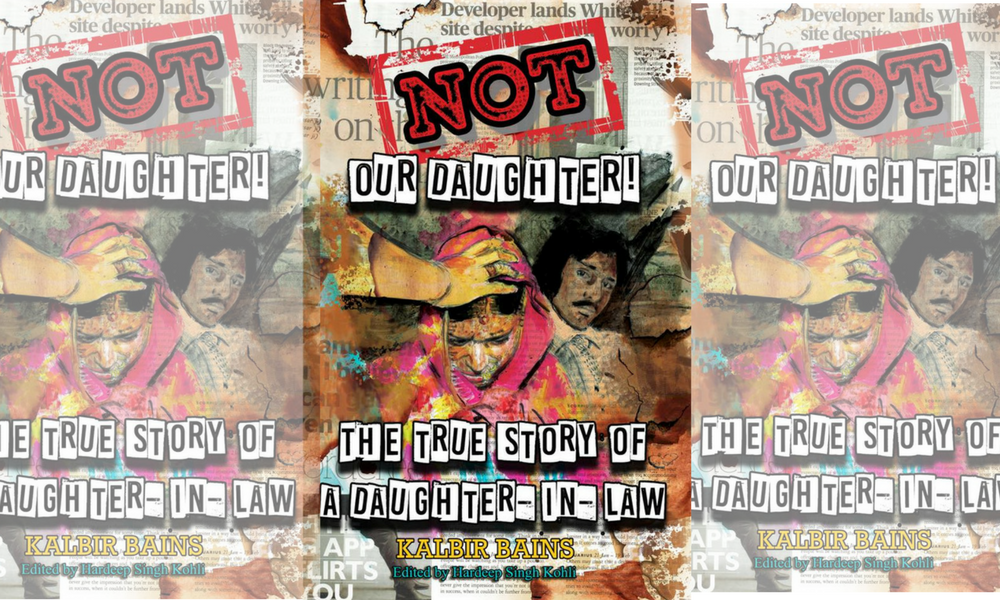 by Sareena Tailor – Follow @sareenatailor

"Well thank you, Daddy ji! You have always said to me, from day one when you met me, that I would live under your roof as a daughter, not a daughter-in-law. Well, you have treated me like a daughter-in-law rather than a daughter by not telling me the truth about the home that I am living in."
This is the true story of a daughter-in-law — British Indian Kalbir Bains' story. "Not our Daughter," written by Bains, follows modern-day Punjabi girl Harleen through her life in an arranged marriage and her experiences once she had joined her new family.
Throughout her journey, Harleen shares the struggles she faces and how she works through them. True to character, Harleen is extremely vocal with her thoughts on a few things and speaks openly about topics — domestic violence, the differences between a forced marriage and an arranged marriage, gender equality, alcohol abuse, dowry, and abortion, to name a few.
Whilst these are quite disheartening topics, there was always a clear presence of hope that runs throughout the book. The ongoing feeling of positivity is a clear reflection of the author. Like Harleen, author Bains suffers from dyslexia and pushes through all the negative comments from various people. Bains decided to prove to herself that she could write a book if she wanted to and she did — she published a truly inspiring story.
Albeit slightly patchy and hard to follow in some places, which is most likely down to the author being self-published, I did thoroughly enjoy reading the book. The characters are easy to relate to and the story is gripping, perhaps even more so because you know it is a true story. I found myself constantly asking how does this sort of thing still happen in this day and age? Do people really go through this much?
The book made me question a lot of things, that's for sure, and it got me thinking about whether or not you are ever truly accepted into your 'new' family once you are married. Would the situation have been different if Harleen had had a love marriage to someone that she had known for longer than she had known her husband Maninder?
Reading the book definitely touched a nerve, but I'm pretty sure that was Bains' intention. The topics that she touches are serious matters that happen every day in everyday relationships and unfortunately not enough women speak out about it.
Traditionally, we are told not to talk about these subjects but Bains believes that this mentality needs to change now and I couldn't agree with her more. There needs to be a change, soon, so hopefully by reading this book women in the South Asian community will feel inspired to speak out and free themselves from situations like those ones in this story. I was unquestionably inspired by the perseverance and optimism of Harleen and am sure you will be too.
---
Sareena Tailor is a twenty-something Gujarati girl living in London. Her degree and life's work is in Fashion and textile design and she has a love for all things creative. Bollywood romances are her kryptonite and she describes herself as passionate about her culture and heritage.