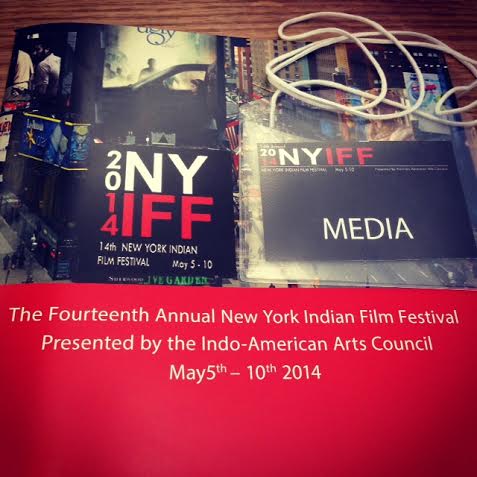 The New York Indian Film Festival is an annual celebration of Indie films, categorized as features, documentaries and short films, made from, of, and about the India subcontinent. During the five days of back-t0-back screenings, organized by the Indo-American Arts Council, directors, many producers, directors and actors spoke in detail to the audience about their films. The festival also included industry panels, an award ceremony, special events, nightly networking parties and red carpet galas. The goal of the week-long series of events, from May 5 to May 10 in Manhattan, was to bring awareness of Indian cinema, entertain and educate the world outside of India.
Many little known films made a big impression during the 14th edition of the festival, which also screened films by big name-directors, like Anurag Kashyap's "Ugly." Aparna Sen's "Goynar Baksho" and Gurinder Chadha's "Bhaji on the Beach."  An annual celebration of Indie films, the festival is categorized into features, documentaries and short films, made from, of, and about the Indian subcontinent.  
The film "Liar's Dice" took home the title of best film and best actress, filmed by debutante director and Malayalee actress Geethu Mohandas.
For a full list of award winners, reviews and photographs, visit the NYIFF website.
Below are two short reviews of the film "Postcard" and "Gulabi Gang" (not to be confused with the Bollywood film "Gulaab Gang").
"Postcard"
Directed by Gajjendra Ahirey 
India, 2013, Feature Film, 125 minutes, Marathi (with English subtitles)
Cast – Dilip Prabhawalkar, Girish Kulkarni, Kishor Kadam, Subodh Bhave, Vaibhav Mangale
Synopsis: Somnath is a postman, who strongly believed & worked on the principle that since he is just a deliveryman, he must be completely indifferent to the sentiments and emotions attached to the letters he delivers. However, his wife has a habit of reading out some letters to her husband and when she gets carried away with the human sentiments attached to a letter, she influences her husband to get involved and help the writer out on human grounds.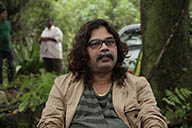 About the Director: Gajjendra Ahirey has been a mainstay of Marathi Cinema for many years and has been the recipient of several awards both nationally and internationally for Best Direction, Story & Screenplay. He has written and directed award winning films such as Anumati, Not only Misses Raut and Touring Talkies, to name a few.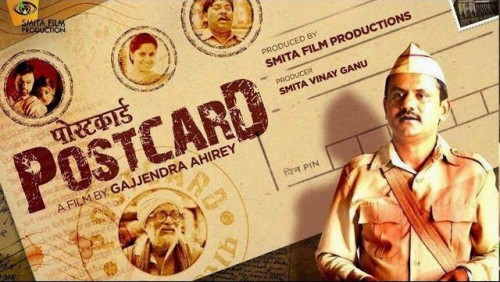 The "Postcard" is a dramatic film, but peaceful to watch. The story line is a compilation of three stories related to different people, which all link back to Somnath, the postman. Even when the titular postman's  is somewhat confusing, it's comforting to watch real human emotions and reactions on-screen, while following his bike as he bumps along the villages.
Somnath, played by Girish Kulkarni, just wants to do his simple job and return home to his beautiful, adoring wife Jaya (Sai Tamhankar) each night, but he inevitably finds himself involved in the lives of the people he delivers mail to because his wife insists on reading some letters.
After reading one particular letter, Somnath becomes acquainted with the problems of an old man, Bhikaji Kale (Dilip Prabhavalkar), who is struggling to save money to pay his debt and eventually move near his children. Even though Jaya is kind enough to give the wood cutter some of her saved money, Bhikaji's story meets a mysterious end. The mask he was making for his new grandchild pops up in the subsequent story lines as the postman and his growing family moves to the hill station.
Each character the mail carrier encounters has an elaborate back story, slowly revealed through flashbacks. The postman becomes involved in different ways with each character, even falling in love with a young prostitute and dancer, which he later confesses to his wife.
Lots of time jumps with each move, but writer and director Gajjendra Ahirey  offers little clues along the way to clarify the exact dates and specific connections between characters.
While the movie somewhat ties together at the end, I was left questioning what exactly happened. But instead of an open-ending frustrating me, as many modern films' cliffhangers tend to do, the mysterious ending enhanced the viewing experience of this sweet film. Viewers receive just a taste of the characters, but are left wanting more, just like a real postcard.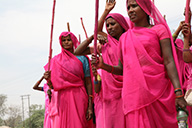 Directed by Nishtha Jain
India/Norway/Denmark, 2012, Documentary Feature Film, 96 minutes, Hindi (with English subtitles)
Cast – Sampat Devi Pal, Suman Singh, Chuhan Hemlata, Patel Jaiprakash 
Synopsis: Enter the badlands of Bundelkhand in central India and you have entered a place of desolation, dust and despair. And yet it is hope that this film discovers, as it follows the Gulabi Gang, an unusual group of rural women. Led by the energetic and charismatic Sampat Pal, they travel long distances to fight for the rights of women and Dalits. They encounter resistance, apathy and corruption, even ridicule. Sometimes whole villages connive against them to protect the perpetrators of violence. The film pulls us into the centre of these blazing conflicts and uncovers a complex story, disturbing yet heartening. 


About the Director: Nishtha Jain is an independent Indian filmmaker. She studied film direction at the Film and Television Institute of India, Pune. Together with Smriti Nevatia Jain, she created an independent documentary outfit Raintree Films based out of Mumbai. Her films have received many awards and have been extensively shown in international film festivals, broadcast on international TV networks and regularly shown in schools and colleges in India and abroad.
"Gulabi Gang," winner of Best Documentary Film at the festival, was one worth watching, especially because it's story line surrounded the feminist culture in India.
The gang is a grassroots group of women fighting for civil rights and crimes against women, who are known to wear bright pink (gulabi) saris.
The Gulabi Gang, which now has tens of thousands of members, is a women's movement formed in 2006 by Sampat Pal Devi in the Banda District of Uttar Pradesh in Northern India. Since the region is one of the poorest districts in the country and is marked by a deeply patriarchal culture, rigid caste divisions, female illiteracy, domestic violence, child labour, child marraiges and dowry demands, a group like this one is much needed. 
The contrast between wearing a color traditionally considered feminine and their activist nature is striking, as are the scenes of stereotypical, traditional looking women grouping en masse for protests.
The Gulabi Gang's founder and leader, Devi, begins the film questioning the suicide of a young woman. She repeatedly presses the woman's family, husband's family, neighbors and policemen to admit the death was a homicide and displays perseverance despite rebuffs and lies.
After showcasing the gang's successes, the latter half of the movie focuses on several shortfalls. Women are encouraged by the group to run for local office; some women are successful. Though in one poignant scene, the daughter of one of the gang member's, who lost the election, angrily poses a question into the camera – why all the Gulabi members did not vote for her mother.
The movie ends by questioning the goal of the Gulabi Gang: will protesting be enough to change generations of patriarchal culture?
The multiple story lines kept the film fresh, though viewers not familiar with Gulabi Gang, prior to watching the film, may not understand the group's goal and work immediately.
I was inspired by the work of the Gulabi Gang and look forward to more media outlets showcasing their successes.