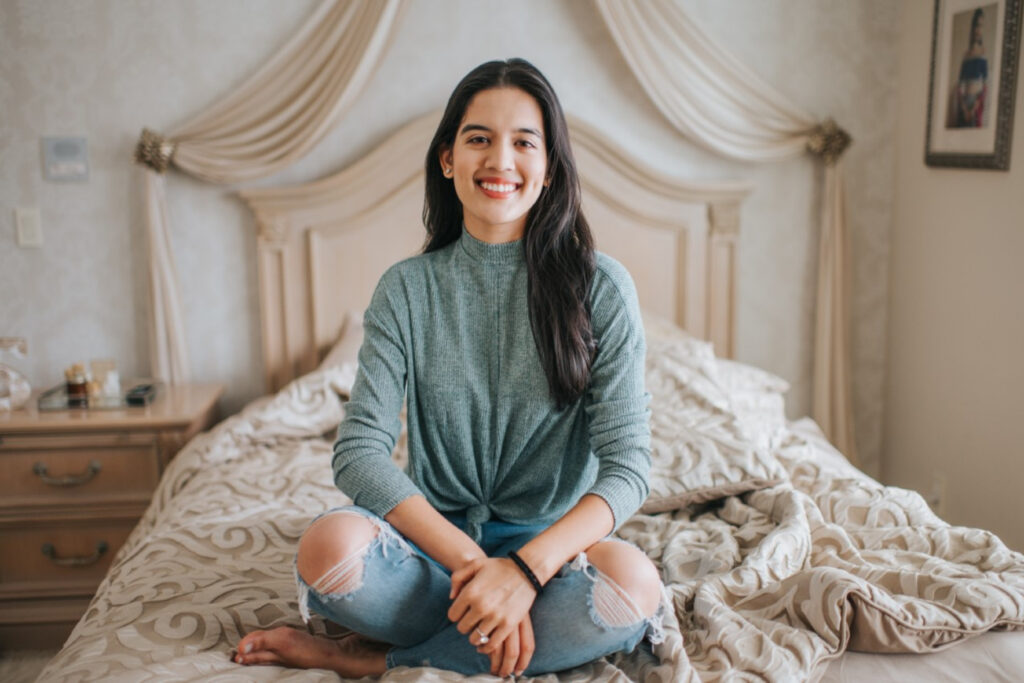 Social media is a tricky place. In a slew of over-glamorised content, conveniently catalogued under allusive hashtags and perfectly filtered images, it is rare to find people who are keeping it real. Instead, many times any show of emotions and vulnerabilities is a mere attempt at leading the eternal race of more likes and follows. Even though audiences have become smarter calling out imposters crowding our feeds, between balancing between sponsored pay cheques and incoming traffic, the end goal for most influencers is almost always to secure the audience's attention and not so much on the effort that goes into it and the trajectory that precedes it. However, Bollywood TV host, vlogger and South Asian-American influencer Shivani Bafna believes relatability is key to audience engagement. And relatability can only stem from raw authenticity. 
View this post on Instagram
Bafna is among the few desi influencers who have shared every bit of detail of her journey to, and from, Bollywood with people she barely even knows. From killing lizards in her Mumbai apartment and experiencing her first local train ride to the myriad of times she sat across Bollywood stars picking at their brains, she has pretty much been an open book. Although we have to admit her journey has been nothing short of a dream for those of us less blessed. She does, however, recognize her privilege, and so being lucky to land her dream job shouldn't invalidate her struggles. Such sheer transparency in a virtual world of strangers can be daunting but it's perhaps why Bafna feels she can sleep better at night. 
"It's so hard to put up a front and be someone that you are not; to have to continuously put up an image every day that I am always shooting,  I always have great content, I always have a fresh face of makeup on! It's just not me and I don't think it's a sustainable lifestyle."

"I've seen and worked firsthand with so many creators who struggle with that because it's difficult when you've projected a certain narrative of who you are and then maybe three years later it's different. That's normal, that's how we all grow," shares Bafna. "If I was to present an image that this is Shivani Bafna and all I talk about is Bollywood, fashion and skincare, that wouldn't really be me. There are so many more dimensions to who I am. I think if you can humanise the Internet a little bit, it'll be a lot easier because at least you know that you've not portrayed to be someone that you are not." 
View this post on Instagram
In a surprising turn of events, Bafna decided to quit her dream gig in Bollywood and return home, to the U.S. You'd think there has to be a solid reason, something probably controversial, for Bafna to leave the glitz and charm of her starry life behind at a career-high. But if you've been an ardent follower of Bafna's journey, you'd know that it can quite possibly be something as simple as wanting to be closer to family. 
"Bollywood is something I loved and enjoyed being a part of but I realised that it wasn't the end goal," she points out. "I kind of checked everything off the bucket list that I wanted to do while working in Bollywood. And I've always craved to build something bigger than myself. I wanted to come back and be closer to my family, to my fiancé and to the career aspect of wanting to create something with an entrepreneurial spirit."
Unexpectedly, Bafna's decision came at a time when the world was on the verge of becoming all the more uncertain. 2020 was by far the most turbulent and erratic year affecting even the most basic needs of our daily lives. But while it tumbled the course of our lives, it also forced us to take a moment and reflect on our existence and our contributions to the world we live in. 
During our hour-long Zoom conversation, we kept reaching the conclusion that "everything happens for a reason," and Bafna's reason to discover and create what she has over the past year was behind everyone else's dream. In a year full of self-reflection and the constant need to satiate her urge of adding more value to the world around her, Bafna has branched off from being an individual brand to developing an online community, "a movement," called Behind Every Dream. 
View this post on Instagram
"Behind Every Dream, at its core, is an online and offline movement. It's a way for people to really think about the way we show up online and what we share with each other. Because so often social media is a highlight reel. We show our wins, we show our successes but we often don't celebrate the behind the scenes and the magic of the moments that lead us up to that final destination," she passionately lays out the essence of her new initiative. 

"Growing up I have always been a hyper-curious person; always wanting to find out how an 'XYZ' person achieved what they have. So for me, it is a place where I can learn about other inspiring and resilient people. But really what I want for it to become is this cool, intimate space not just for the South Asian community but for all of us who are working relentlessly, fearlessly towards our dreams. For us to connect, to learn from each other, to offer mentorship," Bafna adds.

"There are so many gateways or barriers that we feel like we shouldn't talk about. For example, if I talk about how I got my internship now, then 10 other people might be able to get it but we put these really competitive barriers and we forget the fact that if we all were a little bit more honest and stopped putting up this facade that everything was figured out from day one, we can grow as a community. So 'Behind Every Dream' is first and foremost a community; it's an ideology, a lifestyle, a way for all of us to think a little more critically about how we look at others online and how we feel about ourselves in our own journey."
Launched on January 3, 2021, "Behind Every Dream," is, at the moment, a platform on Instagram shedding light on the uphill battle people face when working towards achieving their milestone moment through a series of motivational posts and videos. It is different from Bafna's eponymous social media brand in the sense that it is not essentially focused on Bollywood and its patrons, but people from all walks of life, be it a medical student or an entrepreneur. And going forward the aim is to expand and engage the community by having notable guests, from various realms of society, come on board and share their real-life experiences. 
View this post on Instagram
"There is a lot in store. We are doing a podcast; there are going to be more ways for people to openly discuss and learn from people who have achieved certain dreams and really just build resonance in each others' stories," Bafna shares. 
View this post on Instagram
From taking everyone on a rollercoaster ride through the highs and lows of her life and career to going behind the scenes into the making of an achiever, Bafna sure seems to be on a mission to make social media a more relatable and reliable space. 
"We are often so fixated on resolutions and milestones; so hell-bent on reaching the endpoint. But I really feel we should think about focusing on celebrating the journey of accomplishing those things. Because otherwise, we wake up one day thinking that 'oh I lost the 10 pounds; I met my goal. Now what?' If you are not happy and not enjoying the journey of getting there, it'll end up becoming cyclical, like a hedonic treadmill."
We can debate that privilege carves the way for better opportunities and some struggles in life are, in fact, far more exhausting than others. But it is a legit, and much-needed, approach. The Internet is always beaming with stories of successes; not so much of failures, when it is the only failure that paves the way for success, no matter how minor or significant it may be in nature.