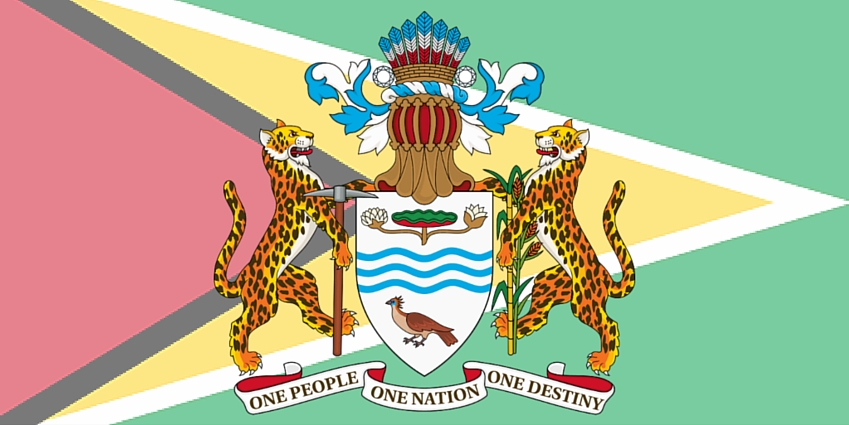 May 26, 1966—As the Union Jack was lowered and the Golden Arrowhead was hoisted, a new nation was born.
Last month, Guyana celebrated its 50th Independence Day, its flag proudly displayed everywhere. My country is now 50 years old, an infant in the global community. It's like we were born yesteryear in comparison to the grand old empire that colonized and ruled over us.
They called us British Guiana then.
Today, we proudly call it Guyana, the "Land of Many Waters." And my heart is there, celebrating its independence. I long to be there to celebrate this special occasion with my people and family. I long to plant my feet on the Guyanese earth and feel deeply connected once again to my roots. I long to breathe in the open air and take in the warmth of the atmosphere. I long to feel the tropical breeze against my warm, brown skin. I long to visit the seaside and wet my feet in the ocean, the same one across which my Indian ancestors sailed to forge a new life for themselves and their descendants.
I long to eat the foods prepared by the hands that labor to feed friends, family, neighbors, strangers. I long for the music, the dancing, the blend of cultures, the Mashramani fun. I long for the diversity of the many people that settled there and made it their own. I long for the community and togetherness where everyone is your auntie and your uncle. I long for everything that is Guyana. I long to be home.
My beautiful little country, how far you have come. And how far you have yet to go. Not a day goes by when I don't think of you and all that I have left there. Not a day goes by when I don't try my best to make you, my homeland, proud of the life I am making for myself in your name. I carry with me all that you have given me every day. I wear the five colors of your flag boldly to show my undying loyalty. I speak your name as often as I can to tell your story to those who don't know it yet.
Because I am proud. So proud. I am proud to be from you, a part of you, my Guyana. In a world where I often do not feel like I belong, I know with certainty that I belong to you. My Guyana.
And now you are 50 years independent. You are golden and to me, you always will be.
---
Miranda Deebrah is an Indo-Guyanese writer and storyteller based in New York. Proud of her roots and heritage, she is an advocate for South Asian voices not yet heard and the stories not yet told. She is passionate about the arts and their ability to create change in the world and hopes to make her own contributions through her work. Her interests include traveling, reading biographies, spending evenings at the theater, reenacting choreography from Lady Gaga's music videos, taking flying trapeze lessons, and making all kinds of magic happen.