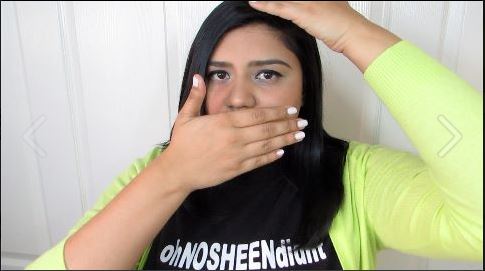 You've seen her YouTube videos, she's made you LOL with her hilarious "chit-chats" and Aunty impersonations, but now it's time to meet the great mind behind ohNOSHEENdidnt, Nosheen Idrees.
Shameless plug: Before you read on, be sure to watch one of our favorite videos! It's perfect for every brown girl.
Hi Brown Girls, my name is Nosheen, a 24-year-old Pakistani who was born-and-raised in California. I like long walks on the beach, but I don't live by a beach so I tend not to take long walks. I recently graduated with a Masters in Public Health…and now, this kind of sounds like a bio-data.
Tell us why you like to make videos on YouTube?
Because apparently I have no life, just kidding! I've always been amazed with YouTube and found that making videos especially during exam time helped reduce my stress. I'm not talented in art, music or sports, so making videos allowed me to express myself in a different way.
Who are some of your inspirations?
All the funny women in the world, especially my favorite human being Mindy Kaling!! (insert heart emoticon here)
Where do you see your YouTube channel going?
TO THE MOON, but that might be expensive so never mind. To be honest, I have no idea, if it takes me somewhere cool, if it doesn't…that's cool too!
Tell us about the video making process?
It began with me sitting in front of a camera in my room talking to myself, and now, a few years later, it's me standing in front of a camera in my room still talking to myself.
What kind of feedback do you receive from your fans?
Recently, a lot of comments have been about what make-up I'm wearing, but it's funny and flattering since I don't make beauty videos.

Overall, any type of feedback I get is appreciated, I try my best to answer as many questions and comments because I love interacting with the awesome people who take time to watch my videos.
Share your thoughts on your on-going partnership with BG.
I came across Brown Girl Magazine randomly and haven't stopped reading the posts since, so naturally I was and still am pretty excited about collaborating. I feel that BG has a beautiful concept by bringing South Asians together via the Internet and love to be a part of this community!
Want more of ohNOSHEENdidnt? Stay tuned for more gupshup and silliness with our dear pal, Nosheen!