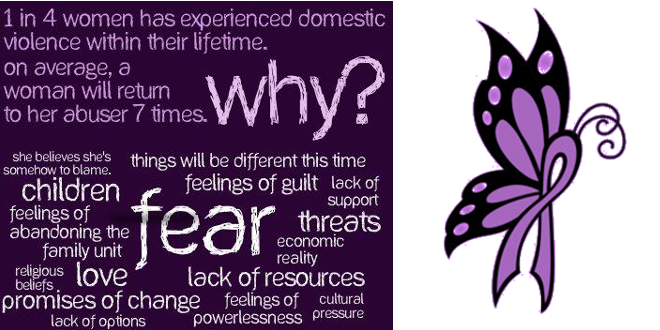 by Sonali Paul
As October marks Domestic Violence Awareness Month, let us keep in mind the numerous factors that affect a woman's decision to stay in her relationship, as well as provide support to those women who are in the position to leave and break the domestic abuse cycle.
Meet your average 31-year-old stay-at-home mom, Hypothetical Hope. A loving daughter, college graduate, mother of two and a doting wife, Hope runs a tight ship. From waking her kids up at 6:30 a.m. to driving them to school, she still manages to start her day with power yoga at the town fitness club. Later, Hope meets two of her neighbors, who also happen to be her close college friends and religious congregation members, for a coffee break. After a few hours of chatting and window shopping, Hope heads to the grocery store to pick up some ingredients for dinner. As she rushes to pick up the kids from school, she sends a quick text to her husband, Harry.
See you at home for dinner, honey."
As she and the kids return home, Hope gets dinner started and makes sure the kids have begun their homework. A few hours later, Harry arrives home, and dinner is served. The kids run off to play before bed, and Hope and Harry have a chance to catch up on their days. As Hope is inquisitive about Harry's day at the office, he seems increasingly uninterested and begins to get flustered. Hope makes her way to the kitchen, wordless, only to turn around to Harry's hand coming in to swiftly cross her face while he twists her hands behind her back and breathes the words into her ear, "never talk to me like that again."
As tears and fear overcome Hope, she frees herself from Harry's grasp and rushes across the kitchen to finish the dishes. She hopes her children are far away in their bedrooms. As soon as she puts the kids to bed and hears Harry retreat into their bedroom, Hope locks herself in the guest bedroom for the night.
It's 6:30 a.m. the next day, and Hope awakes the kids for school, heads to her fitness session and then meets the girls for lunch.
Leave him," they say. "Go and stay with your parents. Tell the police. Confront him."
But Hope can't process the appalled and somewhat judgmental opinions of her friends with their seemingly perfect home lives. This is a new day, she thought, and maybe Harry will be in a better mood. Two days pass, and the family heads to worship at the Sunday service. If Harry can't change his attitude, Hope thought, maybe God might give her some insight on this situation. She feels the piercing, judgmental eyes of her friends, and she hopes Harry does not notice their looks of anger and disappointment. The service reminded Hope of her God-given strength, but as she left, she was not sure if she could or should bring that sense of empowerment home with her.
Before long, Harry physically assaults Hope again. As Hope locks herself in the guest bedroom that night, she buries her head in her hands and reflects on her life.
How could this happen to me? Should I leave? What about the kids? What will I do about money? Will I even be able to get a job? What about Harry's job? What about my safety? Will God be disappointed in me? Is God even a part of my life? What about the disappointment my parents will feel? What about my reputation as classroom mom at the kids' school?"
As the endless wave of worries washes over Hope, she decides that she cannot abandon her dysfunction. She decides to stay with Harry for now, for there are too many factors playing into her right to safety.
This anecdote is entirely fictitious and intended only to spark the reader's awareness of the variety of factors surrounding relationships, the maintenance of them, and the freedom, or lack thereof, to move about in such highly charged relationships. Why a woman decides to stay is sometimes a complex decision, in which the woman can receive all the support and opinions on how she should react, but can only act in the manner best suitable for her. This story does not cover the course of action when the woman's mental stability is compromised.