The world is on fire right now, and rightly so. For decades Black people have been part of a continuous fight for equality; a fight that is currently taking place worldwide. Thousands of protestors have demanded justice for George Floyd, a 46-year-old Black male who was wrongfully murdered by officer Derek Chauvin on May 25 in Minneapolis. Floyd was allegedly suspected of having a counterfeit bill. This one bill cost him his entire life.
Not only for Floyd, but protestors are fighting for the justice of Breonna Taylor, a 26-year Black woman, shot eight times by law enforcement in her own home whilst she was asleep. They have been protesting for justice, of not just the two mentioned above but hundreds more who lost their lives and have been impacted by police brutality and systematic oppression.  
'I can't breathe'
The desperate words are all too common for many that have been unjustly murdered by the police – the very people in place to 'protect and serve' them. Institutional racism is present in every institution and enables anti-Blackness and racism within society. Police brutality has been a longstanding problem in the U.S that is now becoming increasingly more apparent, arguably one of the reasons people are becoming more aware of this horrifying issue is that we now have access to social media. Although disturbing to watch, recordings of police brutality are now accessible to most people around the world in which injustice can be witnessed.
Another concerning factor is the current government with the likes of Donald Trump in power; more members of law enforcement feel a level of comfort in abusing their authority due to the lack of consequences their actions are met with. It is this comfortability that perpetuates targeted and biased treatment towards members of the Black community.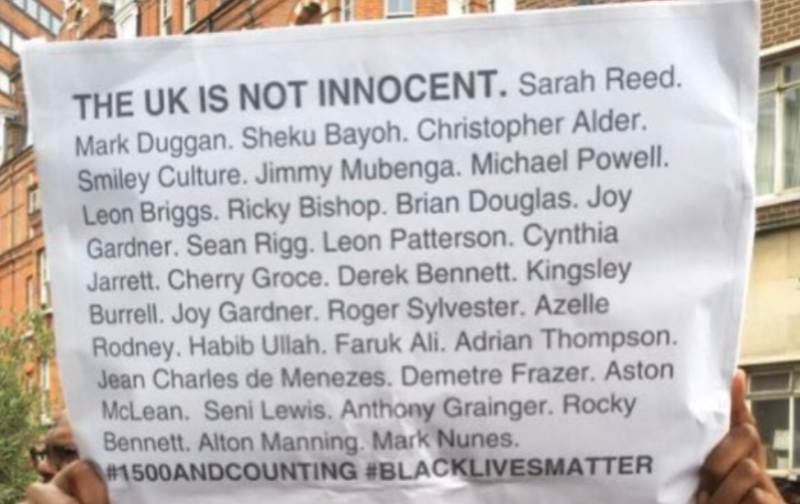 The United Kingdom is Not Innocent
Despite the alarming rates of death by police in America, it would be ignorant to ignore the issues of police brutality, institutional racism and systematic oppression in the U.K. The system of white power and supremacy is a leading factor in the treatment of Black individuals in the U.K.
In fact, Micha Frazer-Carroll explains that the "U.K. police use restraint on black people four times as often as with their white counterparts, and whilst black people only make up 3.3. percent of our population, they account for 12 percent of police altercations in which officers use force."
Racism has been the cause of many deaths in the U.K. — Stephen Lawrence, Shukri Abdi, Belly Mujinga and Mark Duggan — are all either the victims of police killings or racially driven hate crimes. 
These are crimes that are still left unpunished and neglected by the justice system. It seems that racism has become somewhat normalised in the U.K. to the point that it is almost unrecognisable to many. It is up to those in positions of privilege and power to dismantle racist narratives that have taken form throughout British history. It is not up to the Black community to solve an issue they did not create in the first place.
An article by Siana Bangura describes "that a report by the Institute of Race Relations (IRR) shows that, of 1500 deaths in police custody, more than 500 were Black and Minority Ethnic (BAME) individuals. Yet, according to the IRR, not a single police officer has been successfully prosecuted, though a large proportion of these deaths involved undue and excessive force and many more were due to a 'culpable lack of care.'"  
Amidst the recent uproar and protests, the British government and media had a responsibility to address the ways in which Britain has contributed to racism through colonialism, the Windrush generation and the act of black enslavement in the U.K. Instead, they are dehumanising black lives, during a time they are already suffering a great deal. Protestors are fighting for their rights to live, their rights to be treated as human beings, it is the bare minimum for the British government and members of the non-Black British community to stand in solidarity with them – to join their fight and support this movement.
An important fact to remember is that media has the power to influence many. It is crucial that especially in times like these, we educate ourselves beyond the biased representation in the news. The protests are already being named as the main cause for the second wave of COVID-19. If your first thought is to blame the protestors maybe consider how desperate one must be to fight for their lives amidst a pandemic. The protests are not the reason for a second wave. These would be the lack of guidance given to the people by those in charge, the inability for some to follow lockdown rules and the delayed reaction and acknowledgement of the crisis in the first place. Not the ongoing protests.  
How Can We Do Better?
The U.K. needs to realise that police brutality is just as much a U.K. problem as it is a U.S. problem, by ignoring the issue and distancing ourselves from the tragedies occurring we only perpetuate the racist ideologies instead of dismantling them. Prime Minister Boris Johnson needs to take accountability for his contribution to the anti-black rhetoric that aids in continuing stereotypes and negatives ideas of the black community.
Additionally, there needs to be a solid change in the education system, from childhood education to higher education in universities, students lack a great part of history, nothing is taught of colonialism and the role that Britain played in executing colonial powers and imperialism all over the globe. We are taught the victories of the British empire but never the devastation that these victories caused in the countries of Africa. In order for racism to be understood, it has to be taught in schools, it has been part of a larger learning scheme in which we are made to learn about the horrors that millions suffered at the hands of imperialism. 
#BlackLivesMatter
The Black lives Matter movement was created by three Black organisers—Alicia Garza, Patrisse Cullors, and Opal Tometi—in 2013 as a response to the acquittal of George Zimmerman, who murdered 17-year-old Trayvon Martin. It is a movement that has helped social activism whilst bringing awareness to both the mistreatment of black people within society and the concerning increase in the cases of police brutality. The movement is a matter of empowerment for the Black community, it enables both Black and non-Black people to defend the rights of Black people everywhere.
As a community, it is our duty to recognise the struggle of Black lives and stand in solidarity to end the generations of recycled racism. It pains me to say that the fight is not nearly close to the end, injustice is occurring daily. It is time to accept our history of discrimination and make changes to benefit those who have suffered the repercussions and years of oppression.
---
The opinions expressed by the writer of this piece, and those providing comments thereon (collectively, the "Writers"), are theirs alone and do not necessarily reflect the opinions of Brown Girl Magazine, Inc., or any of its employees, directors, officers, affiliates, or assigns (collectively, "BGM"). BGM is not responsible for the accuracy of any of the information supplied by the Writers. It is not the intention of Brown Girl Magazine to malign any religion, ethnic group, club, organization, company, or individual. If you have a complaint about this content, please email us at Staff@0mq.349.myftpupload.com. This post is subject to our Terms of Use and Privacy Policy. If you'd like to submit a guest post, please follow the guidelines we've set forth here.