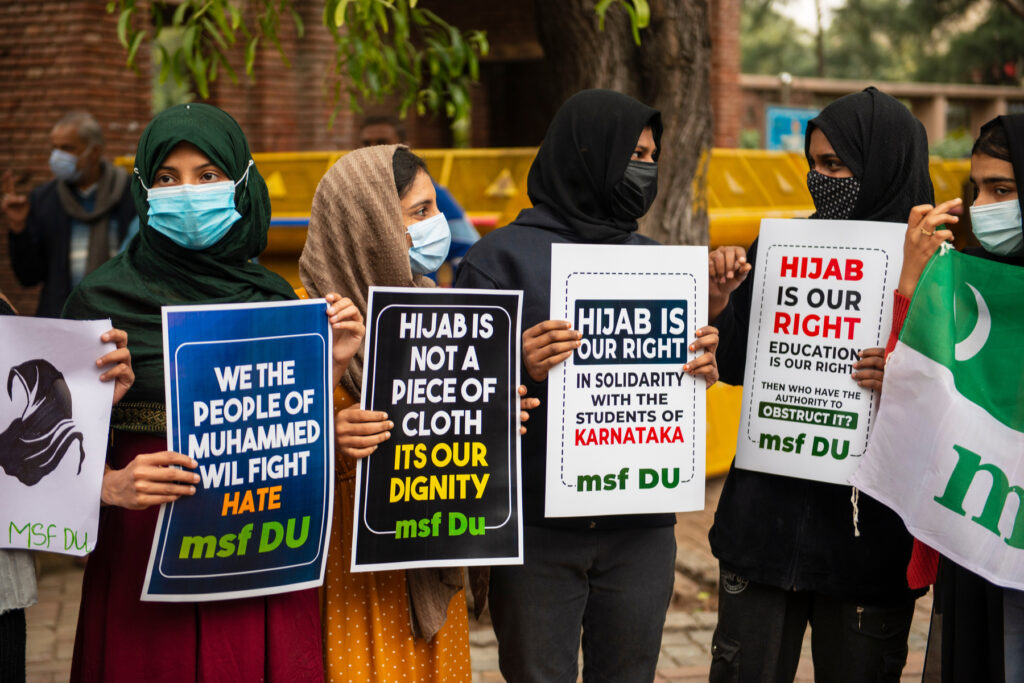 In 2012, 107 Muslim students protested the management of Sri Ramakunjeshwara First Grade College in Uppinangadi, Karnataka for imposing a hijab ban. In 2022, a decade later, there is still a nationwide protest against the hijab ban instituted in several educational institutions across Karnataka.
The hijab came into being when Prophet Muhammed asked his wives to wear a piece of cloth over their heads and bodies to give them a special status in society. The word "hijab" means "partition" or "curtain" in its literal sense and was originally worn by women to keep themselves away from the prying eyes and sexual desires of men. Over the years, Muslim women have adopted the hijab and worn it as a source of religious identity and to represent that they have the freedom to choose what they want to be seen as. While women began wearing the hijab in 627 CE, Muslim women in India have been in a long and erroneous fight with the ruling government, the Bharatiya Janata Party (BJP), long before they came into power.
Even though it is one of the largest political parties in the world and has remained in power for almost a decade, the BJP has time and again failed its Muslim citizens. Muslims have been treated as second-class citizens in their own country as the BJP pushes its agenda for India to be regarded as a "Hindu Rashtra." They are killed, oppressed, discriminated against and put down every chance that the ruling government has got to do so.
Today, Muslim women are fighting for two steadfast fundamental rights: the right to follow their religion and the right to receive an education. On Jan. 1, 2022, six women were denied entry into their classrooms in Udupi, Karnataka because they were wearing a hijab. Soon, this hijab ban spread to several other educational institutions in the state of Karnataka where young women wearing the hijab were not permitted to enter their schools or colleges without removing the headscarves.
On Mar. 15 2022, the Karnataka High Court upheld the hijab ban, stating that the hijab is not an essential religious practice in Islam. This verdict not only highlights the power and control that the government holds over the justice system today but also has the potential to set a disastrous precedent for more than 213 million Muslims residing in India. An important question we must ask ourselves here is why we are having to fight for our fundamental rights as listed under Articles 14, 19 and 25 of the Constitution of India when we live in a "progressive and developing" country? The preamble of the Constitution of India describes India as a sovereign and democratic country, but where is the democracy? Article 14 of the Constitution talks about "Equality before Law," where each Indian citizen is granted equal rights in all aspects of life. Where does the equality lie when Sikhs are permitted to wear turbans and carry kirpans and Hindus are free to wear bindis without having to justify the same? Article 19 of the Constitution of India promises the right to freedom of speech and the fundamental right to be able to express one's opinion freely. Where does freedom of speech exist when saffron-clad men in a BJP-ruled state initiate violence against Muslim women for expressing their anger for being denied the right to education and religion?
We promise our women safety and work toward making every woman feel comfortable in her own skin. Stripping Muslim women of their religious identity teaches them to be comfortable in their own skin, just as long as our men are comfortable with it. It seems that in an ever-changing society, our mindsets are stuck too far in the past to catch up with progress and the basic principle of dignity.
However, in defense of the ruling government and legal system, change is riveting. It requires sustaining momentum, developing political support and a progressivist mindset. What a shame it would be for the ruling government to witness a change in the form of unity, to see a harmonious country accepting of all religions and abiding by the laws — which they seem to have forgotten was not enshrined in the Constitution of India only for Hindus, cisgender men, Brahmins and our beloved bureaucrats.
Most of us have grown accustomed to the violence and discrimination because it does not directly impact us and our livelihoods. This is not just another dispute or social issue; it is discrimination and a fascist way of ruling that has unfortunately come to be common, but not normal. All of our Indian women deserve the right to education and the right to follow their religion in any way they choose without having to protest and move the justice systems. After all, "Bhakts" would never be denied their fundamental rights for reason of their clothing, political agendas, or, as in this situation, for belonging to a certain religion and community, would they?
Muslim Student Federation (MSF) members in New Delhi, India hold placards in protest against the recent hijab ban in some high schools and colleges of Karnataka. Photo Source: Shutterstock
---
The opinions expressed by the writer of this piece, and those providing comments thereon (collectively, the "Writers"), are theirs alone and do not necessarily reflect the opinions of Brown Girl Magazine, Inc., or any of its employees, directors, officers, affiliates, or assigns (collectively, "BGM"). BGM is not responsible for the accuracy of any of the information supplied by the Writers. It is not the intention of Brown Girl Magazine to malign any religion, ethnic group, club, organization, company, or individual. If you have a complaint about this content, please email us at hello@browngirlmagazine.com. This post is subject to our Terms of Use and Privacy Policy. If you'd like to submit a guest post, please follow the guidelines we've set forth here.