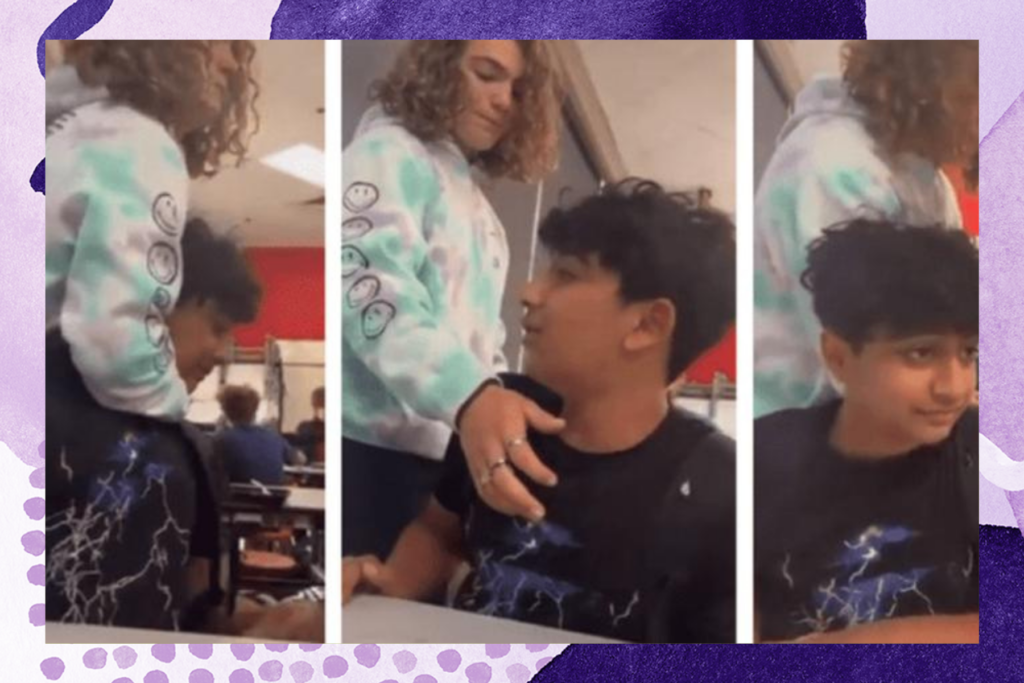 The morning I watched a video of Shaan Pritmani being physically assaulted and verbally abused by a white classmate who dragged him out of his seat and onto the floor using a chokehold. My heart broke. 
My mind immediately flashed back to my own experiences of being bullied as a primary school student all the way to middle school. I was a seven-year-old who had her hair chopped off by a white classmate who associated the color of my skin with 9/11, and was hated by my entire school because of my dark facial hair and body weight. The scars of being bullied run deep for anyone in this experience. I understand the trauma of bullying after being equated with having a disease called Asha Germs. For several years I wasn't touched by other classmates except for my first-grade teacher who grabbed me so hard she left a handprint bruise on my left wrist. I would eat lunch in my mom's car for months on end throughout primary, elementary and middle school to feel some sense of safety. 
Shaan Pritmani was a middle school student in Coppell, Texas who was asked to get out of his seat with abusive language by a white classmate. When he refused to do so, Pritmani was placed in a chokehold by this bully not once, but twice. Pritmani conveyed to this assailant that there was no one sitting in that seat and did not respond with violence or aggression. The 14-year-old Indian-American who had sat in his regular seat in the cafeteria had to experience physical assault and a clear violation of personal boundaries in front of many of his peers who stood by watching. 
Pritmani's parents, Sonika Kukreja and Kamlesh Pritmani, reported in an interview with WFAA that "It was horrible. I couldn't sleep for three nights straight. It felt like I was being choked. I cried many times watching it." There is currently an ongoing investigation of Coppell Middle School North as Pritmani received a three-day in-school suspension while his white aggressor only received one. Pritmani could have been seriously injured in this chokehold because chokeholds involve compression of the carotid artery, which results in an increased and rapid release of blood to the brain upon release. As the family's attorney pointed out in an interview, Pritmani's neck could have been snapped or he could have become paralyzed. Yet, school attorneys not only reported the incident as an altercation between both students, which was apparently not the case, but they have also refused to conduct a follow-up examination of the incident. 
Pritmani and his family have only received excuses and a lack of accountability. According to other reports by local news outlets, Coppell Middle School North authorities have refused to change the consequences for Pritmani and the other student involved. Pritmani's parents have asked the school administration to not write a citation and spent more than two hours with the Coppell Police Department trying to file a police report, which was refused.
A few sources have reported that Pritmani initiated the incident, to begin with. There have been reports that Pritmani made inappropriate and harassing comments toward the other student and his family members. Claims of Pritmani's contribution to the assault have yet to be confirmed; however, the fact is that no individual ever deserves to be assaulted. 
Aside from all of this trauma, Pritmani has to return to school and face his peers and teachers after being assaulted in front of the school and having this encounter go viral on social media. Where is the justice for him? Bullying and assault of any kind are known to have significant long-term mental and emotional impacts on individuals. Not only will Pritmani potentially experience fear when he returns to school, but his parents will also have to fear for their son's safety anytime he leaves the house.
The way this incident is being handled is representative of the longstanding systemic injustice and inequity that is seen throughout the American school system as a whole. Students of color and their families do not receive the same level of support and attention as received by white or Caucasian students and their families. Implicit biases and microaggressions are not recognized or eliminated as often as they should be within academic institutions. Finally, the trauma and violence that students of color experience across communities are far greater than that of their white counterparts. The uptick in hate crimes, assault and injustices against children and adults of Asian American, Pacific Islander, and Desi American (AAPIDA) heritage during the COVID-19 pandemic is frightening. Shaan Pritmani did not deserve this. Every child in a school or learning-based environment deserves to feel safe and supported in this crucial stage of self-development and self-discovery. 
This case was scheduled to be presented in front of the school board and administration on Thursday, May 19, where stakeholders and supporters were going to join to speak out against this injustice. To advocate for the rights of Shaan Pritmani and his family, you can sign an ongoing change.com petition and help maximize the signatures that Pritmani and his family have to get the justice he deserves. 
Feature image screenshots taken from Twitter/@NAAISORG
---
The opinions expressed by the writer of this piece, and those providing comments thereon (collectively, the "Writers"), are theirs alone and do not necessarily reflect the opinions of Brown Girl Magazine, Inc., or any of its employees, directors, officers, affiliates, or assigns (collectively, "BGM"). BGM is not responsible for the accuracy of any of the information supplied by the Writers. It is not the intention of Brown Girl Magazine to malign any religion, ethnic group, club, organization, company, or individual. If you have a complaint about this content, please email us at hello@browngirlmagazine.com. This post is subject to our Terms of Use and Privacy Policy. If you'd like to submit a guest post, please follow the guidelines we've set forth here.