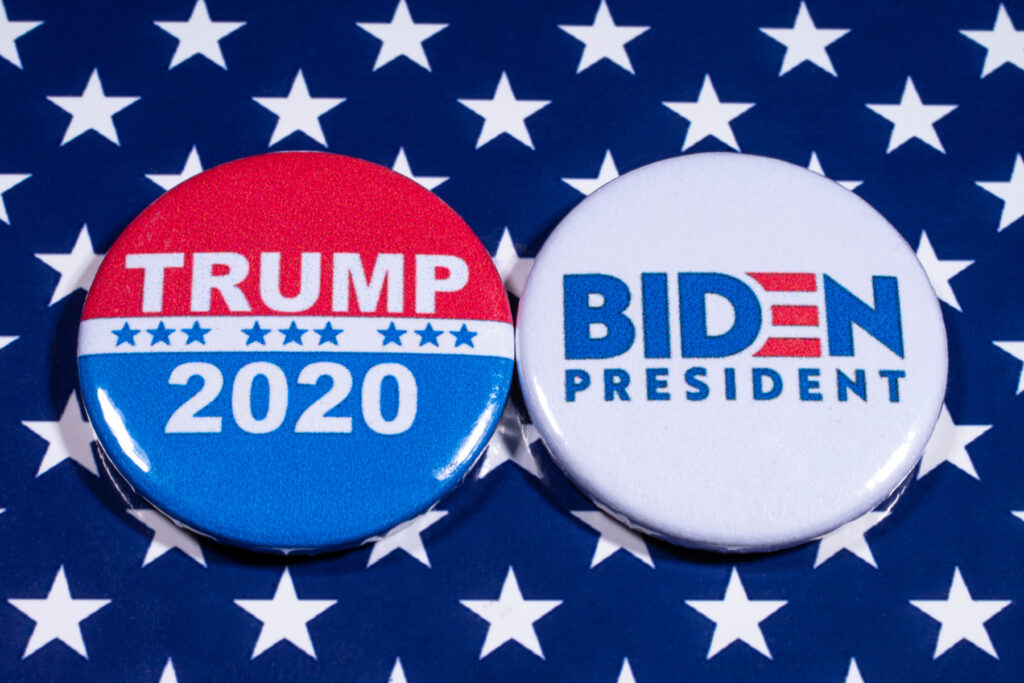 So, did the fly win the vice presidential debate?
Last night, womxn across the country waited in anticipation for what they hoped would be the showdown of the century. Right from the start of the vice presidential debate between Vice President Mike Pence and Senator Kamala Harris, I could tell the tone would contrast that of last week's presidential debate. Both Pence and Harris are veterans to debate stages and expectedly followed the typical debate decorum. Though many BIPOC have continuously celebrated the fact that Harris is the first Black and South Asian woman to be nominated on a presidential ticket, it was still pretty breathtaking and unreal to see her on the debate stage. 
As the debate started, no one could ignore Harris' glares towards Pence through the plexiglass, which almost made a stronger statement than any verbal one could. She kicked off the debate by attacking the Trump administration for its handling of the COVID-19 pandemic and for withholding crucial information from the American people. Pence defended these actions with falsities and allegations against Chinese travelers. Harris seemed to let Pence off a little easy and missed an opportunity to hold Trump accountable for his comments and actions after most of the White House staff has tested positive for COVID-19 over the past few weeks. 
Harris remained calm and composed throughout the debate and made it a point to finish her statements, even when she was interrupted by Pence multiple times. Her firm, "Mr. Vice President, I'm speaking," was oh so satisfying to any woman who has been cut off by a man in a meeting. Minutes after, online shops were flooded with clothing and memorabilia with that quote. Her occasional condescending tone, which displayed her at prime "Momala," may have been strategic and intentional. 
Policy-wise, viewers didn't learn much that couldn't be found on a campaign website, though that has become more typical for campaign debates. When it came to the tricky issues that were expected to come up, such as Trump's refusal to condemn white supremacy or Biden's dodging of the court-packing issue, neither Pence nor Harris was able to provide an adequate response. Pence straight up denied that Trump had not condemned white supremacist groups, while Harris dodged the question of whether or not Biden would attempt to "pack the courts" as president. She did make a point to defend her prosecutorial record when Pence expectedly attacked her on it. 
Though Harris performed well throughout the debate, what still lacked was a satisfying knockout punch we had all pined for. News commentators wondered if she had intentionally held back on her rhetoric or tone because of the risk of falling into the "angry black woman" stereotype. I had l hoped she would skewer Pence similarly to her famous questioning of now-Justice Brett Kavanaugh during the Supreme Court nomination hearings. To her credit, she did have strong rebuttals, including to Pence's comments on systemic racism and criminal justice, when she quipped back with, "I will not be lectured by the vice president, on what it means to enforce the laws of our country." (I secretly wished she had said, "I will not be lectured by a white man on systemic racism against black people.") 
Wow @KamalaHarris is nailing the perfect balance between patient and patronizing as @VP rudely interrupts her while she makes a smarter point than him…

This is a dynamic many women will recognize + empathize with #VPDebate

— Natalia Mehlman Petrzela, Ph.D. (@nataliapetrzela) October 8, 2020
While some found the vice presidential debate "boring," it may have been a reflection of the dramatic silo left by the first presidential debate. Over the last decade, debates have pivoted from opportunities to sway undecided voters based on policy plans to political theater where every phrase or gesture is dissected by political pundits. Though some felt Harris should have gone further in attacking Pence with her usual wit, others may have penalized her for going too far if she had. Harris' intentional composure and demeanor fed into the expected dissection, but also illustrated the higher expectations that womxn of color, especially the "first woman," are subjected to. 
---
The opinions expressed by the writer of this piece, and those providing comments thereon (collectively, the "Writers"), are theirs alone and do not necessarily reflect the opinions of Brown Girl Magazine, Inc., or any of its employees, directors, officers, affiliates, or assigns (collectively, "BGM"). BGM is not responsible for the accuracy of any of the information supplied by the Writers. It is not the intention of Brown Girl Magazine to malign any religion, ethnic group, club, organization, company, or individual. If you have a complaint about this content, please email us at hello@browngirlmagazine.com. This post is subject to our Terms of Use and Privacy Policy. If you'd like to submit a guest post, please follow the guidelines we've set forth here.