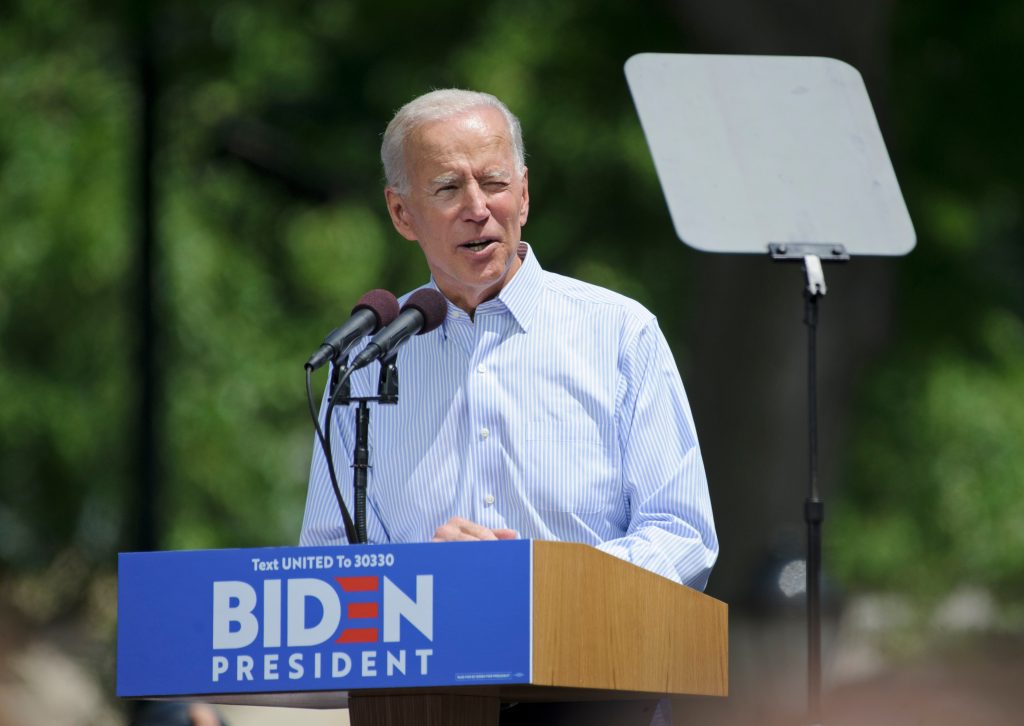 The following post reflects the author's own views and is not a representation or an official endorsement of any candidate by Brown Girl Magazine. We will not be endorsing any candidate running for the 2020 presidential election.
As we try to put Iowa behind us (if they ever get the final count done) and with key primaries around the corner, both the Sanders and Biden campaigns have recognized that the Asian American Pacific Islander (AAPI) community may be a key to victory. AAPI voting has already decided many elections across the country and now it is on the cusp of making its greatest impact in presidential politics. The campaign led by Senator Bernie Sanders has been busy engaging with the diverse AAPI community, publishing graphics in multiple languages, and even live-tweeting the most recent debate in Punjabi. The Joe Biden campaign, however, has stumbled into a leadership controversy that threatens to permanently exclude millions of Muslim, Sikh, and Hindu Americans.
The National AAPI Organizer for the Sanders campaign, Supreet Kaur, is a stalwart progressive with a long history of being on the right side of Democratic policy debates and human rights discussions. She has led a novel effort to publish campaign graphics in Hindi, Mandarin, Punjabi, Tagalog and many other languages.
Bernie has the most comprehensive immigration platform #AAPI2020https://t.co/LXBD03Q8Q0 https://t.co/e5jqn0hzjL

— Supreet Kaur? (@oopsie__desi) February 13, 2020
As the presidential candidates debated recently in Iowa and New Hampshire, she and her team tweeted out Asian language translations in an unprecedented attempt to contact voters that might not otherwise be engaged. Known as the 'Bernie Language Justice Team', these volunteers speak the world's languages and willing to help the campaign reach out in each of them.
Supreet's counterpart in the Biden campaign is Amit Jani. He has a well-documented history of supporting divisive figures in the South Asian community. In 2019, he celebrated the election of Indian Prime Minister Modi, despite Modi's bigotry and pattern of visiting violence, rape, torture and murder upon vulnerable Indian communities, including Muslims, Sikhs and Dalits (so-called 'low caste' Hindus). Jani has also remained silent while India instituted martial law in Kashmir and while millions of South Asians across the world have joined together to protest legislative actions by Modi that would render stateless millions of Muslims in India and imprisoned millions more.
We're Asian Americans & Pacific Islanders and we're Ridin' with @JoeBiden! Join our conversation with @BeraForCongress on the importance of AAPIs in this year's presidential election. #AAPIsRidinWithBiden #CarpoolCampaign pic.twitter.com/jydzbs8o48

— Amit Jani (@a_jan) February 7, 2020
Jani's troublesome allegiances came to a head-on January 22, 2020, as he attempted to lead a national organizing call for the Punjabi community. Participant questions after the call focused on only one topic: how could Jani lead AAPI outreach when his praise for Modi made him unwelcome for millions of Americans with friends and relatives at risk in India? Jani repeatedly tried to deflect and avoid these questions but until Jani acknowledges his error in supporting Modi and makes a clear statement regarding his opposition to the oppression in India, he will remain an ineffective figure in organizing the AAPI community.
The lesson to be learned from the diverging paths of the two campaigns is that values matter. It simply is not enough to hire somebody that looks like the community that the campaign wants to reach. Community organizers must actually know their community and reflect the values therein. Senator Bernie Sanders and his campaign understand this; former Vice-President Biden does not. This is why polls have Sanders consistently ahead of Biden in immigrant communities and why Biden is on his way to losing the presidential nomination…again.
---
The opinions expressed by the writer of this piece, and those providing comments thereon (collectively, the "Writers"), are theirs alone and do not necessarily reflect the opinions of Brown Girl Magazine, Inc., or any of its employees, directors, officers, affiliates, or assigns (collectively, "BGM"). BGM is not responsible for the accuracy of any of the information supplied by the Writers. It is not the intention of Brown Girl Magazine to malign any religion, ethnic group, club, organization, company, or individual. If you have a complaint about this content, please email us at Staff@0mq.349.myftpupload.com. This post is subject to our Terms of Use and Privacy Policy. If you'd like to submit a guest post, please follow the guidelines we've set forth
here.