Young Muslim women in the greater Toronto area have great opportunities to excel at various skills, thanks to the Outburst! Young Muslim Women's Project. Outburst! offers many art programs, such as poetry and photography, for no cost at all. This gives young women the opportunity to develop skills in fields of their interest.
The organization raised more than $5,000 through an Indiegogo campaign, and other donations, so that it can continue to offer these programs that are especially geared towards young Muslim women.
Ready? Through our online campaign page, Canada Helps page, & other donations, we raised (drumroll please) just over $5800. A big THANK YOU!

— Outburst! (@OutburstM) August 15, 2014
As young Muslim women they want to speak out and be heard.  This award winning program is an opportunity for them to build a community through leadership programming and events. They coordinate with a team of six diverse young Muslim women with the support of a project coordinator and counselor/advocate. Outburst! is a program of the Barbra Schlifer Commemorative Clinic, a charitable organization which provides legal representation, professional counselling and multilingual interpretation to 5,000 women each year who are experiencing violence.
Here's a fact list of what Outburst! entails and how you can further help:
About Outburst!:
Besides art based programs, Outburst! includes seminars in education, research and counseling.
The programs assists in training women to work in government and community organizations and institutions.
Outburst! also aids women who may be experiencing family violence, such as forced marriage.
What Donations Will Cover:
An arts retreat and poetry with Warsan Shire
Organizing two poetry retreats
Holding an arts retreat and research symposium
Publishing a third poetry book with works from young Muslim poets
Having a coordinator to guide programming
How You Can Help:
Even though the Indiegogo campaign recently ended, you can still help by spreading the word about Outburst!
Share the video above
Hashtag #supportOutburst on social media
Thanks to Outburst! Coordinator Farrah Khan for providing us with the information above!
Follow Outburst! on for their latest updates!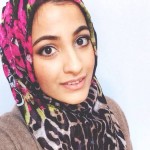 I am a graduate with a biology degree, hoping to eventually pursue medicine. I am a self-proclaimed foodie, with a passion for desserts. Coffee and bollywood are my two most favorite things. I love to read, even though I barely get time for it anymore, and to write. Brown Girl Magazine allows me to write about the things I love and share it with others. My ultimate goal in life is to become a world wanderer.