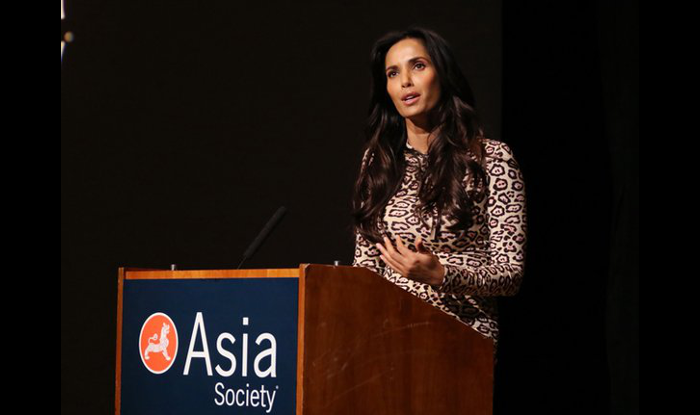 by Nadia Kadri – Follow @NadiatheGreat
This post was originally published on our partner website India.com.
"Top Chef" Host Padma Lakshmi read to a small, excited crowd on March 10 at the Asia Society in New York City. The now three-time published cookbook author, model and actress read a chapter from her latest book, "Love, Loss, And What We Ate," and spoke to a diverse audience of Americans, including Indian and non-Indian New Yorkers.
The model read a humorous story of her sneaking out to buy ice cream for herself and her diabetic grandfather at a corner store in India that had "everything but stamps," switching between Indian and American accents rapidly.
The book, which was released on International Women's Day (March 8), is an intricate and cleverly-written blend of childhood memories, delicious family recipes, romance, heartbreak, the labor of women, and the suffering of endometriosis. Calling it "one of the hardest things I've ever had to do," Lakshmi said the book took her four years to write—and it was cathartic, painful, and liberating.
Following her reading, Lakshmi sat down with longtime friend and the DJ of her wedding, Rekha Malhotra, aka DJ Rekha–the undisputed queen of New York City's Basement Bhangra and pioneer of the music style in the United States. Speaking about everything from the definitions of desi and sexual abuse to endometriosis and her writing technique, the conversation was unfiltered, funny, and brutally honest.
"I'm 45 years old, and I finally don't care what anyone thinks of me," Lakshmi said.
The model discussed her struggles finding "a mentality geographically," because as an Indian in America, she constantly felt trapped between her parents' culture and the American culture.
There is an allegiance to "brown girls everywhere" throughout her book because she knows first-hand how it feels. For example, the New Yorker in her could never forget living with her mother in Elmhurst, Queens—it's one of the things that's inspired her to write this book.
"I wrote this for all the brown girls still doing their groceries at Patel Brothers and not Whole Foods," she joked, as she did most of the nights with DJ Rekha.
Through her detailed, uncensored journey as an Indian-American, she hopes to reach Indian women who struggle with family and society pressure and understanding where they belong here.
"I just want you [Indian girls] to know that it's okay to not have your career on track and be married by 30," she said.
During the Q&A portion of the evening, many thanked her for telling her story like it is, and bringing to light deeply-rooted issues in not only things like marriage and career for South Asian women but also medical issues and pain.
As a co-founder of the Endometriosis Foundation of America, Lakshmi dedicates much of her time to educating girls–and boys–about the chronic disease that affects 190 million women worldwide. She is passionate about the awareness of it, saying she's lost "a week of my life for 20 years," to the illness, and citing it as one of the reasons for the depreciation of her marriage to famous author Salman Rushdie.
"Asian women are told to grin and bear it," she said of the pain she experienced—and that's what she did for years.
Despite coming from a family of doctors, she was not correctly diagnosed with endometriosis until she was 36.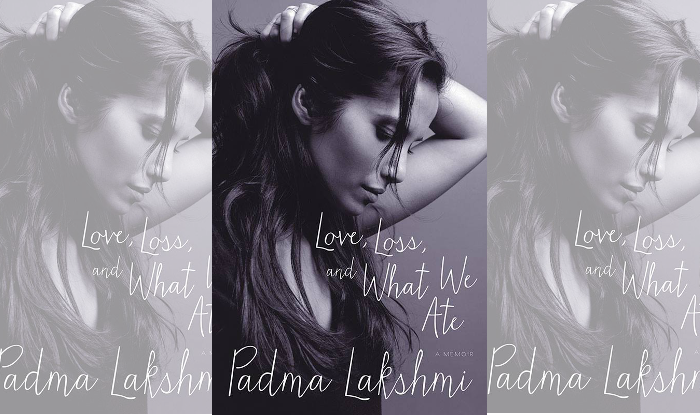 Lakshmi's honesty and her light-hearted vulnerability on all hot topics was easy to see throughout her conversation. The Padma Lakshmi we know on "Top Chef" is quite different, but very much like most of us—full of insecurities, doubts, and struggles—which she exposes throughout the book. The insecurity on feeling "not brilliant enough," though having "great taste in literature," is highlighted through the many chapters she dedicates to the perception of herself in relation to her famous ex-husband.
"Love, Loss, And What We Ate" gives a glimpse into a controversial life—from her affair, marriage, and subsequent divorce with Rushdie to the once unknown paternity of her daughter Krishna.
Lakshmi breaks all barriers for the "traditional Indian woman," while remaining true to traditions and culture of Madras (now Chennai)–especially the food. The book flows smoothly from a memory about her grandfather's sweet tooth and vivid descriptions of tamarind trees to mouth-watering recipes of spicy pickles and comforting, warm cheese and egg sandwiches.
For Lakshmi, every memory holds a deep connection to food—which is a constant reminder of her family, an immigrant childhood, a diet that has changed with the circumstances, and her development. For the reader, the book is a journey into a brown girl's life, riddled with cameras, glamor, heartbreak, cultural backlash, and lots and lots of food.
You can watch the full video of the Asia Society event here:
---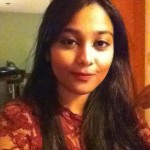 Nadia Kadri is a freelance journalist and writer whose work ranges from profiles of tatted entrepreneurs and conversations on the South Asian diaspora to health and wellness recipes and podcast reviews. When she's not writing, she's running her family business, standing in downward dog too long, jamming at concerts, and trying not to get into an arranged marriage. Follow her rants and musings on Twitter.