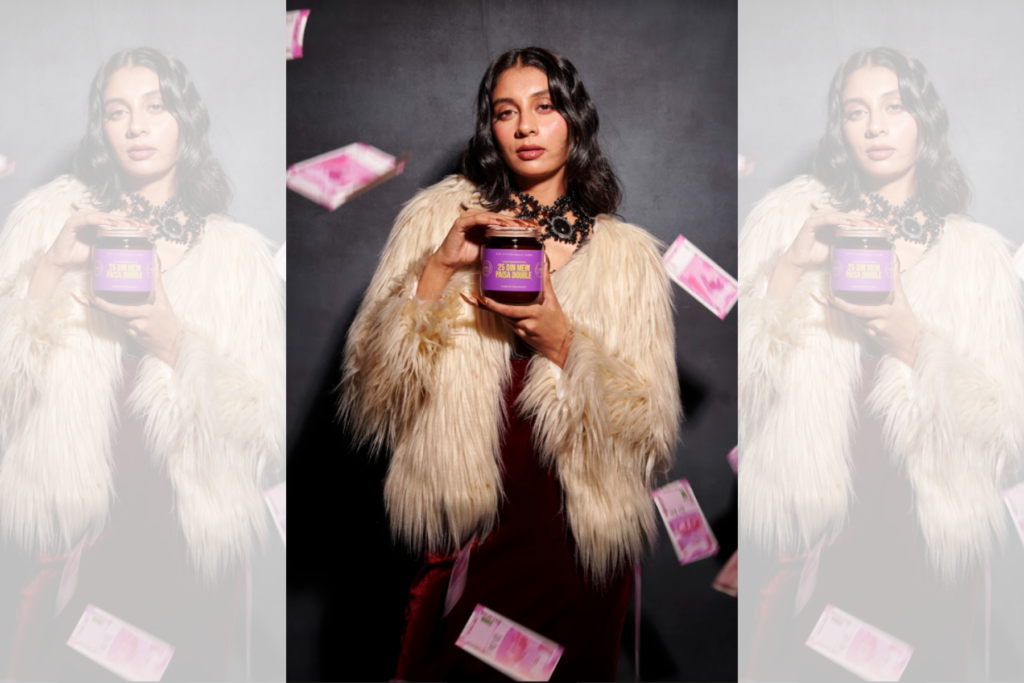 Dolly Singh is a content creator who is from South Delhi. She earned a bachelor's in political science from Delhi University. Singh then attended The National Institute of Fashion and Technology. She even had her own blog called "Spill the Sass." Fashion is a true passion for Singh as she made her outfit of the day debut on Netflix's Bhaag Beanie Bhaagon. She has even appeared on Modern Love Mumbai Edition! Singh was awarded Cosmopolitan Blogger Award in 2021 and IWM Social Media Star in 2022. Continue to learn more about Dolly Singh's journey!
View this post on Instagram
What parts of your childhood pushed you into the world of content creation?
I have always been an introverted-extrovert kind of person. During my early teens I wouldn't speak much at home but in school I was quite the talkative showgirl. When I look back it seems so paradoxical, almost as if I suffer from a split personality. Somehow my earliest childhood memories are of my loving to be on stage. I remember when I was in the 12th grade, I cajoled my teacher to include me in a singing competition since I had never ever sung live on stage and I was persistent in my effort for over 4-5 years and eventually she gave up and she said 'okay its your last year why don't you go do it 'and of course in the process I realized what a bad singer I was. But just the sheer joy of being on stage, performing to a live audience and entertaining people is what stirred me at a deeper level. I think on the other hand my reserved side allows me to study people and their nuances and store all those observations in my memory data bank which helps me create great content. I wouldn't speak much at home, but you know when I did, it was just 2 punch lines and everybody would either laugh or get awkward. I think I always knew that I was born to entertain, and it was my destiny's calling. I would always get jealous seeing child actors on newspapers and television and I was like 'oh my God, I am a child, and I could be an actor, living my dream life but I'm still stuck here'.
Do you feel what you do can inspire and impact the world? Please elaborate.
Of course, I think anybody with a decent following on social media has the potential to positively impact the community. Content creators enjoy a certain reach and it's so important to handle that responsibility meticulously and the kind of message that you're putting out needs to be respectful of certain socially expected parameters and mindful of the basic laws of the universe. It's better to say nothing, then to say something stupid something that is going to just bring out the worst in people or send out misleading signals. I feel like the amount of content that audiences are consuming these days can trigger positive change if it's done in the right manner. I feel strongly about a lot of topics, and I make sure that my platform is a reflection of that in some way. With content creators as opposed to film stars and celebrities, there is a direct engagement with audiences and a more one-on-one connection and hence content creators stand at a more leveraged position to influence audiences positively. I love body positivity as a topic.
Who were your fashion icons growing up?
Any fashion events that you envisage yourself at in the future to represent the brown renaissance? I think a lot of my inspiration came from the indie pop movement of the 1900s and the 2000's. I started watching Hollywood movies and a lot of my inspiration started coming from the Bollywood Hollywood section in glossies and I made cutouts of the media, the models, the people. Then came Disney Channel and FTV and I used to watch those when my mom was away at work. I would love to represent India at the Paris, New York and London runways and walk for Indian designers who are using sustainable fabrics and indigenous designs and helping skilled artisans make a living in India. I love Madhu Sapre, Naomi Campbell, Tyra Banks, Cindy Crawford.
As you started a style blog in college, what were some of your favorite pieces of clothing in your early years?
Yeah, it was called Spill The Sass. I love blogging on T-shirts because there are so many ways that you could style a basic white T-shirt. Another blog I enjoyed back in the day was 5 ways to style maxi skirts. If I had to choose two pieces of clothing it would be a T-shirt and jeans!
How has your style evolved over the years?
It's evolved from minimalistic and pocket friendly to being experimental and qualitative. The more I visited fashion weeks and events, the greater I experimented with outfit ideas that I curated personally. Over the years, I've started leaning more towards keeping it classy, chic and comfortable.
Tell us about your favorite online character since you make a bunch of them?
My favorite online character of mine would be Raju Ki Mummy because it's based on my own mother.
If you could collaborate with anyone in the world, who would it be and why?
I would love to collaborate with Jenna Marbles. I love her to death. I discovered her few years ago and I would love to meet her in person. I mean she's just a person who if I meet, I will just start sobbing like a child.
View this post on Instagram
Have you faced adversity in your field? How have you risen from it?
Adversities are just an everyday fact of life but I like to believe my dreams and goals are bigger than my fears and setbacks. I know at the end of the day I want to be something; I want to give back and quitting isn't the solution. Every time I face a creative block, I just tell myself this 'get up and get to work, there are many who look up to you, you can't disappoint them'. Also, the support from family, friends is nothing less than therapeutic especially when you're having that typical bad day. I run towards therapy when I hit rock bottom, which happens quite often. We often feel burnt out, exhausted, tired, and just sad. I've been taking therapy for the last two years. It's been beneficial. I'm not saying all my problems have vanished; that's not how it works. It's a continuous journey and a continuous process, but I think therapy is my mantra.
You recently turned into an entrepreneur with your own line of candles. Tell us more on what drove this decision and are there any other lifestyle products you will be launching?
As a creator I think it's just natural to want to extend your brand trajectory to newer realms and not be stagnant in your growth path. It's hard to gauge the shelf life of any creator considering there is stiff competition and there will be a sense of redundancy that seeps into the algorithm at some point. It's always beneficial to expand your forte and explore multiple revenue streams is what I've gathered from so many interactions I've had with my industry peers over the past few years. There were many opportunities where people wanted to create merchandise of mine or partner on a fashion and accessory line but I wasn't very mentally ready given my hectic schedules. I was a customer of Rad Living and after the pandemic I went into this zone of binge buying so much self-care stuff and you know candles was one of them. So when this came about I think I was ready to experiment and expand and was looking for an avenue to invest my energies on something enjoyable. I had already made a content piece on candles before this offer came my way so I had a list of quirky candle names, taglines for fragrances, matching the fragrance notes with the names. I think with this inning the whole 'Creator' part to me really came to use here as well and that's what was exciting about this and it was funny because it was such 'a life comes to a full circle' moment for me. My mom was into candle making because Nainital at that point was known for its candles and she used to make such variety of candles, 100s of types of candles and all my life I mean the first 16-17 years of my life I've just seen my mom make candles at home and our house were full of wax and everything was just candles. My father used to sell candles and it was my family business. Let's just say that I'm taking forward the family legacy and I'm very excited to go home and to my father's shop in Nainital and put my candles there and sell them!
Will there be any lifestyle products you'll be launching?
I was so nervous about this candle launch as I never wanted to mislead my audiences and have them indulge in something that's mediocre. I really invested my heart and soul in this venture, and thankfully the response has been beyond phenomenal. Courtesy all the good word of mouth publicity, I'm thinking of maybe launching my own beauty and fashion line in about 2 years!
What have been your favorite content pieces that have you worked on this far?
I love most of my content pieces as I'm very particular about each one of them so it's hard to pick a favorite. One of them is a mini film called Aunty Prem Hai and it's about an orthodox lady finding out that her nephew is queer from his ex-boyfriend, and this is a first time reveal since the nephew has never come out of the closet. There's also this series called How Aunties Talk About Sex, and I've given a twist to how old-timer desi Indians broach the topic of sex based on how I've seen my mother interact with her friends, post dinner conversations amongst relatives, and how it's more like a taboo.
What are your favorite social media trends?
Anything that emits positivity and gratitude. It's important that social media trends invoke a sense of intellectual enhancement. Anything that kind of teaches you something that enriches your existence or makes you want to live life more wholesomely. I also enjoy throwback trends, something to do with special memories and nostalgia, because I feel old school is always timeless.
Do you feel people are so trapped in social media that they forget about the world around them outside of their laptops, phones, and tablets?
Yes. Personally it's been a task for me to get detached from technology and balance the real and the reel. In the last couple of years, I have consciously cut down on my screen time, even though it's all work and no play for me. Social media is so omnipresent and it's sometimes scary to see this crazy social media obsession where people forget there's a real world out there with real people and you need to forge real connections that are deeply rooted in authentic exchanges. It's scarier to see how social media trends have now become rules to live by for a more meaningful existence for many when on the contrary that shouldn't be the case.
How do you feel about the term content creator?
It's a word that invokes a sense of pride in me because for me it's all about being innovative, authentic and self-made. Influencer on the other hand is something that doesn't resonate with me because there's no real job description. I've always maintained my stand of not being an influencer as I create content and make a living out of being creative and curating an audience for myself over the years.
As you've worked with Priyanka Chopra, Kareena Kapoor Khan, Aayushmann Khurrana, and others do you hope to be more involved in Bollywood? Tell us about your acting projects.
Of course, I would love to be more involved in the film industry not just in India but globally too. I think there is so much scope for the South Asian community to make a mark in world cinema and it's time we pick up more Oscars and Grammy's in the coming times. Anyone who is a creator is also a film star at heart. 90% of creators who make sketches and skits are facing the camera 24×7, making original content, improvising on scripts and all of that stems from that innate ability to be great performers who can keep an audience engaged. I would love to someday have my own podcast where I interview film personalities and get into their skin. I love the dance and song sequences in Bollywood films, and I think I'd be great doing that as well! I'd love to see how I can get out of my comfort zone and do something that doesn't directly relate to my online alias in the future. I got a lot of offers during the lockdown and shot for a film in 2022 which sees me in a leading role and I'm excited for it to launch later this year. I'm working on some writing projects as I would love to script a documentary or a short film.
Lastly, what do you hope to take away from this interview with Brown Girl Magazine?
I think the questions have been great. The questions have been answered in a way that I feel so confident about myself right now, and I feel so proud about myself and that says a lot. I would like to thank Brown Girl Magazine for taking time out to interview me. I hope this inspires the brown community across the world!
Photo Courtesy of Dolly Singh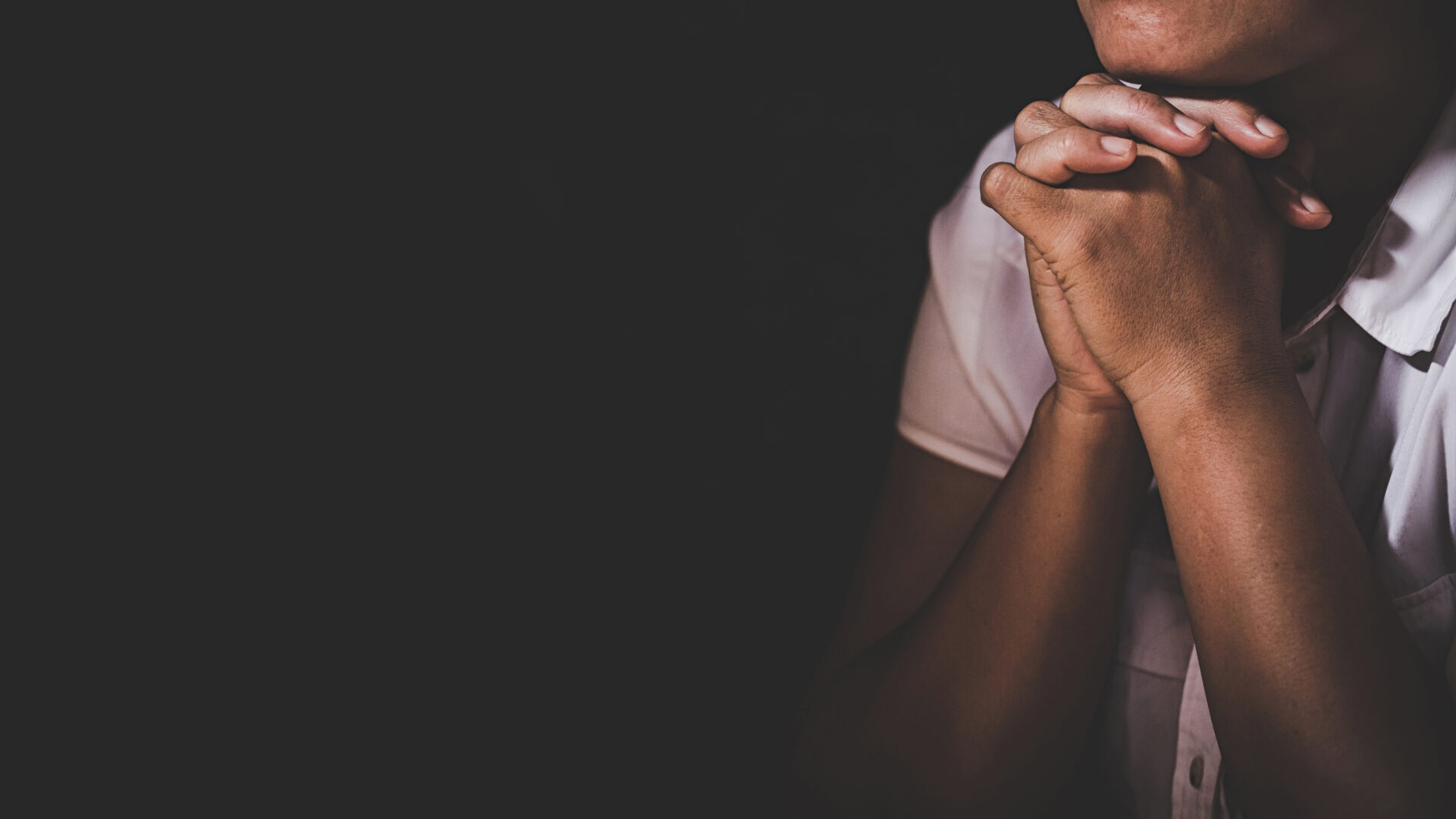 For BGM Literary, editor Nimarta Narang is honored to work with writer Sri Nimmagadda. In this short story, we follow a man in a gray suit who makes a stop at a church to bide his time before a job interview. Sri Nimmagadda is the Chief Program Officer at MannMukti, a nonprofit dedicated to reducing the stigma around mental health in the South Asian community through storytelling and advocacy. He lives in Los Angeles with his dog, Rani, and is passionate about authentically growing inclusion and diversity through storytelling in the entertainment industry. Editor Nimarta was extremely grateful to have Sri join the legacy of wonderful and moving authors for the literary vertical in honor of Mental Health and Awareness month. 
A man in a gray suit stands in front of a church and looks up and through the entryway with the resignation of a desiccated man taking a bitter medicine he's absorbed for years but simply accepts as a fact of his life, however unpleasant. So, the man in the gray suit — a get-up slim but not so lean as to emit a cockish, metrosexual air, scraggly lint escaping the seams across the surface in a manner that supposes either venerability or somewhat tired desperation — thinks about what it means to take a bitter medicine, the trade-off between the instantaneous sour, bitter, wretched, and cloying and the promise of perhaps a better tomorrow, or a better tonight, or a better five-minutes-from-now. After some consideration, this man in a gray suit — an outfit that some would've supposed he'd purchased from Goodwill, the night before, for a painfully wrought $95.67 with tax after getting into an argument with his wife about who was going to take the kids to school in the morning and fucking Brenda skipping out on babysitting again — steps inside the church.
This man in a gray suit — armed with a briefcase, and the last and latest copy of his résumé that he'd worked on until 1:30 a.m. the night before after Max and Annabelle had long gone to sleep and his angry, exhausted wife laid restless, in their shared bed, thinking about whether she'd consult the number of the divorce lawyer she'd been recommended by one of her girlfriends in the morning before deciding she'd give her husband another shot just as she had the night before and the night before that and the night before that — paces towards the front of pews almost cautiously, as if someone were watching him, afraid to be caught in the act of being vulnerable and giving himself up to some higher power. Maybe if you go to church and the pastor or some other demure, God-fearing soul sees you, they'll call you out — who are you? why are you here? — and you'll realize that for as much ado as people make about the unconditionality of God's love, they make claims to His love the way they'd claim a parking spot or a position in a queue at a grocery store. Faith, it appears to the man in the gray suit, is really about paying your dues.
So the man in a gray suit approaches the front-most pew — the communion table before him standing guard ahead of a cross. He lays his briefcase down. He sits at the pew. He closes his eyes. Please, he begs Him in his own mind. I need this.
But then this man in a gray suit considers his pathetic whimper to God, how he can't even acknowledge God by his name, how he begs Please rather than Please God like a weak, unfaithful man who cannot bring himself to say his wife's name when begging her for forgiveness after his own infidelity. What a mess, he thought of himself. So, he tries again.
Please, God. I need this.
The man in a gray suit considers this again and admonishes himself for his cowardice — when you pray in your head, words and phrases, and sentences and prayers, and pleas twine and intertwine and mix until the signal becomes the noise and you can't really figure out whatever you're trying to say. So, for a half-second, you think the only way to get it out of your head is to blow it up so that it all spills out and maybe then God will understand how you really feel — and so he tries again, and puts his prayers to air. The man in a gray suit is not used to coming to church. This is his first time coming in a couple of years. He's going to need a couple of tries to get this thing down.
"I'm sorry," the man in a gray suit exhales, "I'm just not used to praying." But that's okay. Prayer is a process, the man in a gray suit would find, and what begins feeling ridiculous, or like grasping for spiritual straws, ends up feeling akin to a dam giving way to water; unrestrained, unexploited. So the man in a gray suit — the man who's come an hour and a half early to an interview because the early bird gets the worm, only to find himself with an hour and a half to kill and nowhere but a church to grace with his presence — prays, and he prays faithfully, and he prays well. He picks up the Bible on the shelf of the pew in front of him, flips it open to whatever page presented itself and begins to read. He closes his eyes, and at that moment he feels safe, like God's hands envelop him, and that tomorrow will be a better day, and everything will be okay.
~.~
Somewhere along the line, this stupid fucker in a gray suit fell asleep in the middle of Galatians and missed his interview.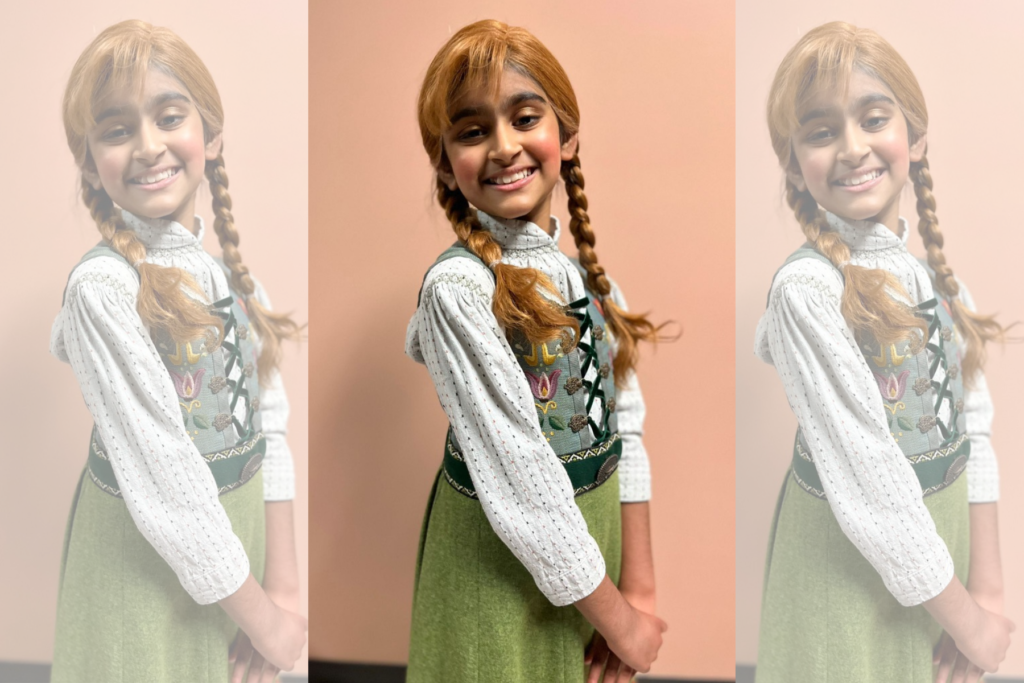 From singing and acting to drawing immaculate figurines, Saheli Khan, 11, has made her debut in the North American Broadway tour as young Anna in Disney's musical "Frozen." As a first-generation Indo Caribbean, with roots in India and Pakistan, she continues to pave the way for young people with similar backgrounds.
Khan has always enjoyed entertaining those around her and she continues to have the motivation to pursue her passions. In school, she always sought to lead her class in songs and she was encouraged by her parents and teachers to enroll in music and acting classes, even at a young age. These ventures fueled her passions even more.
Continue reading to learn more about her journey!
What do you like about acting the most?
I like to portray different characters. Specifically, I like playing characters who have strong personalities and those who portray a sense of bravery, especially during problematic occurrences.
As a first generation Indo Caribbean actress, how do you feel about your journey as a young Disney princess? Do you feel that you are paving the way for other Caribbean and South Asians who want to pursue similar paths?
Diversity has always been important to me, but in today's society, I feel that most people would like to be accepted and encouraged. As a Disney Princess, I am simply helping to broaden the field for all young people to see that skin color should not matter.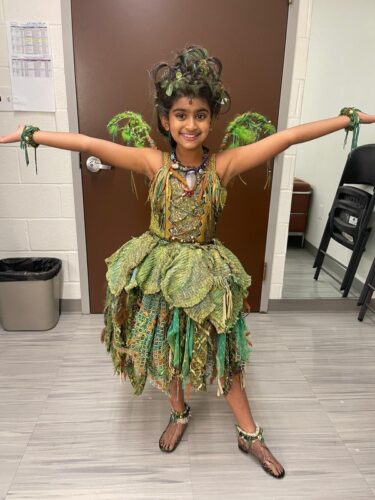 What do you like about your character, Anna? Is there anything that you may dislike?
Young Anna is a ball of sunshine! She is happy, funny, and a delight to be around. Despite having a troubled childhood, she grows up to be just as joyous, but she is also courageous as she goes on a journey to find her sister. I love everything about young Anna and she truly embodies who I am as a person.
Who is your inspiration and why?
My parents are my inspiration. My mom is beautiful, loving, and she works hard without ever giving up. No matter the task, she finds a solution and keeps on going with a smile on her face. She always tells me, "Whenever you feel overwhelmed, remember whose daughter you are and straighten your crown." And my dad is my best friend. He's insanely funny, caring and knows all the best places to eat! My parents are exactly how I want to be when I grow up.
If you had a magic wand, what show would you do next?
I would love to be Annie on Broadway or play the lead in a series or movie. 
What is the one last thing that you do before you step out on stage and the curtain goes up?
There are many things I do before I step on stage. I do fun and silly things quietly with my "Frozen" sister, Mackenzie Mercer, and play with my Anna pigtails for good luck.
What are your other passions?
I love to sing, act, and spend time with my younger cousin, Ayla. I also love to draw and color since it makes me feel relaxed. I was told I have a great ability to draw and make figurines ever since I was a child. And I love exploring new cities and eating at great restaurants with my family.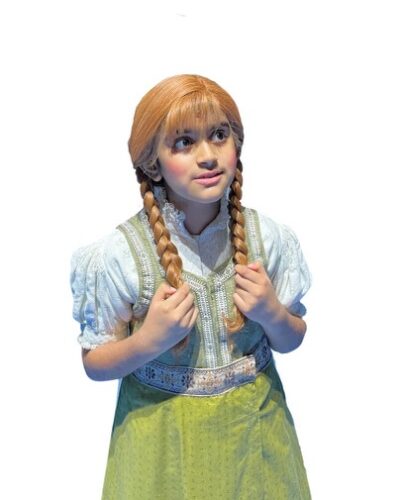 What advice do you have for young people who are just starting their careers, specifically within the field of musical theater?
To have a positive mindset, practice diligently, and enjoy every moment within the journey. I have learned that there may be some occurrences that may not take place the way that you want them to, but there's always an opportunity to learn from them.
 Aside from your career, how do you balance your schoolwork and acting?
I attend school virtually, which is essential when I am on tour. Each day I have scheduled school hours that allow me to focus and complete all school assignments. Once that is done, I have most of the day to work on extracurricular activities, go on outings, and hang out with my friends. Though performing takes a large chunk out of my day, it helps that I enjoy it, so it doesn't feel like work.
What types of roles do you see yourself playing?
I love to play humorous characters such as young Anna from "Frozen." I truly enjoyed this role as it captures who I truly am.
View this post on Instagram
What are your plans for the future?
To be the best version of myself regardless of what career path I choose.
Khan's debut marks the start of a budding career. With her array of talents and future goals, we are bound to see more of the young actress in the future and more representation of Indo Caribbeans in mainstream media. If you would like to purchase tickets for Disney's "Frozen," click here. 
Feature Image Courtesy: Saheli Khan