by Sundeep Hans –  Follow @sundeephans
Things have gotten quite ugly for the upcoming Bollywood blockbuster "Padmavati." Its December 1st release date has been delayed with no new date confirmed as of yet. Protests are a part of any democracy, and protests about movies, especially those based on real people or historical events, are common enough in India… But what's happening now is something else.
There have been numerous death threats against the star Deepika Padukone and the director, Sanjay Leela Bhansali. Each threat has gotten progressively worse. Some have called for the cutting off of Padukone's nose, a form of punishment famously depicted in the Indian epic Ramayana, while others are baying for blood in the form of beheading or burning to death both Padukone and Bhansali. In fact a bounty of $1.5 million was placed on their heads by a politician from the Bhartya Janata Party (BJP), India's governing party.
All of this over a film nobody has yet even seen!
Seriously?
Members from the Rajput Karni Sena, claim that the movie distorts and demeans the life of the legendary Hindu Rajput queen, Rani Padmini, aka Padmavati (who by the way, may or may not have existed), by showing a love affair between her and a Muslim invader via a "dream sequence" and having her in a dance sequence with her midriff exposed (I don't know where they had their secret screening because there is no love affair bit between the two in the trailer anywhere. Definitely saw a little midriff though, but she was wearing a sari, so…). They have publicly supported the death threats, threatened a nationwide strike, and claimed responsibility for destroying the films sets in Rajasthan.
This is horrible.
I've seen the videos of the guy calling for cutting off Padukone's nose and the violent crowds burning effigies and shouting for her death…the maniacal righteous indignation is frightening.
#DeepikaThreatened we support Karni Sena. Padmavati should be banned and Deepika Bhansali should be arrested and prosecuted.

— DN SHUKLA (@dnshukla18) November 16, 2017
It's wrong and the fact that it's going unchecked by the Indian authorities is unacceptable. Protests are a natural and healthy part of a democracy, but this type of violence/threats of violence should not be.
I want to be as clear as possible when I say that I wholeheartedly disagree with all that craziness. Clear?
Now it's time for some hard truths… Bollywood please take a seat while I check you.
Bollywood's brand of progressive liberalism is heavily coloured by elitism. The lack of general 'wokeness' across the board should be a huge red flag that Bollywood doesn't really get it. How else do we explain the incessant churning out of the misogynistic film after misogynistic film and then celebrating itself for its progressiveness?
How Bollywood seemingly keeps making historical films riddled with inaccuracies and reimagining potentially controversial story angles that sometimes hurt the "religious sentiments" of various communities. This is an actual thing by the way I didn't make it up. People can be punished under the Indian Penal Code for "outraging someone's religious sentiments."
It is known and yet…
Do you all remember "Mohenjo Daro"? That stinking pile of dung, which was promoted like crazy and sold as an epic historical fiction while showcasing characters wearing costumes that were ridiculously inaccurate and also culturally offensive to some. How about the movie "Bajirao Mastani"? Another collaboration between Bhansali and Padukone, and, oh yeah, Ranveer Singh was in it too (eye roll). If the constant recycling of the same lead actors/director/genre isn't annoying enough for you (the trio did "Goliyon Ki Raasleela Ram-Leela" as well), it also faced protests for its inaccuracies. "Mangal Pandey," "Mary Kom," "Jodhaa Akhbar."
Sometimes it isn't the whole film either, but a particular song from a film. "Aaja Nachle" came under fire for using an inappropriate term for a particular caste.
There is a censor board (which I have feelings about, but won't get into because this will get too long) which is, at times, is too stringent for silliness and not stricter on issues that could cause potential discord. It's interesting to me that if we go by what is actually shown in the trailer, it's surprising that nobody is protesting against the one-dimensionally negative depiction of the Muslim characters, namely Khilji (played by Singh). From promotional pictures, even Raza Murad's character has been given the 'look'. Apparently, Bhansali gave Singh biographies of Hitler to study to really get into character, and Singh got so psychologically impacted that he needed to see a psychiatrist!
(Side note: I really don't think they thought they'd get the response they're getting, and this whole story about Singh and how they were promoting his 'toil' and his Jared Leto-ing for the negative role was going to be their schtick. Now that they got real problems, it's fallen by the wayside).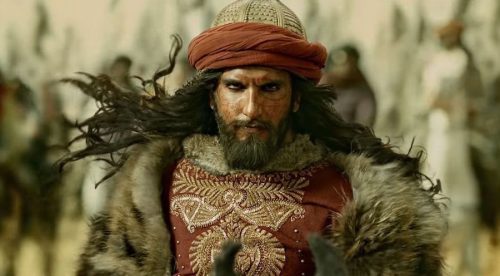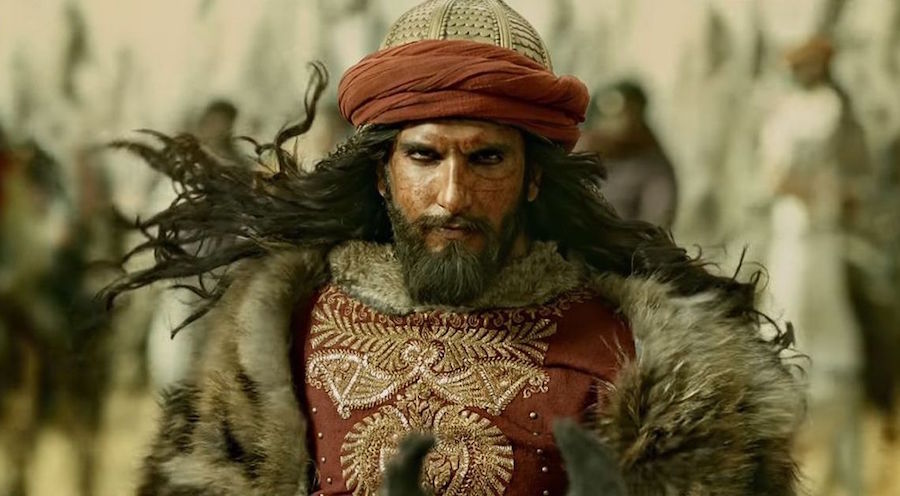 Muslim invaders in historical movies are always these completely evil guys with eyeliner. Well unless they're Hrithik Roshan in 'Jodhaa Akbar', but remember even that movie had protests? You see these types of depictions fall within the acceptable realm for the nationalistic right-wing narrative. These depictions might fall under the "hurting the religious sentiments" umbrella but it might be seen as anti-Indian to say so lest you be seen to be in support of the foreign invaders of the past. Have you heard that some politicians from Uttar Pardesh have taken the Taj Mahal off the tourist attraction list because it's anti-Indian?!
I've written about the Bollywood elite and their power and privilege in the past. And while these protests aren't about the nepotism problem that runs rampant in the industry, the inherent inequality and social stratification that exists in India in general and Bollywood in particular still plays a role in this story.
The power and privilege afforded to Bollywood stars and filmmakers by virtue of their position at the top of the proverbial food chain enables this type of 'Teflon' mentality. Bollywood stars are literally worshipped as gods and goddesses by some people…and due to the nepotism problem, many of them are also heirs of powerful film dynasties. These people are rich, and they are powerful. With a fan base of millions and millions of people, they are also incredibly privileged. Unfortunately, this privilege is usually not acknowledged and so often goes unchecked.
We saw this in the nepotism debate. Many actors and actresses were so dismissive of this real issue of inequality because it did not personally impact them. So tone deaf, so elitist! Nobody wanted to admit the role their own privilege played in their lives. Privilege on its own isn't ugly. It is this lack of acknowledgment of said privilege that makes it so. It is this lack of acknowledgment of the privilege and power one possesses whilst continuing to benefit from both that has blinded Bollywood folks to the realities of the world.
They do not realize how much they really do live in a bubble. They're the elite, a minority in a country that is for the most part still steeped in poverty, beholden to a tradition of inequality, and seeing a resurgence of 'Hinduvta' or Hinduness (a quickly growing, loud and proud right-wing Hindu nationalism). Please see the above reference about the Taj Mahal. These people want to eradicate any history that isn't Hindu history from the annals of Indian History. They aren't playing either! Retaliation, in the form of mob violence, has been swift for any real or imagined slight against Hinduness. For example, stories of Muslim teenagers being beaten or killed for eating beef are peppered in newspapers across the country. People have been lynched!
This is what has been happening to the regular Joe Shmos in India. Before this mess, the worst of it for some Bollywood folks had been vitriolic tweets from the twitter trolls (I'm looking at you Rishi Kapoor!). After an incident that left a set of 'Padmavati' destroyed, Padukone said that as a nation India had "regressed". She was subsequently and mercilessly trolled. After the horrid threats against her, her pre-existing security detail was immediately bolstered.
Who are these people?Who is responsible for their actions?For how long are we going to let this go on? pic.twitter.com/2WFN0jcdua

— Deepika Padukone (@deepikapadukone) October 18, 2017
allow them to take law into their own hands & attack our freedom & right to individual expression time & again!? pic.twitter.com/jlR5p3seds

— Deepika Padukone (@deepikapadukone) October 18, 2017
The situation has been getting quite serious out there for the regular people for a while now. That it has spilled over into Bollywood has made the headlines globally. I think it is high time serious discussion is had and real policy changes come into place to ensure security and preserve art. Bollywood folks need to be a part of that discussion, and not only when they're impacted directly or only in a way they're comfortable — they need to go all in. But going all in requires some deep soul searching. It requires you to truly see yourself and the role you are playing. It requires you to check yourself.
Is Bollywood ready for that kind of introspection? I'm not sure.
---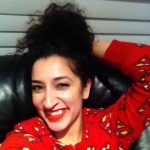 Sundeep Hans was born in Toronto, raised in Brampton, with a slight detour via Punjab. She has a great job, where her work involves collaborating with clinical and community leaders on initiatives around diversity, equity and inclusion in the region to reduce barriers for health care access in vulnerable populations. She has a Master's degree in Global Diplomacy from the School of Oriental and African Studies, University of London, a Bachelor's degree in History from the University of Southern California, and is almost finished with her post-graduated certificate in Ethics. She loves to read, travel and talk to anyone every chance she gets. You can follow her on her blog and on LinkedIn.