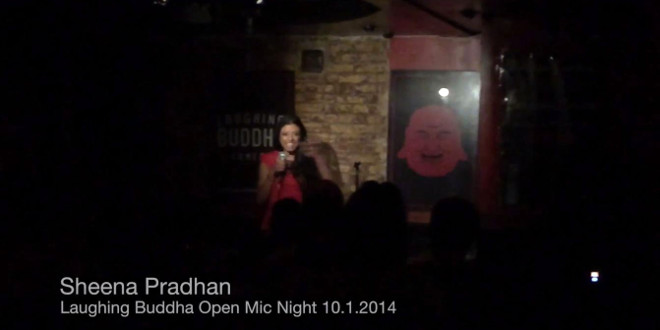 Pageant Diaries Vol. 4:
Sandwiched in the audience between a seasoned comedian and an unquestioningly supportive friend, I anxiously awaited the MC to call my name at the Laughing Buddha Comedy Club in New York City. After a series of losing his virginity jokes, an amateur comedian was whisked off the stage and I was up.
I walked to the stage my nerves suddenly escaping me. I introduced myself as Sheena, the pageant girl. I jumped into my routine of three jokes. Surprisingly, the audience seemed to find the mere topic of pageantry funny.
I rolled through my South Asian jokes more quickly than I thought they would go and the series of humorous personal stories that I had thought about beforehand. Towards the end of my set, I still had a couple of minutes left. I racked my brain for something else… and thought of pageants. They might find pageants funny. At the mere mention of pageants, I got a few more laughs. The MC asked the audience to applaud after my five minute set was finished and I exited the stage with the MC making a joke about accidentally touching my butt.
I feared that my lack of experience on stage may lead to a lack of comfort. I thought that I would be uncomfortable, but on the contrary, I felt at ease and in control. I have always loved public speaking, and through competing in pageants, I realized that despite my introverted and creative interests, I love the spotlight.
After being on stage and doing stand-up, I realized I need to push myself further in order to gain something from being on stage. I would not gain enough experience simply from being on stage in front of people. In this case, I would have to do a lot more than just show up.
In stand-up, the key is relating to the audience, no matter the type of crowd. To be successful as a comedian on stage is getting the audience involved in your jokes. Similarly, connecting with the audience in a pageant is important. It helps to make eye contact and allow your personality and charisma to shine through to the judges and the people watching.
What began as an exploration of overcoming my fears and inhibitions has grown into a journey of self-discovery.
The greatest lesson I have learned in the process of preparing for the Miss New York USA 2015 pageant is learning how to be myself. In digging deeper into who I am, I have discovered why I felt certain parts of my past were "inhibiting me" to exploring my fears.
I battled low self-esteem for the majority of my childhood into my teen years. Even after recovering from seemingly adolescent induced insecurities and feelings of not fitting in, there has been a lingering fear of living and making decisions for myself. In addressing many of the insecurities that I have battled throughout my life, I can begin embracing myself.
I am certain that this knowledge and comfort with who I am will continue to guide me beyond Miss New York USA. For now, I am going to stay focused on winning the title.
Just in case you missed it: Check out Vol. 1, Vol. 2 and Vol. 3 of the Pageant Diaries Series!
[divider]
Sheena Pradhan is a Registered Dietitian-Nutritionist, writer, speaker and model. She runs a nutrition consulting and communications company, called Nutritious Balance in New York City. In addition to BG, she writes for India.com, The Daily Meal and Busy Mom Snacks. She also loves to blog about health, food and nutrition on her blog. When she's not writing, modeling, or consulting on nutrition, you can find her preparing for the 2015 Miss New York USA Pageant, riding her bike around Central Park, or wandering midtown Manhattan for inspiration. You can find healthy tips daily by following her on Twitter!