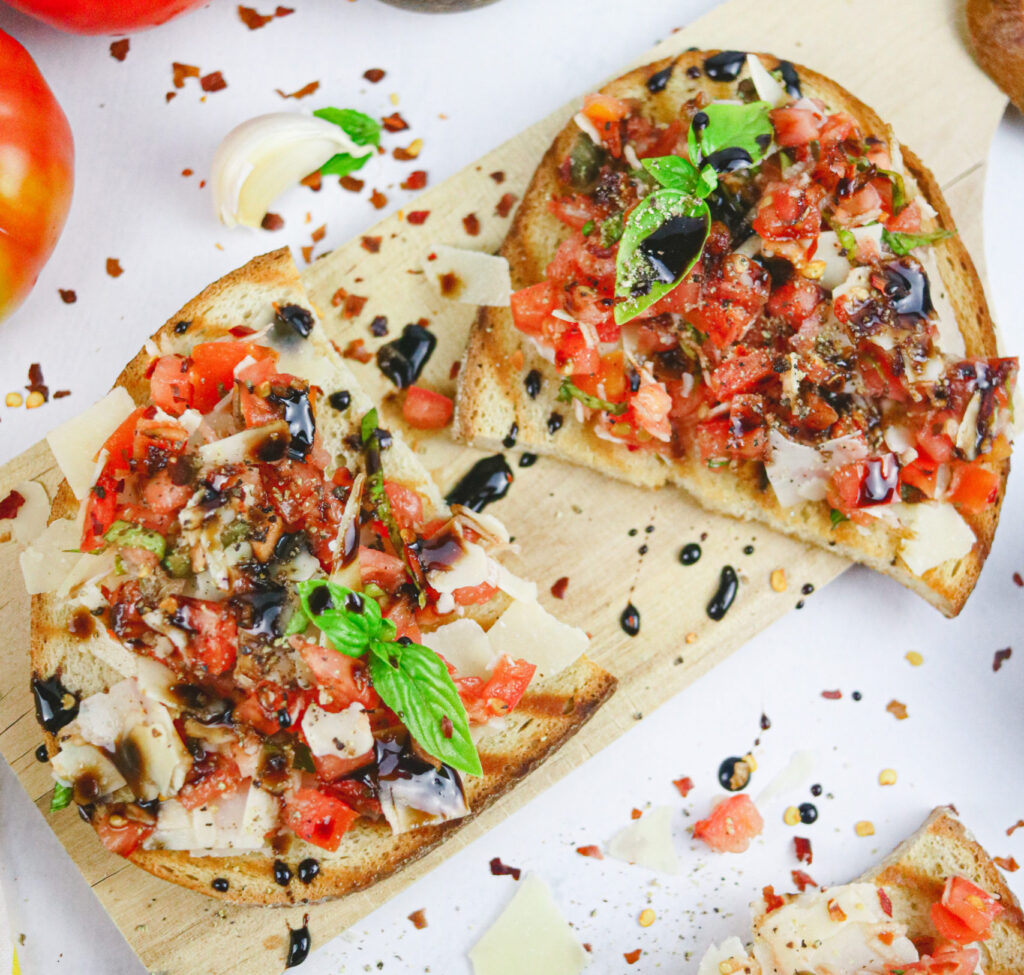 You guys kept asking for a bruschetta recipe, so I am finally delivering! I mean, I always thought that bruschetta was one of those self-explanatory recipes, and I figured no one would ever want to see that, but I'm glad so many of you asked. I absolutely love this parmesan bruschetta and balsamic glaze — it makes for a cozy holiday appetizer!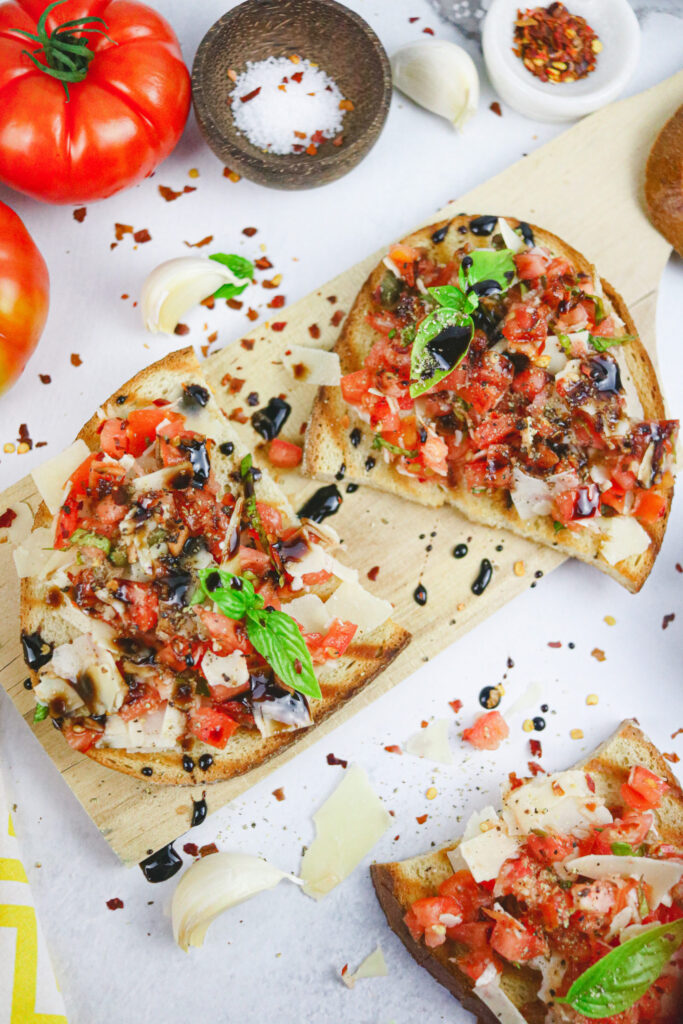 Balsamic Glaze
If you want to make your own balsamic glaze, this recipe shows you exactly how to!! It's so simple, and it honestly tastes better and fresher when you make it at home! You can totally buy it from the store or use regular balsamic vinegar if you prefer.
If you love balsamic glaze as I do, check out my Grilled Peach and Arugula Salad where I also use it!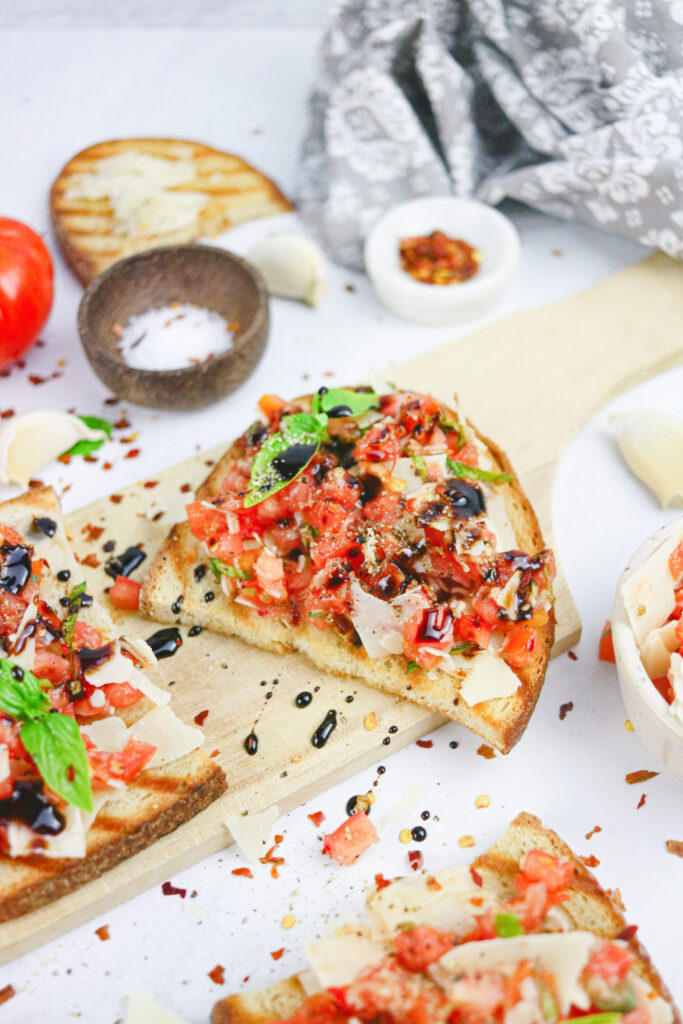 Parmesan Cheese
Some people don't like cheese in their bruschetta, but I think cheese is a very necessary component. I've had tons of bruschetta with cubed mozzarella, but that just reminds me of a Caprese salad on toast. I like to go for parmesan because it adds a different type of flavor!
Adding capers for some tang
Capers aren't really a traditional ingredient in bruschetta, but I love to add them because they give the perfect tanginess to this recipe! You can totally omit them if you want, but the combination of capers, tomato and parmesan cheese is the BOMB!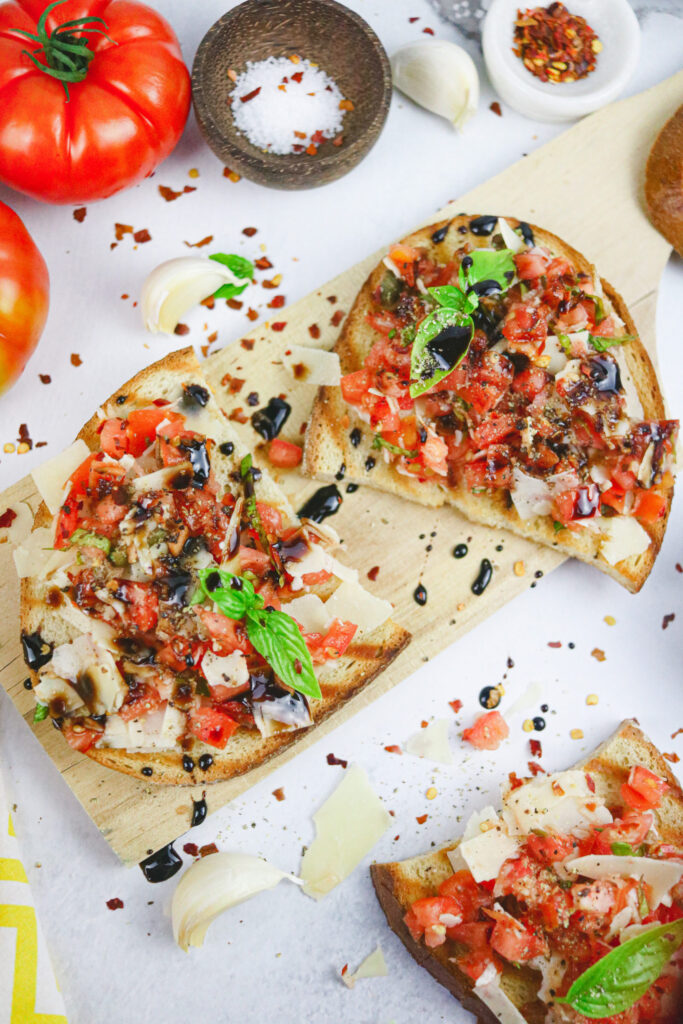 Prep time:
10

 min

 | 
cook time:
5
min | 
total time:
15
min | 
servings:
4
people
INGREDIENTS
4

large

tomatoes

(diced small)

4

cloves

 

garlic

(grated)

4

teaspoons

 

capers

(chopped finely)

10

basil leaves

(chopped finely)

2

teaspoons

crushed red pepper flakes

1/2

cup

parmesan cheese

(shaved)

1/2

cup

balsamic vinegar

(or 1/4 cup balsamic glaze)

8

slices

rye bread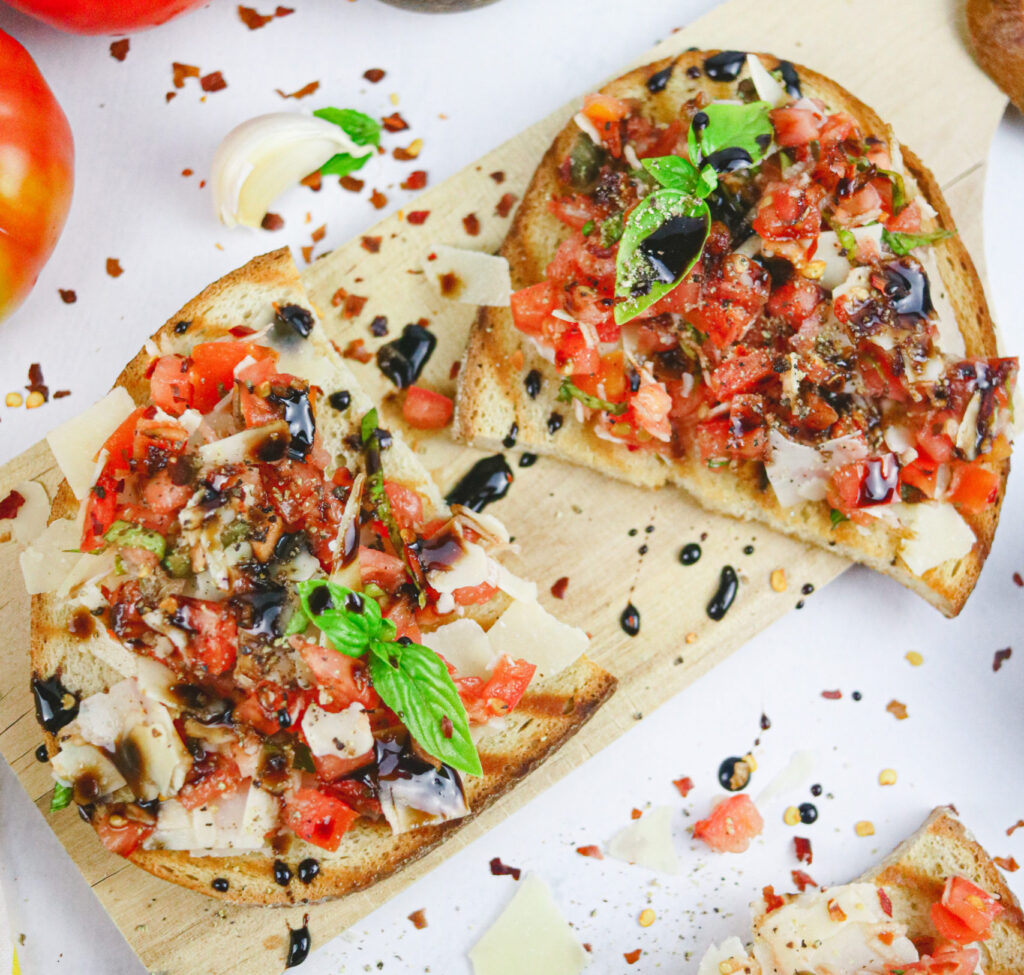 INSTRUCTIONS
If you don't have a balsamic glaze, take your balsamic vinegar and add it to a pot. Turn heat to high until the balsamic vinegar starts to bubble. When it bubbles, turn the heat to low and let it cook. When the water evaporates and it turns into a glaze, take the pot off of the heat.

Take your tomatoes, garlic, capers, basil and crushed red pepper flakes and mix them up in a bowl. Add salt and black pepper to taste.

Take your bread and brush olive oil on both sides. Place it in the toaster or on a grill to toast up.

Add your parmesan cheese to the tomato mixture and scoop a generous amount onto each slice of bread.

Drizzle with balsamic glaze, and extra basil if desired!
**NOTES
You will know that your balsamic glaze is ready when you take a spatula and separate the liquid in the pot. The glaze will hold its shape and it will not come back together.
You don't need to make or use a balsamic glaze. You can use balsamic vinegar if you prefer.
If you make this parmesan bruschetta with balsamic glaze, please be sure to tag @chocolateandcheeseplease in any Instagram stories! I would also love it if you could comment below and rate this recipe with your honest thoughts! If you haven't seen me on Instagram yet, be sure to follow me 
ENJOY!