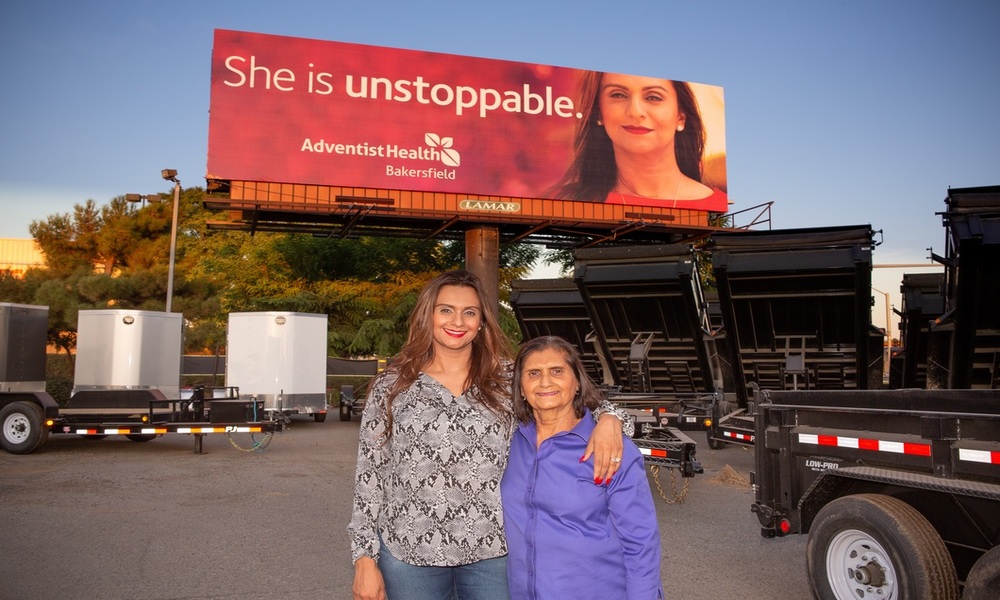 Raji K. Brar is a business owner and community leader. Born and raised in California's Central Valley, Brar is the first Sikh woman elected to a City Council Seat in the State of California. "Bakersfield Life Magazine" chose her as one of  "20 under 40 People to Watch" and she received the Girl Scouts "Women Inspiring Girls Award." 
In addition to leading a corporation as Chief Operations Officer and serving on multiple business and education boards, Brar is also the co-founder of the Bakersfield Sikh Women's Association. Since 2015, the Association has awarded more than $143,000 in needs-based scholarships to deserving students throughout Kern County, CA. It also works alongside the local homeless shelter, local high schools, and local hospitals on cancer prevention programs while providing mentoring for young girls as well.
The Association is how I was first introduced to Brar, and I became fascinated by her direct action to address the needs of her community—the same Punjabi Sikh community I am a part of—and serve as a resource for the larger Bakersfield community on identifying and addressing Punjabi and Sikh issues. 
Brar's parents immigrated to the United States from Punjab, India. She is a first-generation Indian-American who grew up in the 1970s and '80s. Even though this was decades ago, her experiences, as I've learned, are truly transcendent. I sat down and spoke with Brar about her experiences growing up in America and how she navigated life in America as a woman of colour. 
On growing up in an immigrant household and trying to fit in:
When you're growing up and you're young, it doesn't matter if you're in America or any other country. If you're in the minority, you try your best to fit in. I wanted to fit in and do everything my friends were doing, like taking part in sports and being part of the Girl Scouts. My parents didn't have any value for those activities because they thought that they were frivolous as they were busy working and saving money… But for me, it was everything. 

All these girls in my school would be Girl Scouts in the sixth grade. I wanted to do Girl Scouts. I got the forms and got my parents to sign them. There was a parade happening and I was so excited because I was going to be the one to carry the California flag. And of course, my parents couldn't come and I had to hitch a ride with somebody else's mom. I went to the parade in Fresno, and everybody else had their grandparents and parents there, and here I am.

We went to eat at a fast-food restaurant, and I'd only eaten at McDonald's. I remember thinking 'I don't even know what to order.' And I remember I went to go sit, and I sat by myself. Here I am with the Girl Scouts, and the moms and daughters—nobody thought to include me. They let me sit and eat by myself. 

At that moment, I knew that either I was going to give up and let them win because they were pretty much saying we don't want you in our troop, or I was going to keep going. So I decided to keep going. For us, being first-generation is a blessing in a way because we learn to be survivors and I cherish that. I wouldn't be who I am today if I didn't have those obstacles.

On dealing with racism:
I knew that I was lucky to live in America. I think it had a lot to do with my parents telling us that we live in America and that it was hard back home. My mom and dad always talked about it, saying 'we're so lucky we're here,' kind of how apne (our) Punjabi always say 'sone di dharti aa' (this land is made of gold).

I knew a lot of times we went places they weren't always welcomed, and I could feel it and I felt conscious about it. But they didn't care. They were just grateful to be here in America, and so I watched what they were doing, and I think of course that had to affect me, right? If my parents were coming home and upset, I'm sure that would rub off on us, but they never complained. I think that's why I'm proud to be American because they embraced being American. They never felt like, 'We're not.' They were so proud to be citizens. They were so proud to be here. They would say this country has opportunities, and even though they love India, they knew they didn't have as many opportunities there and they know here, they could make it. It didn't matter what you looked like—the odds of making it was better. So I think watching them kept me wanting to keep pushing forward.
And Brar certainly did push forward. In high school, she was elected as Student Body Secretary for two years in a row. She went on to obtain two degrees and worked in various roles before landing in her current COO position. But she's also always been committed to serving her community.  
Through the Association, Brar and others in Bakersfield established a program at the local gurdwara for mothers and daughters to come together and have open discussions about taboo topics. They've also launched a resource line that will provide much-needed help for the Punjabi-speaking community. 
On giving back to the community:
I think all of us—whatever our story, our journey, our path is—is specific for each one of us, and mine just always comes back to service. 

I intend to help my community, and if I can use my platform to do that, I'm going to because when you have access, it's your responsibility to make sure that your community is being served. When it comes to my children, I know that my kids deserve the same rights as everybody else, and I want to make this world equal for my children. And we're opening doors for everybody behind us that is younger and coming through because you have to keep that door open. 

I get a lot of joy in knowing something positive has happened for my community, especially because they work so darn hard. They deserve a seat at the table, they deserve their voice to be heard. That's what America is, right?
On moving forward and staying focused:
When I was younger, there were days where I got knocked down but something inside of me always knew that I was worthy and deserving just as much as the next person. Inside my heart, I knew that. I don't know what it was but I kept it alive even though I wouldn't be included. I believed I was equal, and I never let go of that. 

As I said, I had two options that day (at the fast-food restaurant). Either I was going to let them win, or I was going to keep going. And I thought, 'No, I'm going to keep going.' And I knew that was a turning point—I knew that I had the right to be there just like they did. And I don't know where that comes from. I don't know if it's from watching my family, my parents work so hard or my relatives work so hard, but I knew I valued myself. 

I'm worthy, I'm worthy, I'm worthy.
Raji's story resonates because her life carries moments and themes that I have experienced through my 20s—balancing traditional expectations amidst a strong desire to fit in; gaining the confidence to embrace my skin; figuring out my place in the world and what I can do to improve lives in my community; and most of all, being proud of my parents and where they come from and their hard work and the sacrifices they've made to ensure I succeed. 
I will be honest. I sometimes feel guilty that I have the freedom to live my life of my choosing and my parents will never have that opportunity. Years ago, they made a conscious decision to leave the only home they ever knew to work towards a better life for our family.
Now, I use that realization and understanding as a driving force to keep pushing forward for myself and my community. 
Through Raji's words, I recognize a desire within myself to find tangible ways to help the community I am a part of. I was lucky to have received these words of wisdom from her, and I share them as so many of us work to seek mentors who will provide guidance and assurance. 
Growing up in a culture that works to erase who we are is as tough as hell. You don't have to go through it alone. It's undeniable that we're living in a time where there are concentrated efforts to divide people and stroke fear. Especially fear of immigrants and people of color. But I truly believe that America belongs to anybody who works hard to make this country their home. And if that is the case, nothing will be able to take away the truth of who we are.
---
The opinions expressed by the writer of this piece, and those providing comments thereon (collectively, the "Writers"), are theirs alone and do not necessarily reflect the opinions of Brown Girl Magazine, Inc., or any of its employees, directors, officers, affiliates, or assigns (collectively, "BGM"). BGM is not responsible for the accuracy of any of the information supplied by the Writers. It is not the intention of Brown Girl Magazine to malign any religion, ethnic group, club, organization, company, or individual. If you have a complaint about this content, please email us at Staff@0mq.349.myftpupload.com. This post is subject to our Terms of Use and Privacy Policy. If you'd like to submit a guest post, please follow the guidelines we've set forth here.