[Photo Source: Payal Khandwala]
A philosophy every woman gravitates toward is how one can put Payal Khandwala and her fashion sensibilities into words. Minimalistic yet exuding a touch of drama, her clothing line consists of solid raw silk separates, brocade skirts, palatable color combinations, and classic reversible saris. The designs are quite unique and a perfect fit for girls who love to stay true to their roots, while experimenting with modern styles.
Read ahead to learn more about Payal Khandwala, as the designer sits down for a chat with Brown Girl Magazine.
Let's start off by discussing the meaning of fashion. Fashion looks and feels different for everyone. What is fashion for Payal Khandwala?
"Fashion to me is fleeting, fickle, frenzied…I've always been more interested in style. Style is forever and it's certainly more memorable."
When asked to define style, she does so in one word,
"Timeless."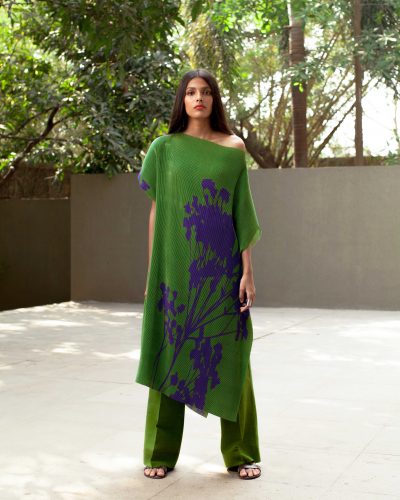 While fashion is a form of art, there is more to your pieces than just that. You have completed your Bachelor's in Fine Arts and Illustration from the Parsons School of Design. What made you lean towards a career in the arts?
"It was in my genes. My mother painted and sewed as well. I'm an only child and my earliest memories were always spending time alone with my paints and making little clothes for my dolls, surrounded by my mother's sewing machine, her oil paints and easels. I just did what I loved, the career just followed."
Her inspiration, thus, comes from all forms of art.
"I love looking at architecture, fine art, tribal textiles, jewellery, geometry, origami, different cultures around the world."
When it comes to culture, Khandwala's designs effortlessly allow women to embrace their heritage while staying relevant to their modern surroundings. For example, her 'little sari,' that she introduced a few years back, makes it easy to dress up or down; pair it with jeans and go for a night out without worrying about looking a little too extra. Her latest collection shows us just how one can pair a bright, yet modern, sari with essentially Eastern clothing.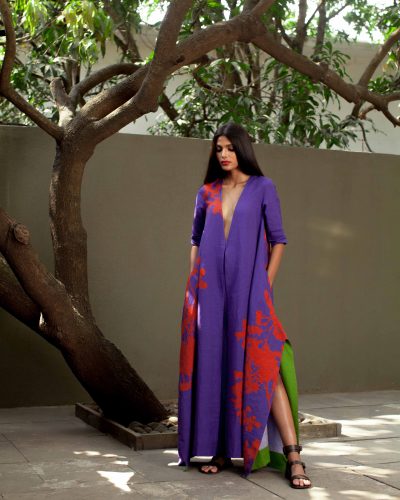 How do you make sure to incorporate culture into your designs?
"It's inherent, I don't do it as a strategy. I'm proud of the country I live in and it inspires me every day. Our rich heritage in crafts, our unapologetic use of color, our comfort with drape; these are influences that I grew up with and therefore the clothing I make is rooted in my culture. It's subliminal."
One thing is for sure, the unique color patterns make your pieces ever so attractive! What is your favorite color combo?
"That's like trying to pick a favourite child! I'm partial to a jewel-toned palette, but some of my most loved combinations are sapphire blue and emerald green, magenta and crimson, citrine and ivory, cerulean and chartreuse."
You also have a very distinct taste for bridal clothing. Where do you get your bridal inspiration from? What do you hope to deliver to the brides?
"I started our limited edition brocade line because this is what I wore when I was getting married in 2007 and it wasn't available anywhere. So I bought a vintage brocade lehenga, designed my own silhouettes and a wedding wardrobe from heirloom brocade textiles that I had collected. It was truly 'India Modern;' simple, fuss free and elegant. It was luxurious but comfortable and was easy on the wallet. I made pockets in all of them, wore flats and enjoyed every minute of all my ceremonies. This is what I want to offer brides that are slightly left of centre. And those who would like some money left over, after their wedding shopping is done, to spend on travel and to make memories outside of their trousseau."
And so, if you were to pick a favorite: sari or brocade skirts?
"Sari trumps everything. Nothing else makes me feel like I do, when in a sari."
If you were to give advice to a novice fashion designer, what will it be?
"It is integral that you have something to say, have a point of view that is personal and a story that is sincere. Prepare to work long hours and have integrity. Do not make clothes just because you have a degree. Don't be 'inspired' by other designers; inspiration is all around you. Don't be lazy. Don't add to the clutter."
Who is your favorite contemporary designer and why?
"Pierpaolo Piccioli. His clothes are always both elegant and artistic."
You have dressed so many Bollywood stars. Who is your favorite muse and why?
"I'm afraid I don't have a muse in Bollywood! I'm more inspired by women that have a keen sense of personal style and make my clothes their own."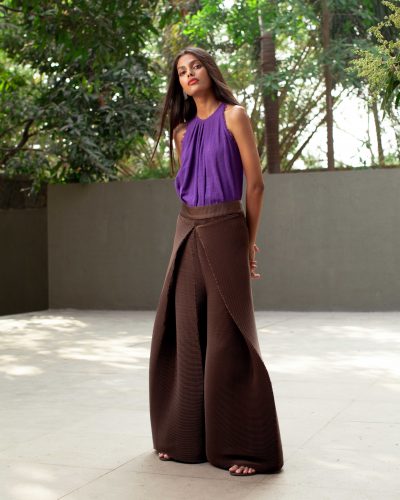 With the onset of the global pandemic, businesses, including fashion and retail, have had to significantly change their approach. And so we shifted gears and spoke to Khandwala about how has she adapted to the demands of the current global situation.
This year has been truly like no other. We would love to get your insight. How is your lockdown going?
"We adopted an Indie pup a friend rescued 2 days before the lockdown. I have a resident cat that wants to eat him and a daughter that is negotiating online school and started a baking business in her holidays. So my hands are full!"
What is your one key takeaway from this global pandemic?
"So little is in our control, even though we like to think otherwise."
How did you adapt to the change?
"I'm still adapting, each day, trying to keep our head above water work-wise. But thankfully on the home front I'm happy to spend so much time with my family in a home where I feel safe and comfortable. I'm aware in the current scenario that this in itself is a privilege."
How do you think the fashion industry, especially in India, should evolve after the pandemic?
"It would certainly help if we edited some of the excess in the industry. So many labels, so many collections, too much inventory, too many sales, too much of everything…we have to slow down, support talent because it deserves a platform versus what makes money now. Bet on young labels with a language that is their own… I know it sounds utopian but this will help sustain emerging brands. Without them we'll be stuck with brands with deep pockets and a whole lot of lehenga cholis and a fashion landscape that is homogenous."
Wrapping it up…
Your two cents to aspiring female designers who are battling to 'showcase something different?'
"Forget about being different or cool. Showcase something because it is personal; because it means something to you, because it's what drives you and because it has purpose. Try to find your voice, if your clothes are an extension of you, then that voice will be your differentiator."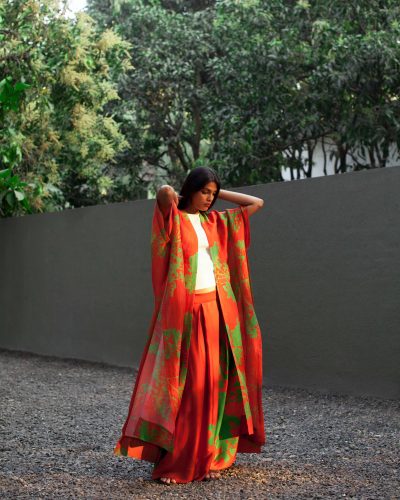 And your advice to female entrepreneurs in this day and age?
"Dig your heels in for what you believe in. Starting and running a business takes time and patience. And it takes hard work. But if you love what you do, then the journey is what you should enjoy the most. Empower a team that will be your family and support because in the end you're nothing without your team. Don't forget to be both fierce and feminine."
"Fierce and feminine," that's a life goal to live by. Check out the new collection by Payal Khandwala!