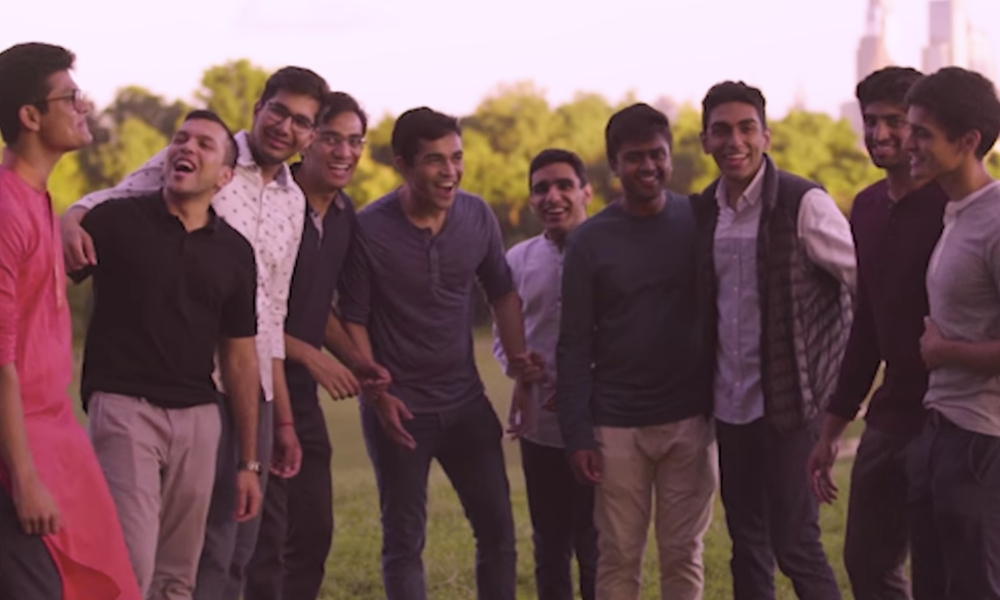 Since its formation in 1996, Penn Masala has represented the dual identity of young South Asian Americans. As the world's first South Asian a capella group, the Penn State students made a name for themselves by fusing American popular music and Hindi film songs using the sole power of their voices.
The legacy of Penn Masala is carried on by current members Sanjit Chakravarty, Atman Panigrahi, Anant Maheshwari, Anvit Reddy, Ajay Vasisht, Anirudh Bikmal, Shaunak Kulkarni, Kushal Modi, Harsh Meswani, Dev Shaurya Singhal, Partha Rao, Aveek Ganguly and Shrivats Kannan.
In October, the group released a cover mix of the songs "Ilahi" from the Hindi film "Yeh Jawaani Hai Deewani" and Ed Sheeran's "Castle on the Hill." The music video directly explores the ways in which they straddle between the two cultures, incorporating elements of their South Asian roots into their everyday lives in the U.S.
Hoping to contribute to the broader conversation on the South Asian American identity, a few of Penn Masala's members reflected on the process of creating the video and what being South Asian American means to them:
What was the message that you wanted to communicate through the video, and why was it important to depict both parts of the South Asian American identity?
Through conversations we had within the group, we came to realize that we all had very similar experiences trying to connect to our South Asian heritage while living in the U.S. We wanted to share that with our audience in the hopes that our experiences might resonate with them. We wanted to highlight the fact that these experiences, while unique to our community, are somewhat universal, Sanjit Chakravarty said. 
How did you decide on the concept for the video? Did the song choice or the video concept come first?
We'd been thinking about ways to explore our identity through a video for while. I think once we came across these songs and put together the mix, everything just kind of came together. It was very much an organic product of our discussions with each other and our everyday experiences, Anvit Reddy said.
What about these songs ("Castle on the Hill" and "Ilahi") resonated with your feelings or experiences as South Asian Americans?
Castle on the Hill' talks about going home, and it led us to think about what home means to each of us and the connotations that 'home' carries. As South Asians, 'home' carries all the aspects of that culture, and so we thought about how we bring pieces of home with us to school, Atman Panigrahi said. 

Ilahi' is about traveling the world, being carefree and going wherever life takes you. The juxtaposing messages of these two songs reflects our own experiences. We're exploring away from home and making our own life decisions, but [we are] still very much connected to our heritage, Shaunak Kulkarni said. 
What does it mean to be South Asian American in today's world to you, and in what ways does that complicate your own personal identities? Do you ever feel closer to one culture in particular? If so, why?
I think that answer varies within the group. For me, being at the intersection of these two cultures informs my perspective on both and allows me to embrace the things I like most about each. I think I identify more strongly with a particular culture depending on the context, like if I'm interacting with family or American friends from school, because that's the shared cultural context that I have with each group, Kushal Modi said. 

It has actually been a privilege more than a complication to be a part of both the American and South Asian cultures. Being exposed to different societies, learning about people and what they relate the most with culturally has only helped us become better individuals at the end of the day, Anant Maheshwari said. 
How does being a part of Penn Masala keep you connected to your roots? Aside from what is shown in the video, what are other aspects that help you stay rooted in general?
Apart from using South Asian music to connect to our roots, we're extremely lucky to have a group like Masala where we can explore issues related [to] our shared cultural heritage and identities together. We're also lucky to have a very active South Asian community here at Penn, and celebrating events like Holi and Diwali is another way that we're able to maintain those connections to our roots, Ajay Vasisht said. 
For more access to all things Masala, visit the Penn Masala website or follow the group on Instagram.