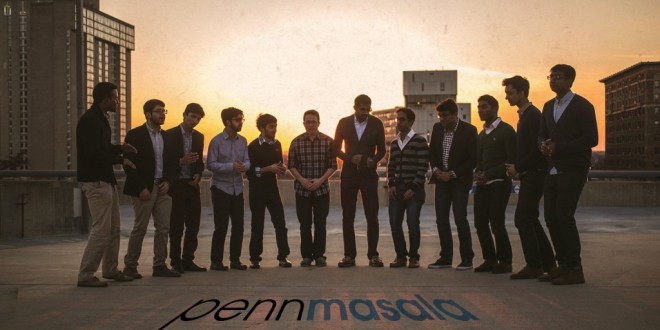 by BG Staff 
Penn Masala is one of the most well-known names when it comes to South Asian a capella. It was founded in 1996 by a group of students at the University of Pennsylvania. Over the years, they have gained lots of popularity and were featured in the South Asian-American movie "American Desi" and more recently, "Pitch Perfect 2."
Since the release of their must-have-seen viral music video, "Evolution of Bollywood Music," which saw almost 1.5 million views on YouTube, they are back with another hit mashup. With more than 26,000 views in the past three days, "The Bollywood Breakdown" ties together some of our favorite American and Bollywood songs that we have all jammed to in the past few years. Each one keeps you listening and wanting more.
"The Bollywood Breakdown" is like the perfect soundtrack to our hyphenated South Asian American lives (wassup Bobby Jindal!?). The transitions are wonderfully mastered and the music video is just as fun as the songs they chose. Not to mention, the group of musical geniuses are just too good not to watch over and over.
We can't wait to see what the Penn Masala brown boys will come up with next!
Songs included "The Bollywood Breakdown" mashup:
"Right Above It" (Lil Wayne, Drake)
"Subha Hone Na De" (Pritam – Mika Singh, Bohemia, Shefali Alvares)
"Danza Kuduro" (Don Omar)
"Come & Get It" (Selena Gomez)
"Amplifier" (Imran Khan)
"Down On Me" (Jeremih)
"Big Pimpin'" (Jay-Z)
"Singh Is Kinng" (Pritam – Snoop Dogg, RDB, Akshay Kumar)
"Crazy In Love" (Beyonce)
"Beware of the Boys" (Panjabi MC, Jay-Z)
"Talk Dirty" (Jason Derulo)
"Bottoms Up" (Trey Songz)
"Power" (Kanye West)
"Dhinka Chika" (Pritam – Mika Singh, Amrita Kakkar)
"Ainvayi Ainvayi" (Salim-Sulaiman – Salim Merchant, Sunidhi Chauhan)
"Like A G6" (The Cataracs, Far East Movement)
"Thug Le" (Salim-Sulaiman – Vishal Dadlani, Shweta Pandit)
"In da Club" (50 Cent)
"Drop It Like It's Hot" (Snoop Dogg, Pharrell Williams)
[Feature Photo Courtesy: Penn Masala]