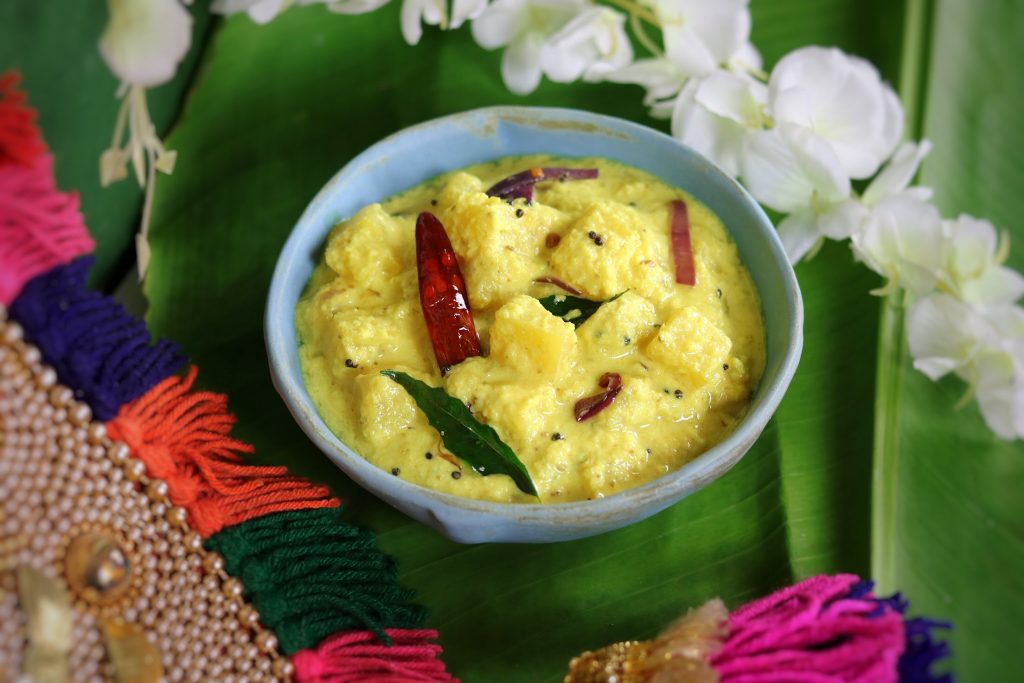 Happy Onam! If you're not familiar with what Onam is, it is a yearly harvest festival in Kerala that's celebrated by Hindus, but those of all religious backgrounds recognize it. The celebration date is based on the Malayalam calendar and is celebrated in the month of Chingam which ends up being around August or September each year.
The Story
The 10-day long festival has a few different stories behind it. Growing up, I learned that Onam is celebrated to remember the mythical King Mahabali. He was a beloved king in Kerala, but some gods were not happy with him so they called on Vishnu to help defeat Mahabali. Vishnu refused because Mahabali was a devotee of Vishnu. Instead, Vishnu decided to test Mahabali while he declared a yajna where he'd offer anyone any wish.
Vishnu appeared to Mahabali in the form of a dwarf named Vamana. Mahabali asked what Vamana wanted and he said, "all I seek is three small steps of land." This seemed like nothing, however, Vamana grew into a giant! He took two steps and covered all of Mahabali's beloved land. Concerned for his people, Mahabali stopped Vishnu before his third step and requested that he place his foot on his head for the last step. In return, he asked Vishnu to allow him to visit once every year so he could be with the people he previously ruled.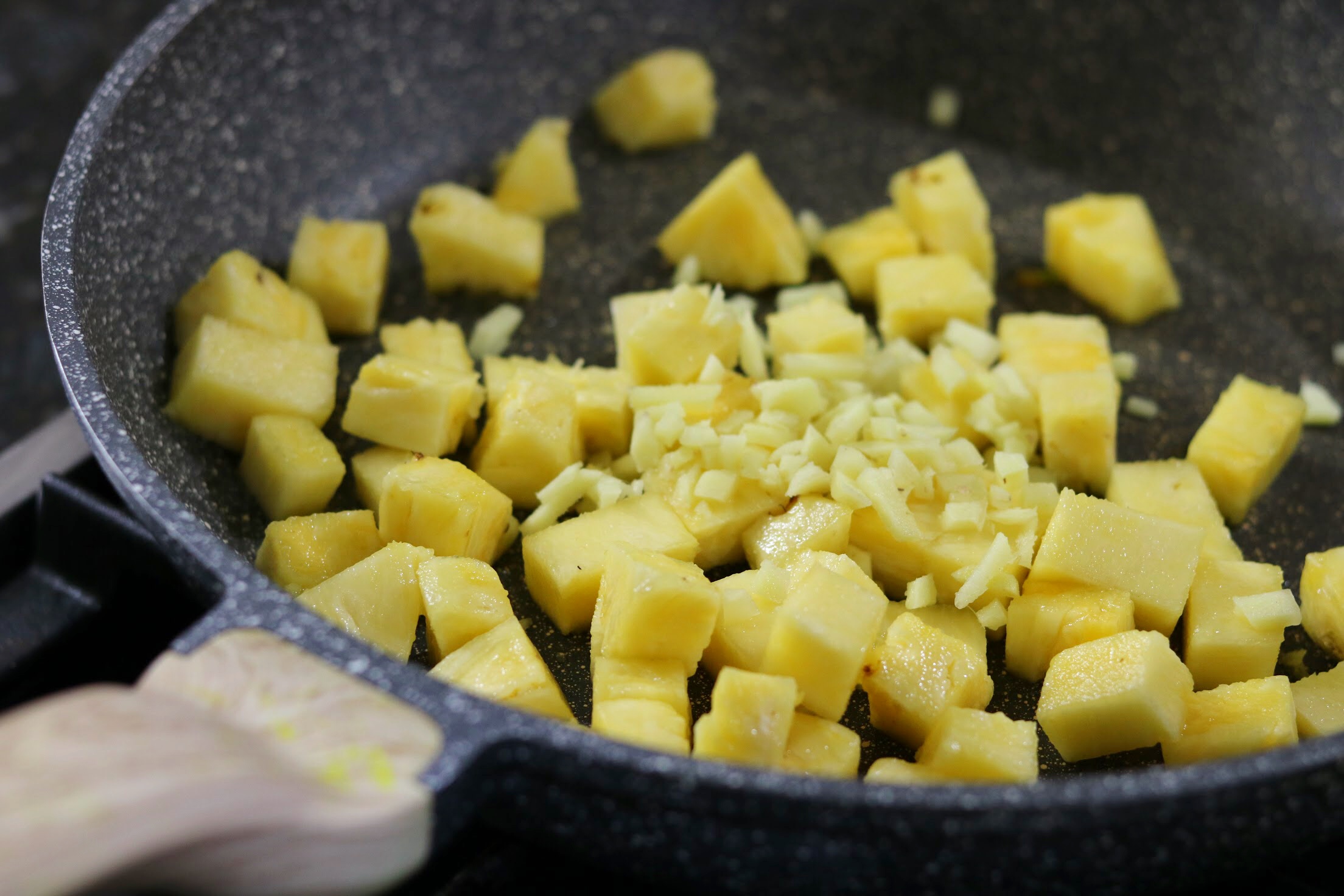 Onam Sadhya
So, every year, we celebrate Onam for 10 whole days. People are dressed in white and gold attire and many different events proceed. It kicks off with parades, boat races, pookkalam (flower carpets), pulikali (tiger dance – not real tigers, just people painted as them), and everyone's favorite part, the last day sadhya feast!
Onam Sadhya is the epitome of the harvest festival. It's a completely vegetarian feast that's all served on a banana leaf. There are typically 9-10 courses served even though more than 30-40 sadhya dishes can be made. A variety of native vegetables like yams, pumpkin, lentils, and more are used. It's a beautiful mix of sweet, sour, salty, and more all on one plate – err, leaf.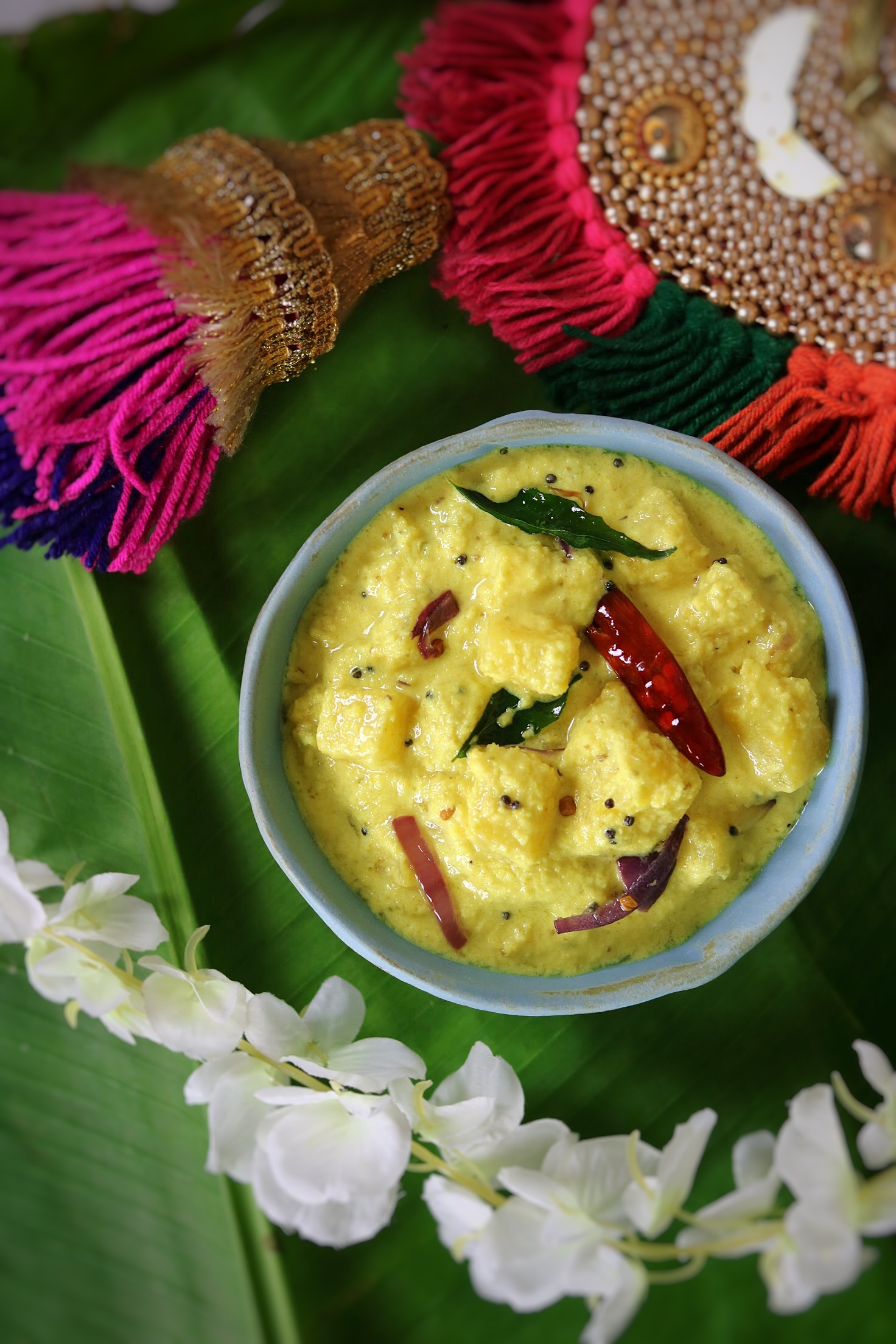 This Pineapple Pachadi recipe is one of my favorites. Beetroot Pachadi is the more common one on the leaf, but the combination of tangy pineapple with ginger, coconut, and a few other spices is so worth trying! Enjoy this with matta rice, a little mango pickle, and pappadam, and you're set!

INGREDIENTS
Pineapple, 2 cups, diced
Ginger, 2", minced
Water, 1 cup
Salt, 1-2 tsp
Jaggery, 1 tbsp
Yogurt, 1/2 cup, whipped
Paste
Grated Coconut, ½ cup
Green Chili Peppers, 2, diced
Cumin Seeds, 1 tsp
Turmeric Powder, ½ tsp
Water, ¼ cup
Tempering 
Coconut Oil, 2 tbsp
Mustard Seeds, 1 tsp
Fenugreek Seeds, ½ tsp
Dry Red Chilis, 2, broken
Curry Leaves, 2 sprigs (about 10-15 leaves)
Shallots, 2, thinly sliced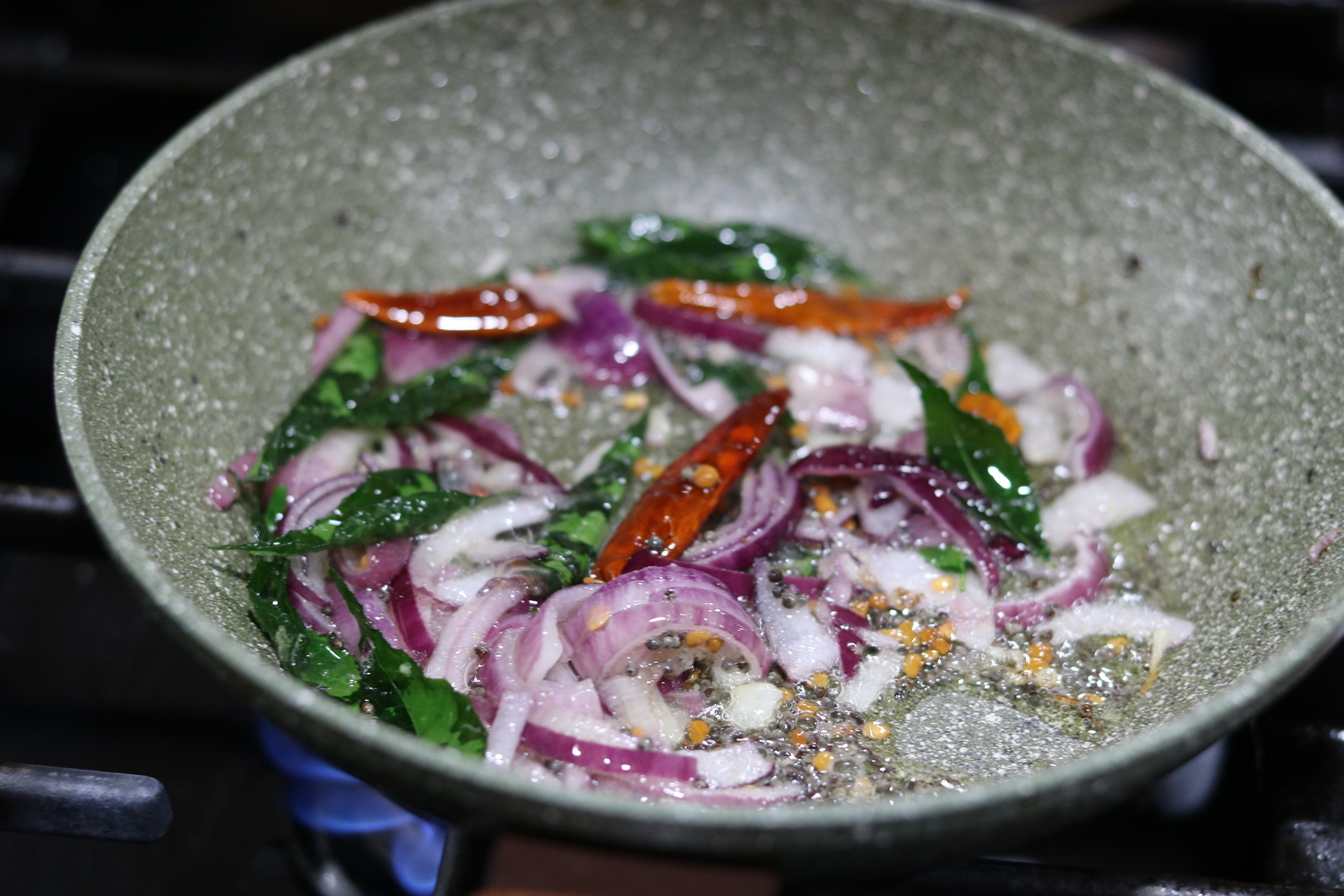 HOW TO MAKE IT
Cook the pineapple.
In a deep skillet on medium-high heat, cook the pineapple along with the ginger, water, and salt. Cook until the pineapple becomes soft.
Make the paste. 
While the pineapple cooks you can make the paste. In a small blender, add all the paste ingredients and grind together until it's all evenly combined. Set aside.
Keep cooking the pineapple.
Add the coconut paste to the pineapples. Cook on medium heat until everything combines and boils together (2-3 minutes). I like to lightly mash some of pineapple, too. Remove from heat and let slightly cool.
While the pineapple cools, whip your yogurt so it is very smooth and creamy. Stir the yogurt and jaggery into the pineapples and mix until everything is combined.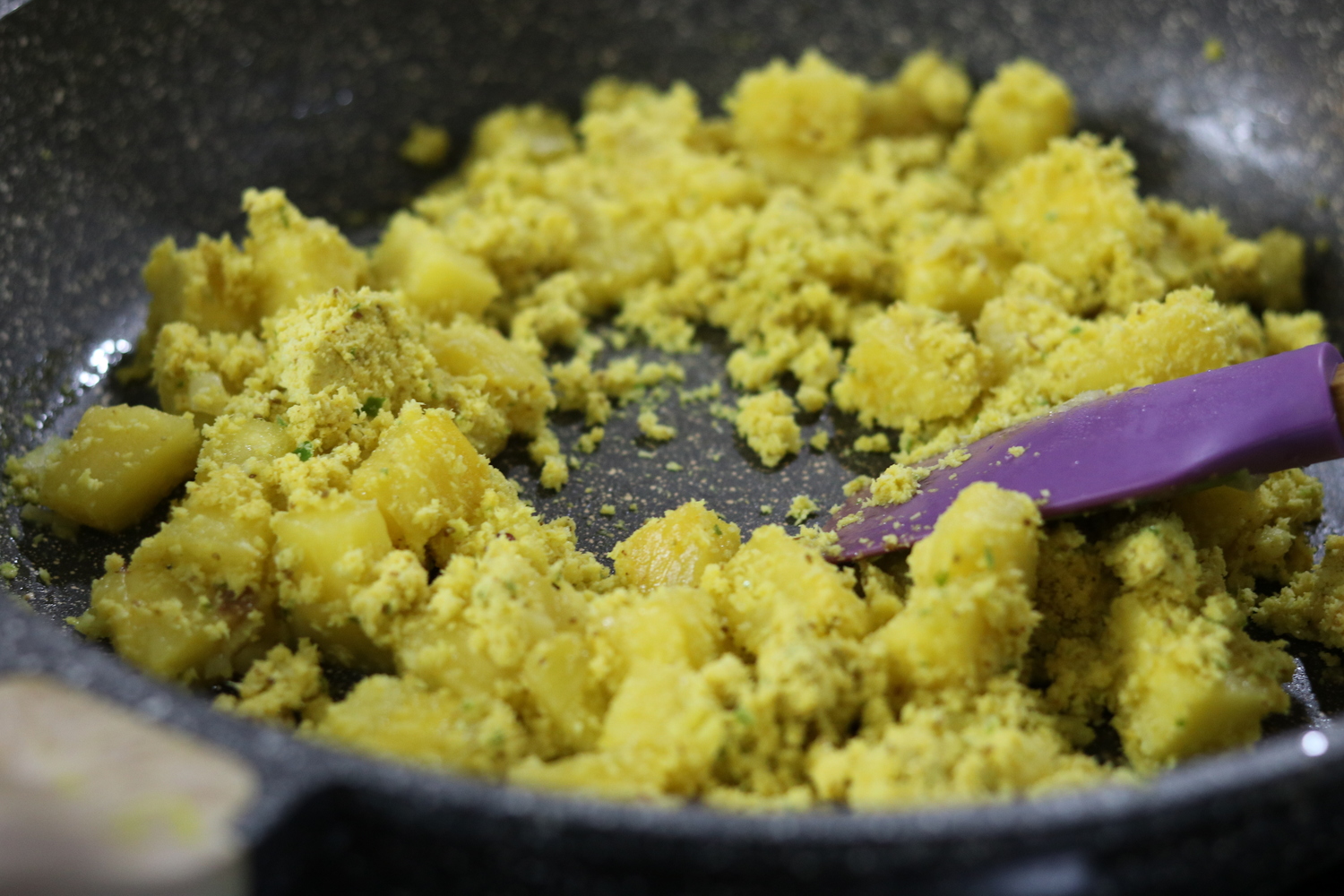 Season it. 
In a small saute pan on medium-high heat, add in the coconut oil. Once the oil is hot, add in the mustard seeds and cover the pan. As soon as you hear the mustard seeds pop, add the remaining tempering ingredients and saute for another minute or until the shallots become golden brown. Be careful to not let the fenugreek brown too much or it will taste bitter.
Pour this seasoning over the pineapples, mix, and done!