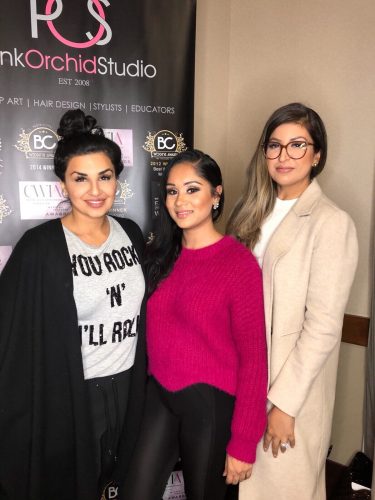 As the founder of a mobile makeup team, I often find myself in admiration of various makeup artists who turn their passion into a profitable business. Always looking to perfect and hone my craft I was pleasantly surprised to stumble upon the work of master stylists Harp Sohal and Shannon Mann of Vancouver's Pink Orchid Studio. Being a visual person, the POS Instagram is eye-catching to both brides-to-be and fellow artists like me. To excel at anything, it's imperative that we learn from the top leaders in our chosen industries. So with a drive for betterment, the student in me found herself in the back cab heading over to the POS studio for a one-on-one class with one of the world's most glamorous CEOs.
Enter Shannon Mann. Runway tall and elegant, Mann exudes warm ease paired with feminine energy.  The same feminine energy is often lacking in male CEOs and the male-dominated world of corporate.
My mind raced with questions about beauty techniques and business as I stood in the presence of the woman half responsible for building one the most successful South Asian and all-woman operated beauty businesses in North America. Polished and pretty, Shannon is beyond just glamourous. Underneath it all she is equipped with the skill of a marketing exec, is an excellent content creator, educator, and master stylist. 
My one-on-one class left me beyond transitioning into becoming a master stylist. I had the opportunity to have a real conversation about business and the beauty industry with Shannon. I left filled with knowledge, inspiration, and most importantly the ability to share with other femtrepreneurs how they too can become successful amidst the roller-coasters waves of entrepreneurialism.
https://www.instagram.com/p/CE9YXYxjaet/?utm_source=ig_web_copy_link
What is the inspiration behind the name Pink Orchid Studio?
"When we decided to create this business, I had the vision to create a brand that was larger than both of us as individuals. We wanted to be more than just 'Shannon & Harp' as artists, but an entity that would be synonymous with service, artistry, and excellence. So we decided on a company name. We love orchids and the color pink, and we wanted to open a studio location. It came together and we liked the sound of it, and we never looked back."
Many women gawk at Pink Orchid's gorgeous Instagram feed. How have you built your social media following? Your Instagram has a whopping 143k followers and counting. Any specific tips on how creative entrepreneurs can grow their social media tribe?
"Our social media strategy has been simple, create great content and post. We have worked very hard to practice our art until we mastered it, and as they say "the proof is in the pudding". It does take a lot of effort not only to execute beautiful services for your clients but we also have to capture the experience on social media and share it to the world. My tips to any entrepreneur is to master your craft, and then take the steps to share that with your audience. In our case images and videos of clients is the most effective way of promoting what we do. You also need to keep up with technology. This is our 10 year anniversary at POS, we started on Facebook, then came Instagram, and now Snapchat, IG story… the landscape is ever-changing. Use the tools to promote your work is almost as important as the work itself."
Many women entrepreneurs and artists look up to you and are in awe of Pink Orchid's success. What would you say are the most important factors in creating the right brand for your target audience?
"Do what you love, become the best you possibly can at it. We didn't create a service for an audience or market in our case. We love helping women feel beautiful and the business came to us."
https://www.instagram.com/p/CFlKRPmpo8Z/?utm_source=ig_web_copy_link
Being self-employed or in business for yourself can be a roller coaster. For women out there who are starting out as makeup artists or building a brand what 
advice can you give about weathering the lows and feeling down when their business or brand isn't going the way they expected?
"It is an intensely competitive market, and success will not come overnight.  Many people go to art school but never become successful artists. Why? Art takes time and effort to master (think about how long it took you to learn to write). This task is no different. I do feel that the artists that put in the time to master their art, once they put in the work, there will be a place for them in their industry. If you want this, don't give up. Keep practicing. There will always be setbacks. Stay the course, don't give up."
Many people start a brand or business but find themselves fading out of it or not being consistent. How have you stayed driven over the years and not lost motivation or faith in making Pink Orchid what it is today? What is your motivation?
"We have suffered through those challenges, life happens, and priorities change over time for all of us. But we love what we do, and POS is like a garden we are tending, and it has grown over time, we want to see how much we can grow. And again it comes back to really enjoying providing services to our clients. Harp and I both live in homes full of boys, our work provides us girl time with our staff and clients, and we are doing what we both love. Making women confident and feeling beautiful to face the most important days for their lives is so rewarding!"
Are there any artists or businesswomen that you look up to? If so, who and why?
"Huda Beauty is definitely Harp's inspiration.  She is an industry leader in cosmetics, with a family to raise, she and unapologetically her quirky self. I remember purchasing Kevyn Aucoin's iconic book 'Face Forward' when I started doing hair and makeup before Pink Orchid and I was awestruck by his skills and the power of fashion, hair, and makeup to transform someone into somebody else. I was hooked and the bar was set."
Unfortunately, there's the age-old stereotype of catty behavior amongst women? In your opinion, what can we as women do to stand more united and support each other as artists in the same industry?
"We discuss this a lot in our academy program, it's an important dialogue to start as they embark on their careers in this industry. We try our best not to partake in this kind of behaviour, and we tell our students loud and clear that throwing shade doesn't make your star shine any brighter. Unfortunately, this behavior is rampant in the Vancouver makeup artist community. Let your work do the talking, talking about other artist during your appointments makes you look insecure and petty. Super gross behavior in my opinion. Ick!"
How did pink orchid get started?
"We started very organically.   We were both were sought after by friends and family over the years as hair and makeup stylists on the most important events in their lives. I started doing wedding hair and makeup after I first got married, I realized that I looked better on the events I styled myself and I found trained professionals in the industry were so very limited at that time.  I did hair and makeup for about a year and then I quit. I received a promotion at work with full-time hours and my husband was getting annoyed that now my evening and weekends were taken up with appointments. Fast forward a few years, Harp and I looked for artists for her wedding and we weren't happy with any of the trials or consultations. She is really good and after several disappointing meetings ended up doing her own makeup on her wedding day, and I helped with her hair and clothing styling. We were onto something.  We talked about opening a business and I decided to quit my job, and to pursue this full time with Harp as my partner. We were going to give this 110%, create a beauty and service brand, we knew the demand was there. We were going to become the artists that WE needed on our big day. It was then our passion for beauty and fashion was turned into a one-stop service for brides looking for the very best on their big day."
Lastly, is there anything you would like to say to POS lovers?
"I would like to say thank you. Thank you for supporting us over the last 10 years, the feedback from all of you has been wonderful, and keeps us motivated to grow and continue to provide you with the very best products and services to help you look your best on the most important days of your life."